The PRC Air Force is the largest air force in Asia and the third largest in the world, with approximately 400 troops and more than 2800 aircraft, including
Drones
. Among all military personnel, 210 thousand people belong to the air defense forces.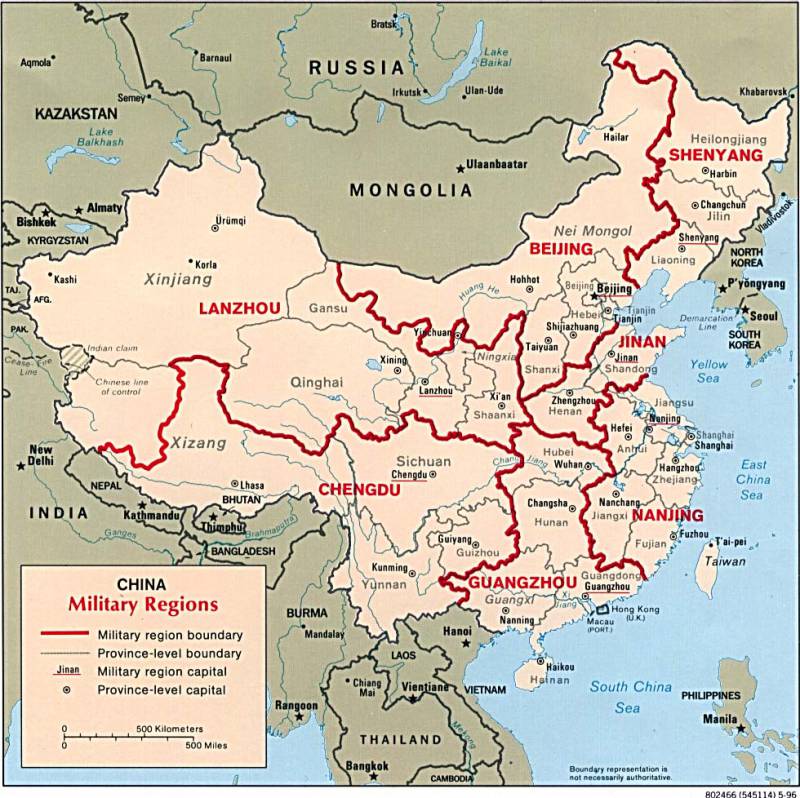 The Air Force is divided into 7-mi districts of China:
Shenyang District - three IAD (fighters "J-7E", "J-7B", "J-8B / F", "J-8H"), one ShAD (attack aircraft "Q-5") and a separate reconnaissance regiment equipped aircraft "JZ-8".
Beijing Air Force District - "J-7В", "J-8A" and "J-11" fighters, one "Q-5" attack aircraft, two training centers equipped with "Su-30MKK", "Su-27", "J" fighters -7B "," J-7Е "," J-8А "," J-8B "," J-10 ".
Lanzhou District - two IAD ("J-6", "J-7В" and "J-7E / G"), one dietary supplement (bombers "H-6"), two CA (regiment) and reconnaissance regiment equipped with aircraft " An-30 "and" Y-8 ".
Jinan district - one STAN ("Q-5") and two IAD ("J-6", "J-7В", "J-8B", "Su-27" and "J-11").
Nanjing District - four IAD ("J-7B", "J-7E", "J-7C / D", "J-8В", "J-8D / F", "Su-27", "Su-30МКК "," J-10 "and" J-11 "), one BAA (H-6 bombers and EW" Y-8EW "airplanes), one IBAD (" JH-7A "fighters and attack planes" Q- 5 ").
Guangzhou District - four fighters ("J-6", "J-7B", "J-7E", "J-8В", "J-8D", "J-11", "Su-27" and "Su -30MKK "), one mixed group (fighters" J-8D ", bombers" H-6 "and tankers" H-6 "), one ATD (transport planes" IL-76MD "," Y-7 "," Y -8 "and" An-24 ") and one air transport regiment (" Y-5 "and" An-24 ").
Chengdu District - two IAD ("J-6", "J-7B", "J-10", "J-11" and "Su-27") and one ATD (transport
aviation
"Y-7" and "Y-8").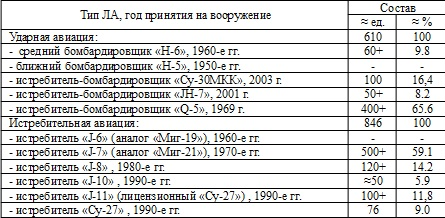 It should be noted that the majority of Chinese aircraft are based on Russian aviation:
Chengdu J-7 - Chinese multipurpose fighter, which is a copy of the MiG-21.
Modifications:
J-7 - a copy of the Soviet MiG-21F-13J-7I - the first modification, characterized by enhanced gun armament and the lack of URVV.
J-7II - a copy of the Soviet P-3C.
J-7IIA - the fighter received a modernized cockpit with reinforced glazing, a new ejection seat, the engine Liming WP-7BM, and also Western avionics.
J-7IIH (J-7H) - is a version of J-7IIA for attacking ground targets. Adopted by the Chinese Air Force in 1985 year.
J-7IIМ - equipped with British avionics and the new Chinese ejection seat HTY-4. Expanded nomenclature of weapons.
J-7III (J-7C) - the fighter received a new radar with an upgraded control system
weapons
, a new WP-13 engine (with increased load up to 6620 kgf), an additional fuel tank, a wing with four suspension points, a cab light with a lid reclining on its side, and a new Type-4 ejection seat, allowing the car to leave at low speed and zero height. Instead of two 30-mm cannons, one double-barreled 23-mm gun (a copy of the Soviet GSH-23L) was installed. The Chinese Air Force entered service in 1993 year.
J-7IIIA (J-7D) - received a radar JL-7A and a more powerful engine WP-13FI.
J-7E - improved landing and flight characteristics of the fighter with the new wing and an improved engine WP-7F with 4400 kgf thrust (6500 kgf afterburner). The armament included a new URVV PL-8.J-7G - made its first flight in the 2002 year. The fighter received a new MSA based on KLJ-6E Lieying Chinese-made radar. Entered the Chinese Air Force in 2004 year.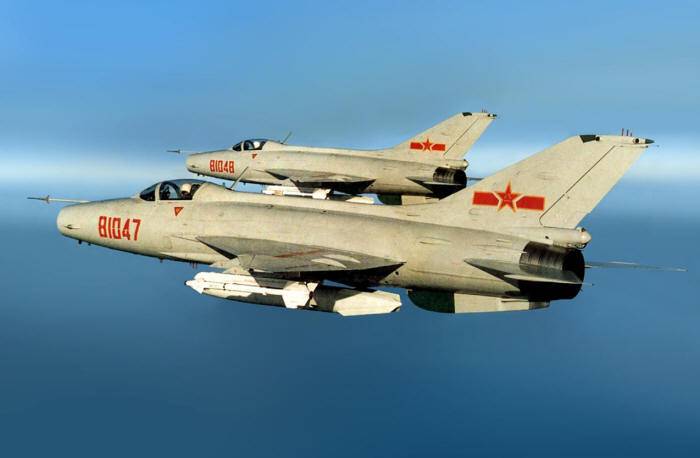 Shenyang J-8 - single interceptor fighter, developed by the Aircraft Corporation in Shenyang. The aircraft is a further development of the design produced under license MiG-21, however there are some differences. The Chinese fighter is larger and has two engines. The aerodynamic configuration of the aircraft resembles a MiG-23 or F-4 fighter with a delta wing Su-15.
Modifications:
J-8 - Day fighter, similar to the enlarged MiG-21. The aircraft was equipped with two WP-7A TRDF and SR-4 radio range finder. The fighter was armed with two 30 mm guns Type 30-I cannon for 200 projectiles on the barrel and two air-to-air missiles of short-range PL-2 with infrared guidance. Released in a limited edition.J-8I - The first flight made 24 on April 1981. Improved weatherproof version with radar SL-7A (range 40 km), double-barreled 23-mm gun Type 23-III.
J-8I version with advanced avionics. A new radar, SL-8 optical sensors, Type 204 map radar and Type 903 warning system were installed on the aircraft. The fighter also received new HUDs and a "friend-foe" identification system.
JZ-8 (J-8R) - The reconnaissance version of the J-8I.
J-8II (Finback-B) - Advanced J-8I with redesigned nose fuselage. The frontal air intake was replaced with a cone-shaped bow with monopulse radar SL-4A (Type 208) (40 km range) and side air intakes similar to the air intakes of the MiG-23 fighter. At the end of 70, China received several MiG-23 from Egypt, so the foldable ventral carina and side air intakes could appear on J-8II using reverse engineering. Chinese engineers actually repeated the development process of the Su-15 interceptor based on the smaller T-5 aircraft. The experimental MiG-23PD aircraft also has many similarities with the Chinese J-8II.
J-8II 02 Block (J-8IIB) - The aircraft had an improved SL-8A radar with a range of 70 km. The fighter received improved engines WP-13AII. The armament included a double-barreled 23 mm cannon Type 23-III (a copy of the GSH-23L) and up to four air-to-air missiles PL-5 or PL-8.
Peace Pearl J-8 (J-8II) - during Sino-US cooperation around 50, J-8II were sent to the United States for refit.
J-8IIACT (J-8II-BW2) - experimental aircraft with EDSU.
J-8IID (J-8D) is a modified J-8B with air refueling system and TACAN navigation system.
J-8IIM (F-8IIM) - export version of the Russian radar Beetle-8II (range of 70 km), armed missiles "air-to-air" P-27R1 (AA-10) and anti-ship missiles X 31A (AS-17) .
J-8III (J-8C) is an enhanced J-8II with two WP-14 TRDFs. Unlike the previous J-8II modification, the J-8C modification had an electronic remote control system (EDSU) and a new multifunctional pulse Doppler radar developed on the basis of the Israeli Elta EL / M 2035 radar. The aircraft also received a digital fire control system and a new cockpit, equipped with multi-functional displays (MFD). Development of the modification J-8C began in the year 1991, the first flight made a new aircraft in 1993. Despite the fact that this program had the highest priority, the aircraft was used for tests of the developed Type 1471 radar (KLJ-1) and aviation systems interacting with the EMF. Starting with this version, the J-8II fighter jets can use BM / KG300G and KZ900 EW suspension containers, as well as Blue Sky and FILAT targeting and navigation systems containers.
J-8IIH (J-8H) - the aircraft has a new cabin, equipped with MFD, two engines WP-13B, radar Type 1471 (KLJ-1) (range 75 km). The fighter can be armed with medium-range air missiles P-27 (AA-10) and PL-11 and anti-radar missile YJ-91.J-8IIF (J-8F) - the plane is equipped with two engines WP-13BII, refueling system in the air and radar Type 1492.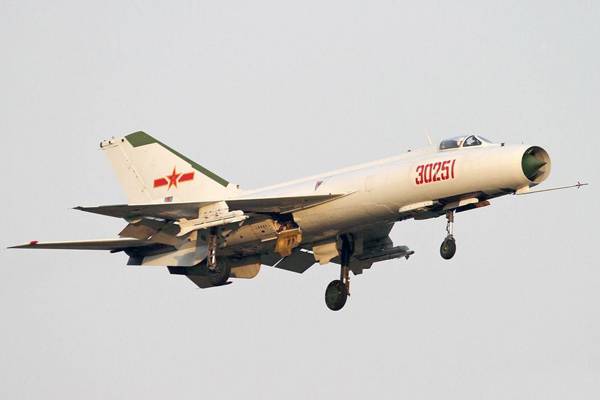 Shenyang J-11 - Chinese multi-role fighter, which is the licensed version of the Soviet fighter Su-27. The basic version of the J-11, assembled from Russian components, is identical to the Su-27SK.
The J-11B version uses the Su-27SK glider, but is equipped with Chinese avionics (electronics) and weapon systems.
Modifications:
J-11B - The aircraft uses a J-11 glider (Su-27SK), but has the following features: Chinese multi-purpose weapon control radar, capable of tracking 6 — 8 targets and directing missiles to 4 of them simultaneously; Chinese digital flight control system; Chinese copy of the Russian optical-electronic sighting system OEPS-27;
inertial navigation system; indicator on the windshield of the cab and four LCD multi-function display.
J-11D. In April, 2015 tested the J-11D modification. The model received a new onboard electronics with a more modern fighter J-16 (shock version of the two-seater J-11BS). The aircraft is equipped with a radar with an active phased antenna array, a new control system, as well as a new in-flight refueling system. Composite materials are widely used in the construction of the airframe. The machine will be armed with air-to-air missiles of the type PL-10 and PL-15.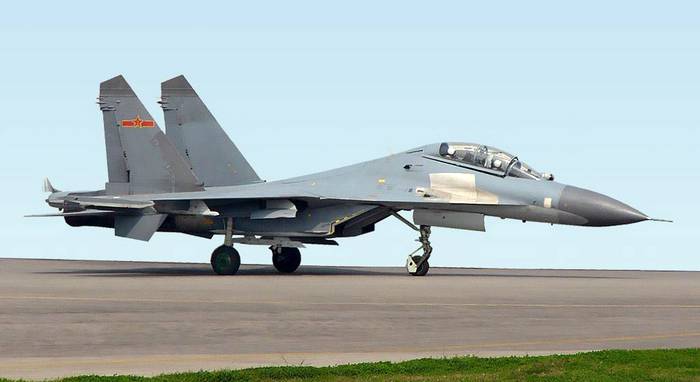 Four aircraft are exported from Russia: Su-27SK, Su-27UBK, Su30MKK, Su-30MK2.
Shenyang J-31 - fifth generation fighter (not put into operation). Built "Shenyang" on the model of "Chengdu J-20" - Chinese fighter 4-th. The fighter will go into operation in 2017 — 2019.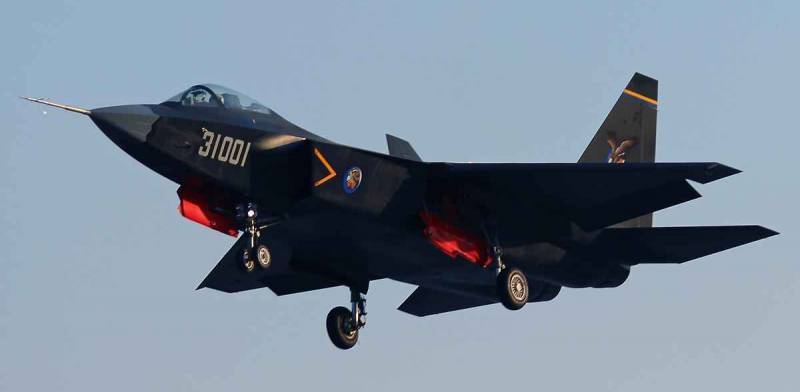 Chengdu J-10 - designed and manufactured by the Chinese company Chengdu Aircraft Industry Group (CAIG). The aircraft development program was declassified on December 29 2006 of the year. The creation of the aircraft was attended by Russian consultants from TsAGI and OKB MiG.
Modifications:
J-10A - single multipurpose fighter.
J-10S - two-seater aircraft for solving training problems, EW, guidance and target designation, as well as for strikes against ground targets.
The J-10B is an upgraded J-10A equipped with a WS-10A engine, a recessed "low-profile" air intake, an on-board radar with AFAR and a front-end optical location system.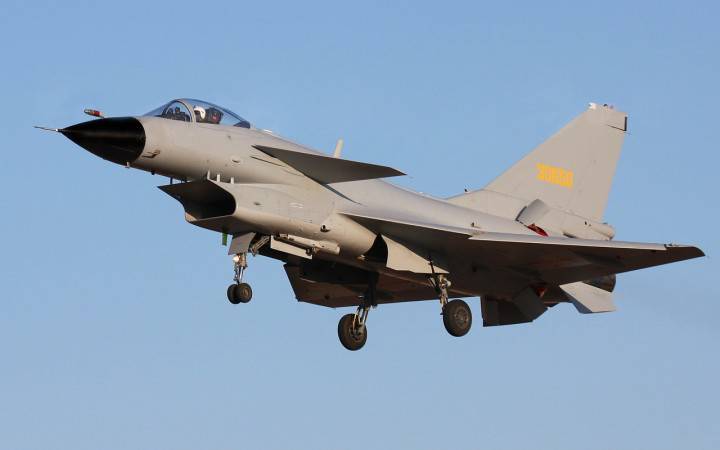 The undoubted advantage of Chinese aviation is their cost:
- J-7 - $ 6-9 million;
- J-8 ~ $ 12,5 million;
- J-10 - $ 28 million;
- J-11 - the most powerful of the Chinese fighters. At cost does not exceed the price of the Su-27. Flight performance: ground speed: 1350; maximum speed at height: 2120;
- J-31 - cost is not disclosed.
Comparing with Russia (for the Air Force):
By upgrading and combining foreign technologies, the Chinese military industrial complex begins to create fairly original samples: the Tren 95 anti-aircraft missile system, the PLL-05 and PTL-02 self-propelled guns, the ZBD-05 BMP, etc. But it still remains copies. Although in some ways China even bypassed us - for example, in drones and small arms.
However, gradually, the Air Force China is getting rid of its dependence on the Russian Federation. Yes, they purchased a large number of Russian Su-27 aircraft - 76 units, of which 40 were upgraded - Su-27UB. Having copied this fighter, they began its unlicensed production, calling all this J-11В, with their own engines, weapons and avionics. And if in China 1960-s copying of the Soviet samples was their deliberate primitivization, then J-11В, judging by the available data, is practically no worse than Su-27.
The main disadvantage of Chinese aviation is the absence of normal attack aircraft and attack helicopters. But when partnering with Russia, this minus disappears by itself. The union of Moscow and Beijing in this regard gives both sides tremendous advantages.