Today, the Russian president signed a federal law on the permanent deployment of a Russian military base at the Syrian military airport Hmeimim. The full name of the Federal Law is as follows: "On ratification of the Agreement between the Russian Federation and the Syrian Arab Republic on the deployment of
aviation
groups of the Armed Forces of the Russian Federation on the territory of the Syrian Arab Republic. "
The agreement on the deployment of the aviation group of the Russian Aeronautical Science on the territory of Syria was signed 26 August 2015 A little more than a month later, Russian attack aircraft and bombers, rising into the air from the Khmeymim airfield, struck the first blows at the militants in Syria. This information then caused a real stupor in the so-called Western "coalition". The stupor is understandable ... After all, the militants, supervised by the Western coalition, remained very little until the moment of raising the black terrorist flag over Damascus. And the Russian military pilots confused all the cards to those who wanted to use Syria in the Libyan scenario.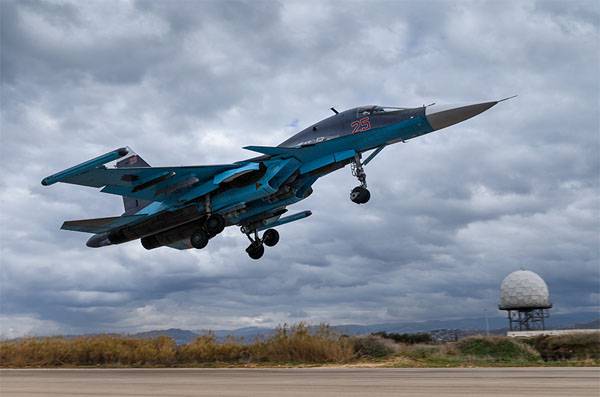 From the text of the federal law (quote
Kremlin press services
):
The composition of the Russian aviation group is determined by the Russian side in agreement with the Syrian side. Armament, ammunition, equipment and materials necessary for the Russian aviation group to perform tasks for the purpose, to ensure the safety and livelihoods of its personnel, are imported into the territory of the Syrian Arab Republic without charging any fees or duties. Immunities and privileges similar to diplomatic representatives are granted to the staff of the Russian air group and members of their families; Vehicles and aircraft of the Russian Federation used in the interests of the Russian air group enjoy immunity from inspection, search, arrest and other coercive measures.
It is especially emphasized that the maintenance of the new Russian military base will not require additional funding from the budget and will be fully provided within the framework of the expenditure items of the Defense Ministry of the Russian Federation.