Robots are here!
Robots are already here, in the air on land and in the sea. It becomes an integral component of the combined arms operations of almost all modern armed forces. This article discusses the latest developments in military robotics in the world, with special attention from Russia, China, Iran, Israel and the United States.
The American army, for example, has more than 12000 modern ground-based robotic systems in operation, and even more advanced models are approaching. In the next decade, land-based remotely controlled vehicles will become the basis of military operations, because it happened
a tank
, which was the center of the concept of combined arms forces in the 20th century. Many armies in the world believe that next-generation ground-based robotic systems transform the essence of ground-based combat. Many countries invest heavily in equipping their troops with robotic systems, since robots have advantages over soldiers. They do not sleep, do not eat, and can, without any fatigue, continuously conduct hostilities. The commercial use of robots is also expanding, which will make military robots less expensive, more efficient and will create a wide range of models that can be taken as a basis in the future. The main advantage of the "learning" neural networks is the emergence of a new generation of mobile robots, which will soon be seen everywhere, starting from cleaning households (Roomba robots are already among us) and ending with Google's crewless cars and facial recognition using artificial intelligence. Global investment in robots of all types, for military and commercial use, will exceed $ 2026 billion by 123.
Russian robotic systems
The Russian military has accelerated the development of combat robotic systems and intend to put them into service as soon as possible. The chief of the General Staff, General Valery Gerasimov, very much hopes for robots and collaboration with Russian elite units, which have shown their capabilities in recent Russian operations in the Crimea and in Ukraine. Robots could solve many of the Russian problems, in particular the recruitment of personnel and the preservation of a sufficient number of men of military age for the execution of new ambitious plans of Russia to regain their position as a regional and world power. "In the near future, it is possible that a fully robotized unit will be created that can independently carry out military operations," wrote Gerasimov in an article about the new Russian military doctrine in 2013.
Since 2013, the Russian defense industry has done a lot to translate General Gerasimov's vision into reality. Several enterprises have developed ground-based robotic systems, including for export. The Integrated Systems Design Bureau, for example, has developed a remote-controlled, lightweight mobile tactical robot PC1A3 Minirex, which fits in a soldier's backpack.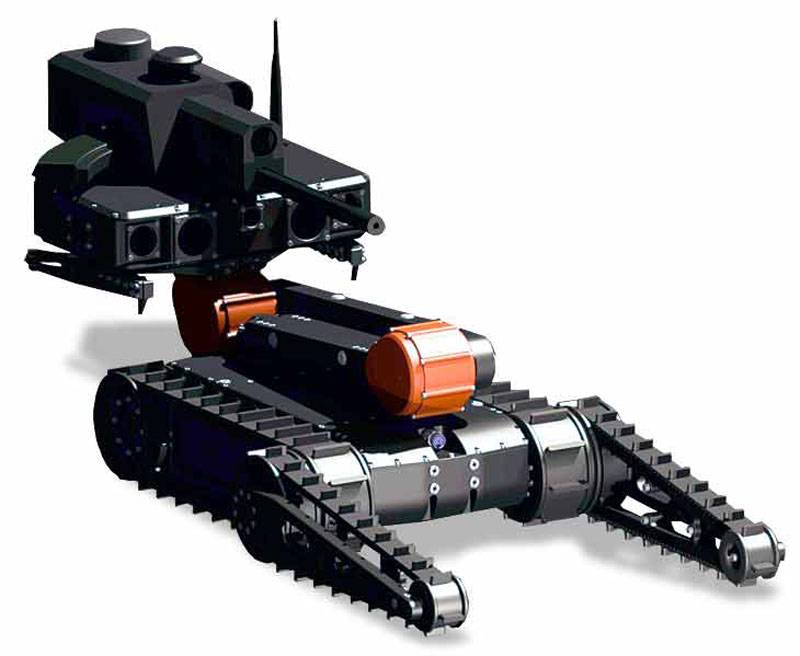 Easy Mobile Tactical Robot PC1A3 Minirex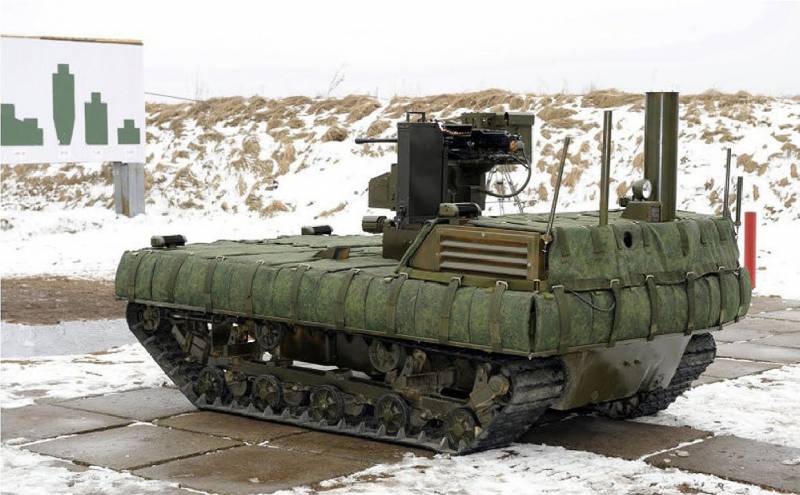 Mobile military robotic complex IRC VN
In 2014, the Russian Ministry of Defense announced that five bases of the Strategic Missile Forces are guarded by remote-controlled armed mobile security robots. Mobile shock-reconnaissance robotic complexes of the IRK VN are jointly used with the Typhoon-M combat-sabotage anti-sabotage machines modified specifically for the protection of the RS-24 Yars and CC-27 Topol-M rocket launchers. The Typhoon-M armored vehicle is a refinement of the BTR-82 armored personnel carrier. The IRK VN robot is controlled by humans through an encrypted wireless connection. The Russian Ministry of Defense has promised that in future, the IRC VN will receive an artificial intelligence system, which will allow the robot to be completely autonomous. At the end of 2015, the Russian Ministry of Defense took another step towards robotic warfare when Rosoboronexport announced that it had a new combat robot ready for export under the designation Uranus-9. Tracked armed robotic complex Uran-9, created at one of the enterprises of Rostec State Corporation, can be equipped with a variety of weapons, including 7,62-mm machine guns, 30-mm gun 2A72, ATGM M120 Attack or ground-to-air missiles Egla or Strela . Rostec claims that Uranus-9 can be used to provide mobile fire support to counter-terrorism and intelligence units, as well as light infantry units, especially it will be effective in urban combat. The combat robot Uran-9 is controlled by a human, which is located in the mobile point of operational management.
QinetiQ MAARS robot (above) and the Chinese couple Sharp Claw 1 and Sharp Claw 2 (below, Sharp Claw 2 in the background). The United States believes that Chinese hackers stole the construction of the robot from QinetiQ in order to implement its program on military robots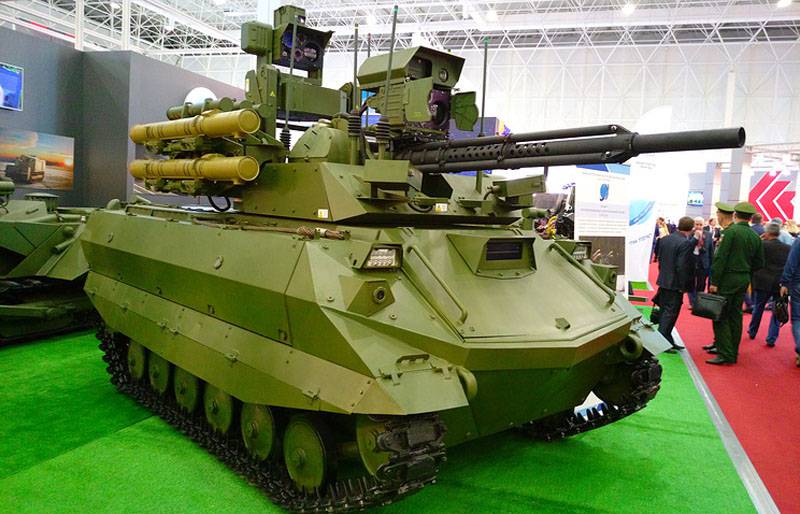 The Russian military robot Uran-9 is designed to perform reconnaissance and fire support tasks with the support of combined-arms, reconnaissance and counter-terrorist units. The complex consists of two reconnaissance robots, a trailer for their transportation and a mobile control station.
Chinese land combat robotic complexes
China is doing everything to catch up with the United States and Russia in the race of military robots, and here all means are good. The United States suspects the Chinese have stolen several American projects from a Pentagon contractor, QinetiQ. As a result, the latest robots developed by China's Harbin Institute of Technology and presented at the World Robot Conference 2015 in Beijing are very similar to their American counterparts. The three demonstrated robots were almost clones of TALON: a bomb disposal robot, a reconnaissance robot, and an armed robot.
Norinco has also developed a family of combat robots under the designation SHARP CLAW. The SHARP CLAW 1 is very similar to the modular armed MAARS (Modular Advanced Armed Robotic System) robot developed by QinetiQ North America for the US Army. Significantly advanced the idea of ​​Chinese designers in the model SHARP CLAW 2, which is a reconnaissance robotic apparatus with a wheel formula 6x6 weighing one ton, able to independently carry out their tasks. On the SHARP CLAW 2 robot, you can install the sensors of the surveillance system and the quadcopter, it can also play the role of a "carrier" and carry the SHARP CLAW 1 robot inside it. This larger combat robot can, upon command, release from its tailgate and deploy the SHARP CLAW 1.
In order to control promising military robots, the Chinese army is also working on a human-machine interface. Chinese students at the University of Information Design in Zhengzhou are exploring the possibilities of a direct neural interface, using an electrocelographic cap with electrodes to control robots.
Iranian military land robots
Iran is striving to develop its own self-sufficient defense industry with all its might, but it is far behind in the race of ground robots. In 2015, Iran experienced an armed robot during large military maneuvers. The Tasnim news agency reported that the Islamic Revolutionary Guard Corps has a remote-controlled combat robot with optical and thermal imaging cameras, armed with an 7,62-mm machine gun, which can operate remotely 7 km from its control station.
In the same year, Iran also showed the NAZIR 4x4 wheeled robot, which looks more like a toy, and not like a combat robotic complex. The Iranians say that the NAZIR can be armed with machine guns, two ground-to-air missiles or anti-tank guided missiles. Solar panels are installed on the roof of the car, but why they are not clear. Iranians also state that the NAZIR robot is completely autonomous, but this statement should be approached very skeptically.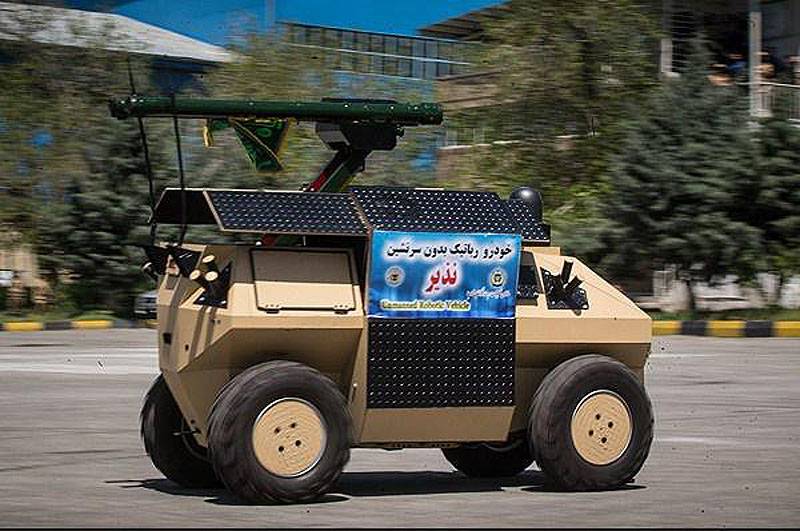 Iranian wheeled robot NAZIR 4x4
The Iranian news agency FARS published a video on the YouTube portal, in which NAZIR is presented to senior officers, while a soldier with a radio controller controls this robot. At present, Iran's possibilities are very limited, but their desire to have combat robots is real and, if they have money, they can buy the newest options from the Russians, who will gladly sell them.
High tech from Israel
Israel, as a world leader in all areas of high-tech weapons systems, has developed several fully autonomous ground-based robotic systems.
G-NIUS has developed a family of ground robots and ground combat robots for military and internal security forces. The G-NIUS Unmanned Ground Systems (UGS) joint venture is based on equal shares of Israel Aerospace Industries (IAI) and Elbit Systems. The Guardium-MK III combat robot from G-NIUS is especially worth mentioning, since it is completely autonomous and has excellent artificial intelligence that allows it to work as an intelligence or armed platform in bad weather conditions and in almost any terrain.
Touch equipment of the Guardium-MK III robot created by the G-NIUS company
Another impressive project is the combat robot AVANTGUARD MKII. This ground-based robotic complex, based on various armored platforms, such as the M113 BTR, has excellent mobility and is capable of carrying a variety of surveillance and weapon systems. AVANTGUARD MK II is remotely controlled and is excellent for combat, security, logistics and evacuation of the wounded.
The Israeli company Roboteam is also engaged in robotic systems. The tactical ground microrobot MTGR (Micro Tactical Ground Robot) was deployed by infantry and special units in an extensive network of tunnels in the Gaza Strip, often filled with explosives. Roboteam, in the person of its US unit, won a contract from the US Air Force worth 25 million dollars for the supply of a portable, capable of moving on steps, a system tested in combat conditions in support of the tasks of neutralizing explosive items. The company declares that it is the easiest platform in the world for the neutralization of explosive objects, carried by one person. A device weighing less than 6 kg moves at a speed of 2 miles per hour, can climb stairs and maneuver in dangerous tight spaces and has a line-of-sight more than 500 meters in direct visibility. Its five cameras, an internal microphone and infrared laser pointers installed on board provide intelligence about the environment, while video and audio data is transmitted over an encrypted radio channel to operators and to higher-level command posts.
Tactical ground microrobot MTGR Israeli company Roboteam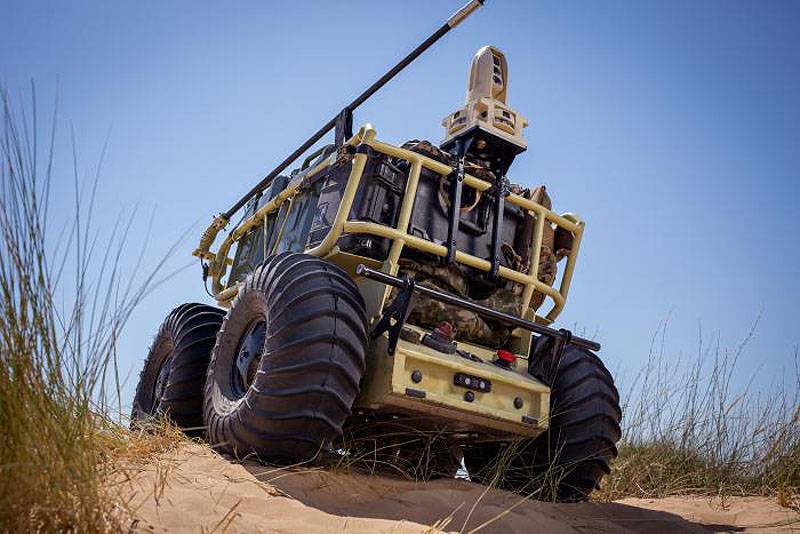 At DEFEXPO 2016, Roboteam introduced a new generation of tactical multipurpose robot PROBOT. The new generation includes updated communications and navigation systems, has a greater capacity and good maneuverability
US on the crest of a wave of robotization
American military robots were tested in combat conditions in Iraq, Afghanistan, as well as in the global war on terrorism. From time to time, new robots are used by the United States, and outdated models are often upgraded and redeveloped. At the end of 2015, the US Army deployed specialized chemical intelligence robots PacBot 510 in the 2 Infantry Division stationed in South Korea. The PackBot military robot series is made by iRobot, which has now changed its name to Endeavor Robotics. PackBot 510 can conduct surveillance and reconnaissance, bomb disposal, RCB reconnaissance, and hazardous material handling operations. It is carried in the shoulder pack and is ready for processing within five minutes.
In 2014, US General Robert Cone, then head of the doctrine development and personnel training department, said that robots could replace a quarter of US Army personnel by 2030. The introduction of robots will help reduce the number of soldiers in the standard infantry unit of 9 people, as well as the number of combat brigades. This rise in robotization is due both to cost, since people are very expensive in recruiting, training, maintaining combat readiness and logistics, and significant progress in robotization, sensor systems, power supply and energy storage systems, microcontrollers, technical vision and, most importantly , progress in artificial intelligence. However, the rapid growth in the amount of knowledge accumulated by man and the latest developments in an increasing number of areas of scientific development suggest that replacing people with robots may happen earlier than predicted by General Cone.
In June, the 2015 of the year, the research laboratory of the American Army published a draft analytical report, "A Visual Presentation of the Ground Battlefield in 2050,". In this report, the authors concluded that "the most important problem of the middle of the 21 century will be the successful integration and management of sets, groups, clusters of robots that will act independently or together."
The authors represent the "2050 battle space" infested with robots of all kinds. These robots must maneuver and fight all over the battlefield with "significantly greater capabilities of machine logic and intellectual autonomy than those that exist today ... Other robots will act as intelligent disposable ammunition. They can act in groups, such as groups of homing missiles and crawling on the ground or jumping intellectual mines. Some of these robots may be involved in cyber / network protection, including the protection of electronic components on or in humans; serve as smart assistants to prevent or warn of attacking threats, or work as advisers when making difficult decisions, for example, to perform real-time detailed analysis of the action plan prepared for specific conditions. These deployed robots will be able to work in various control modes, from complete autonomy to active human intervention. "
The new version of the robot PackBot 510, specially designed for RCB-intelligence, is undergoing final tests at the center of robotic systems. New robots were deployed in South Korea in November 2015 of the year in the US Army 2 Infantry Division
The authors of the report predict that the battlefields in 2050 will be "flooded with robots of all kinds, robots that will surpass the number of human soldiers and robot-like fighters".
Meanwhile, the ratio of people to robotic soldiers will continue to change as robot progresses until people disappear from the battlefield. We see this trend in air warfare, where manned
aviation
replaced by combat drones. The latest UAVs are completely autonomous in most of their tasks, but for many drones, the use of weapons is still under human control. Ground combat robots also have similar capabilities - they are remotely controlled or fully autonomous. In the case of remotely controlled robots, the operator can make an ethical decision - to kill or not to kill (provided that the communication channel is operational). Under Secretary of Defense Robert Work calls it the Centaur Force metaphor. He uses it when he insists that American robots should always be controlled by humans in the near future. This will help to avoid the emergence of concepts such as "autonomous killer robot." The team of General Wark in an effort to remove the soldiers from dangerous tasks and instead of placing robots is constantly looking for new breakthrough technologies not only in giant defense companies, but also in Silicon Valley.
What will the next wave of technological development bring? Investments and technological progress are accelerating around the world, and we are apparently moving towards a robotic war. The main problem today is who will control the robots. Will robots be semi-autonomous or controlled by humans, or will they be fully independent killer robots? The metaphor of General Wark about the Centaur, the mythical image of a half-human half-horse with a humanoid upper part and four-legged lower part, refers not to the design of the robot, but to two methods of controlling the robot. These Centaurs will be fully robotized systems with advanced artificial intelligence that makes them intelligent and partially independent while on the move, but will be controlled by the operator in the shelter, who will give the order to kill. Wark believes that people should be in the chain of control of robots and no doubt people should make decisions, at least in the foreseeable future. In projects of military robots in Russia, China and Iran, there may be no such interest in the presence of a person in the chain of command as in American projects. Wark believes that autocratic governments prefer robots, not people, because they do not trust people who own lethal capabilities. How long will a person stay in the control loop and make responsible "life or death" decisions? This is probably a question for 25-30 years. The development of ground-based robots all over the world is being accelerated and the world seems to be moving steadily by the time when battles with robots and robots between themselves become a reality.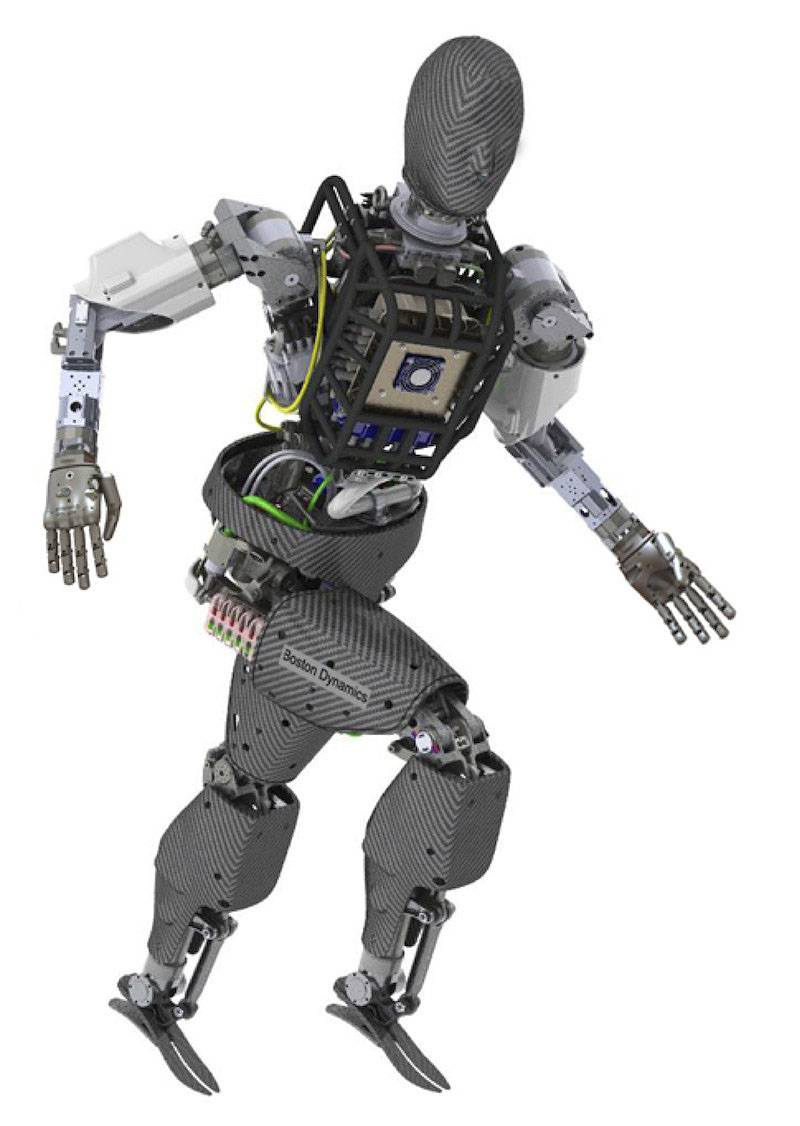 The ATLAS robot, created by the DARPA Office, is one of the most advanced humanoid robots in the world. ATLAS is the process of transforming robots from a vehicle to a humanoid form, and it took less than six years to develop the latter. In the future, the development and improvement of the ATLAS robot can go at an accelerated pace. ATLAS was created as a rescue robot, but the future development of humanoid robots will have a significant impact on future ground operations.
Materials used:
www.shephardmedia.com
www.mod.gov.il
www.imi-israel.com
www.g-nius.co.il
www.robo-team.com
www.wikipedia.org
en.wikipedia.org