Museum director
stories
Gulag Roman Romanov today said that "the vandals desecrated the museum." Desecration of the museum, namely, this interpretation is used by the custodians of the exposition and the management of the object, resulted in the fact that unknown persons hung a dummy on the territory of the museum, to which a photograph of Alexander Solzhenitsyn was glued.
A sign was posted on the dummy's chest, stating who was the author of this "performance":
Mr. SOLZhEnitsyn from the communist youth of Moscow.
On the same tablet, Solzhenitsyn was called an enemy of the Motherland and a traitor who liked to mock at the truth.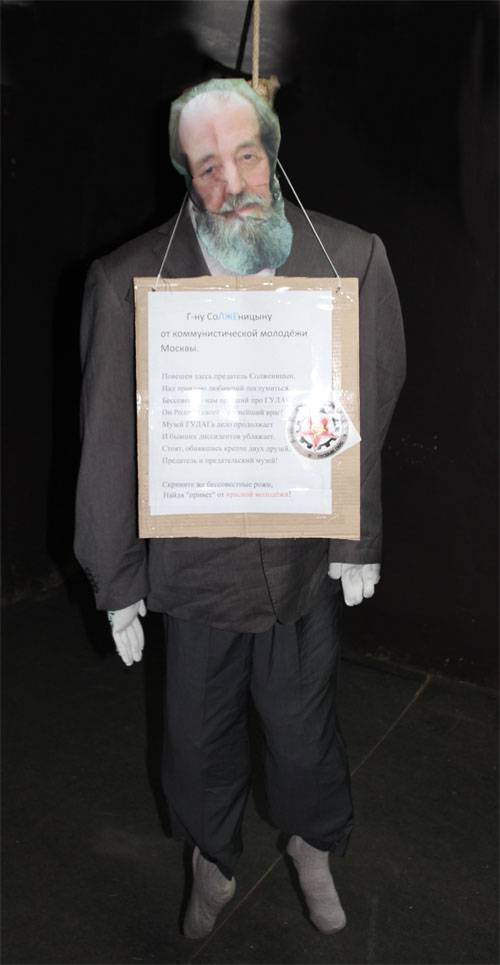 From the note about the action on
Online
this organization:
Many citizens will now wave their hands: they say, leftism, the fight against windmills, etc. And in our opinion, everything is correct. The theme of political repression of the past has today gained some painful popularity from our authorities. The Gulag Museum, monuments to Solzhenitsyn, memorials to the victims of Stalinism ... At the initiative of the Russian bourgeois authorities, the year 2018 has been called the "year of creativity" of this writer. Moreover, this is done not from some sincere sympathy for that part of people, which is not as huge as they like to shout, who have truly become victims of the mistakes of Soviet justice. Such objects are an attempt to cover up their own political inconsistency, tightening the screws and torn up in the state. It is most convenient to do this to the bourgeois government, pointing at the past: "Do you want socialism? You are crazy! There's a solid Gulag! Don't like the Spring Pact? And with a scoop, there was even less freedom, so thank for that too! "

This action is not the first act of the will of the Russians regarding Solzhenitsyn. A year ago, in Vladivostok, a sign with large letters "IUDA" was already hung on a newly opened monument.
From the text it follows that the action is political.
Roman Romanov said that he would complain about the actions of representatives of the organization of the Revolutionary Communist Youth Union to the police. Museum Director quotes
"Interfax"
:
We have a record from surveillance cameras and information on the website of this organization that they conducted it. We have every reason to appeal. From the point of view of the average person, this is horror, blasphemy and some obscurantism. From the point of view of the police, I think this can be interpreted as hooliganism.