At the start of the Cape Verde Coast Guard 2012, a small patrol ship Guardião was commissioned by the shipbuilding company in Holland, designed by Stanaxe 5009. Its distinctive feature is the use of hull bows, which are referred to as "ax bow" (translated as "hatche nose"), having a vertical stem. These original contours developed by Damen specifically for high-speed vessels Sea Ax, which are used in the extraction of oil and gas. To date, around 60 ships and boats for commercial use with bows have already been built. Guardião is the second military ship in the world with ax bows. The first such ship is the patrol ship MAI 1105 Stefan cel Mare for the border police of Romania, built by the same company Damen on the project OPV6610 in 2010-2011. It is reported that among the clear advantages of this form of the bow is an increase in seaworthiness, a decrease in the pitching of the vessel and savings in fuel consumption, which is 18 percent.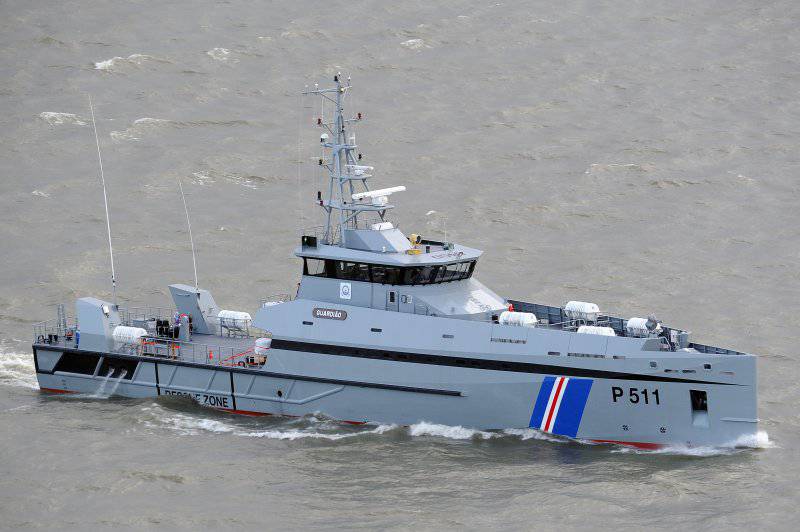 In January, the Government of Cape Verde signed a contract with Damen for the construction of the 2010 P ship for the total amount of 511 million euros. For the construction of the vessel were partially allocated funds Port Authority of Cape Verde, as well as from the Government of the Netherlands to assist developing countries.
The ship's hull was built at the shipyard Scheepswerf Made in Myurdic, where it was launched last year. The ship was completed at the shipyard Damen in Gorinchem. 2 December 2011, the patrol ship was handed over to the customer. December 20 Р511 Guardião left the Dutch Rotterdam, and on December 30 he was in Porto Grande on Cape Verde. After eight days he was commissioned.
If we talk about the characteristics of this ship, its steel hull, displacement in 425 tons, hull length (51,3 meters), its width (9 meters), average depth (3,2 meters), 4 diesel engine Caterpillar C32 with power 4324 kW, that run on 4 propellers, providing speeds up to 23 knots, cruising range (reaches 2000 miles). The number of crews is 19 people, but if necessary, there are hands capable of receiving another 53 person. In the stern of the vessel, a quick-launch motorboat will be placed on 18 seats on the ramp, which can reach speeds up to 36 nodes. A ship without weapons was transferred, but there is free space on the tank to install an automatic cannon.
During the ceremony of commissioning the P 511 Guardião ship, the Prime Minister of Cape Verde, José Maria Neves, announced that several more patrol ships of this type are planned to be purchased for coast guard. Recently it became known that Damen is already promoting its Stanaxe 5009 project to countries such as Malaysia and Qatar.