Indian information resources report that militants attacked an army convoy in northern India. A battle ensued, during which at least 9 people were injured, most of them civilians. The column moved in a densely populated area (city of Sopian) of the state of Jammu and Kashmir, which did not stop the terrorists. In the message of the Indian edition
Hindustan Times
It is said that the militants threw a column of soldiers with grenades and opened fire from rifle
weapons
. One wounded soldier in serious condition was taken to hospital.
This is the second terrorist attack in Jammu and Kashmir in two days. Earlier, Islamist militants exchanged fire with police during the seizure of the Institute for Business Development in the suburb of the state administrative center (the city of Srinagar) - Pampura. Armed with grenade launchers and automatic small arms, the militants took refuge in the multi-storey building of the institute dormitory. According to the Indian police, we are talking about the militants of such terrorist groups as Hizb-ut-Mojahiddin and Jaish al-Mohammed.
From the statement of the Srinagar city police officer:
We blocked the exits from the building. All terrorists are young people. We appeal to them so that they lay down their arms and stop walking in the wake of those who want our state to burn with fire.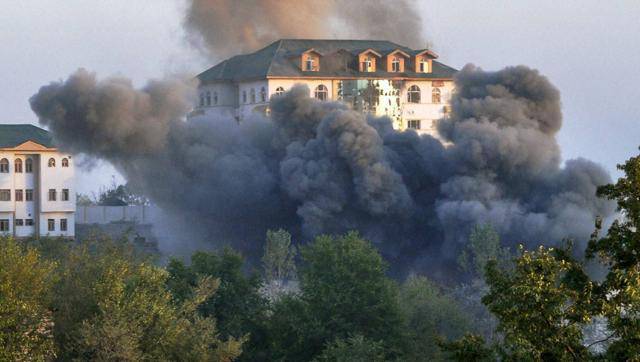 According to Indian media reports, several people actually laid down their arms, while others attempted a breakthrough, which was crowned with success. According to the police, the attackers of today who were not a military convoy could be carried out by precisely those militants who managed to escape from the building surrounded by the police in Pampura.
Indian police say militants in Jammu and Kashmir receive financial support from Pakistani factions. The situation is aggravated by the fact that the state has a high level of unemployment. and he pushes young people to the thought of leaving the bandit underground.