The heads of regions, local government, regional departments of the FSB, the Ministry of Internal Affairs, the Ministry of Emergency Situations and units of the Rosguard in wartime will be subordinated to the commands of military districts. A new control system was tested during the Kavkaz-2016 exercises, according to
News
.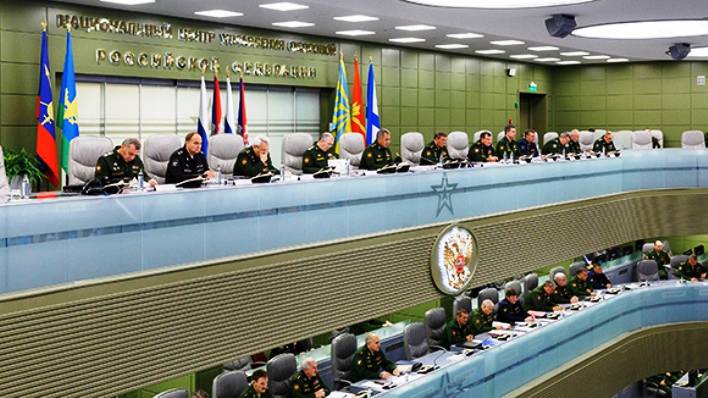 "In the course of the strategic command and staff exercises (SKSHU) of Kavkaz-2016, the Ministry of Defense checked for the first time how the command of the military district will directly lead the subjects of the Russian Federation. Working out the interaction with local authorities was one of the main tasks of the exercises. In general, the exercises were successful. At present, amendments to the legislative base are being prepared, allowing to solve certain problems identified during the exercises. "
- told a source in the Ministry of Defense of the Russian Federation.
According to Izvestia, the leadership of the military department has been left with the work of the local authorities (Stavropol Territory, Ingushetia, Crimea and Sevastopol) during the SKSU.
According to the interlocutor, the scheme of the work of the management system is as follows: "Each of the current five military districts in wartime is divided into two parts - the operational-strategic command (USC) and the military district of wartime (VOVO). The USC, to which regiments, divisions, brigades and the army are subordinate, directly conducts military operations. And VOVO ensures the maintenance of martial law, organizes mobilization and territorial defense. The military district also commands the so-called defense headquarters, which includes all local governments of the constituent entities of the Russian Federation, as well as regional departments of law enforcement agencies. The VO command sets tasks for the headquarters, controls their work, and also gives the necessary orders for solving unexpected problems. "
This management structure was created on the basis of the "Defense Plan of the Russian Federation (RF software) for 2016 – 2020", which was put into effect by presidential decree of November 18 2015.
Thus, the Ministry of Defense is entrusted with the implementation of all 19 measures, enshrined in Art. 7 of the Federal Martial Law Act.
The list of these measures, in addition to mobilization, included "strengthening the protection of public order and ensuring public safety, introducing a special mode of operation of social and industrial facilities and transport, removing property necessary for defense needs from organizations and citizens, as well as suspending the activities of political parties and organizations leading propaganda and agitation ", the article says.
Military expert Vladislav Shurygin: "
Previously, these 19 measures were divided between security agencies and local authorities. But in fact there was no single coordination structure that would organize and lead their implementation, both in peacetime and in wartime. It was prescribed only to organize interaction. Now, the command of military districts will plan in advance the work of all participating in the provision of a wartime regime and the mobilization of structures, to lead them. "