As a result of the terrorist attack in the south-east of Turkey, a crater was formed to a depth of 6 meters.
Another terrorist act committed in Turkey. However, even against the background of numerous terrorist attacks this time stands alone. The fact is that in the province of Hakkari (southeast of the country), terrorists detonated an explosive device whose power was about 5 tons in TNT equivalent - by the most modest estimates. An explosion of immense power thundered near the police station near the town of Shemdinli. The explosive device was in the truck.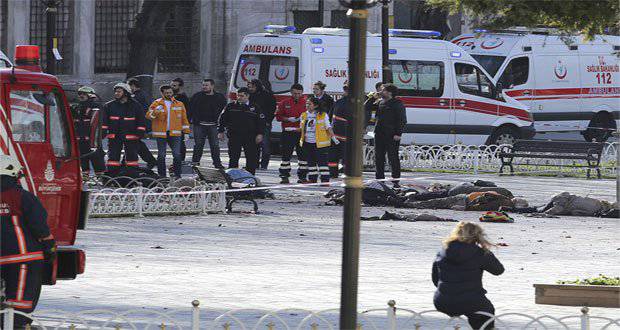 At the site of the explosion, a crater was formed with a depth of about 6 meters and a diameter of up to 15 meters. Turkish News Agency
DHA
reports that responsibility for the explosion (and several hours have passed since the terrorist attack) was not claimed by any group. At the same time, Ankara habitually believes that the explosion was carried out by representatives of the Kurdistan Workers' Party, a recognized terrorist organization in Turkey.
The terrorist attack in Hakkari province claimed 18 lives, ten of which were the lives of police and military personnel. About 30 people were injured. Four of them are in extremely difficult condition. All the victims were taken to medical institutions, including one of the military hospitals. The victims of the attack were sent to the clinic by helicopters of medical services.
The province is conducting an operation to identify possible accomplices of those who activated an explosive device of enormous power.
Against this background, information comes from Turkey that the truck's explosion was accompanied by fire from an automatic
weapons
by representatives of the Turkish gendarmerie.
http://www.hurriyet.com.tr