The American general is going to show Russia "Kuz'kin mother"
Western edition
The Sun
writes that in the American generals found another "brave", who decided to make war with Russia, at least in a verbal war. We are talking about the general by the name of Millie, who is the chief of staff of the US Land Forces. General Millie said that he wants to convey the words about the "power of the US Army" to "those who have plans to harm Americans, the American way of life and American friends."
Translation of the statement of the American General leads
InoTV
:
The US military, despite all our problems, will stop you, and we will arrange for you such a serious beating that you have never been given before. We will destroy any enemy, anytime, anywhere.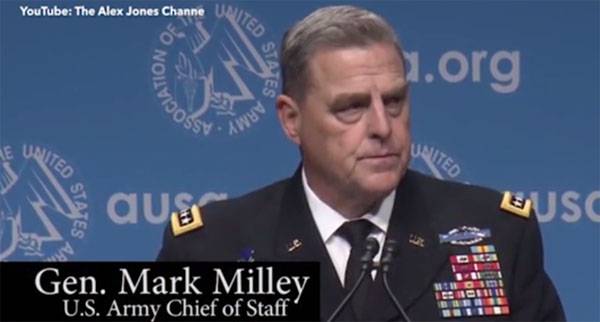 Mark Milli concretized that he was going to arrange "a serious thrashing" to Moscow ... Otherwise, it's really somehow strange, it turns out that Russia and Ebola are the number one enemies, as the American Supreme declared, and there is still no "thrashing". ..
In addition, Mr. Milli added that in recent years, not only Russia, but also China, the DPRK and Iran have been observing the methods of warfare by the US Army. According to the American general, all these countries are hatching plans for the "nuclear destruction" of the United States and Europe. In order to enhance the informational, or rather, misinformational effect, Sun leads the alleged statement by the Russian ambassador in London:
Recently, a high-ranking Russian official, ambassador to the UK, Alexander Yakovenko, said: "In the current world order, fundamental changes are taking place because of the Crimea, Russia and Brexit. Russia can now wage a non-nuclear war in Europe and win. Russia is the only country that will always matter. " You can do without the rest of the countries, including the United States. We are in the final phase of this process.
They scared themselves, remembered their power themselves, answered themselves ...