In Kiev, expect open "twisting hands" from the West
Russian Presidential Aide Vladislav Surkov and US Assistant Secretary of State Victoria Nuland agreed at a meeting in Moscow to increase pressure on Kiev in the implementation of the Minsk agreements, reports
RIA News
message of political scientist Alexei Chesnakov.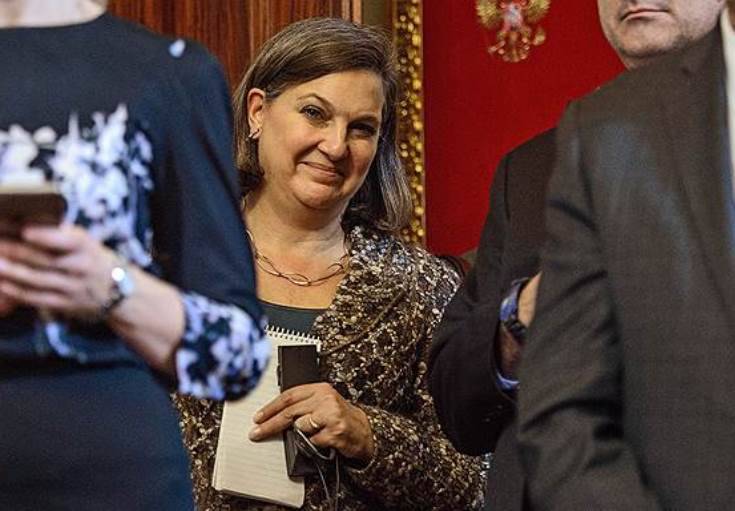 According to Chesnakov, "Surkov and Nuland discussed the issues of breeding forces in the agreed areas, complicated by the failure of the agreements by the Ukrainian side."
"It was noted that Ukraine submitted proposals for the implementation of political settlement points that do not comply with the Minsk agreements",
said a political scientist.
"It was noted with satisfaction that the OSCE Special Monitoring Mission has free access to border areas and conducted inspections one hundred forty-five times during August-September without detecting any violations and, moreover, no foreign troops," he added.
In Kiev, they already understood that the conclusions reached at this meeting would lead to the "twisting of hands" to the Ukrainian rulers.
"The West will put pressure on us. We will twist arms. In the US, they want to leave a positive legacy. Therefore, Nuland is now flying to Moscow. We will be pressured in the coming weeks, imposing decisions on the road map (for the Donbas) that are openly unacceptable to us. "
, - said an unnamed high-ranking Ukrainian official for LIGA.net.
The disputes, as is known, mainly go around the wording of the plan for resolving the conflict and the order of implementation of its points.
Earlier, in September, Poroshenko refused to make concessions, citing the risk of a new wave of instability in the country.
"No, we are not drained. But we must endure the next two weeks. Perhaps, pressure on Ukraine will begin openly, "the source added.
Kommersant / Dmitry Azarov