Independent experts at the International Syria Support Group came to the conclusion that the shelling of a column with humanitarian aid from the UN mission was a drama. Recall that, without exception, the major Western media literally at one time issued materials accusing of allegedly bombing a convoy of vehicles of the United Nations mission near the town of Urm al-Kubra.
RIA News
He reports that over the course of several days, experts at the MGPS have studied photographic and video materials and got acquainted with other data. Special attention was paid to the experts from the Russian drone, which monitored the movement of the humanitarian convoy to a certain point on the route, after which the monitoring was carried out by American UAVs, and the shock ones. Recall that the video from the Russian drone was captured as a parallel course with UN trucks moving a car carrying a large-caliber mortar. Experts believe that in fact it is the transfer of military equipment by the Dzhebhat an-Nusra militants to Aleppo under the cover of a humanitarian column.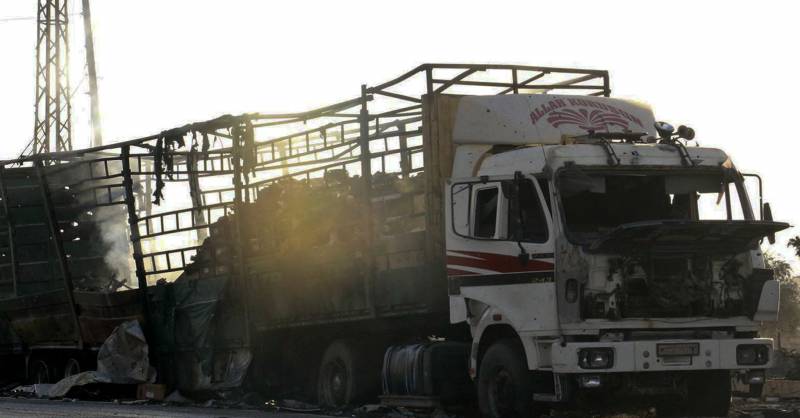 From the document:
Urm Al-Kubra is located in the territory controlled by the Nusra militants (banned in Russia), moreover, this territory is marked as a region of high concentration of militants. If you take the reports for September 19, you will find that in this very place, at the same time, the Nusra militants launched a large-scale offensive in the direction of Aleppo, supported by massive artillery fire,
tanks
and multiple launch rocket systems.
Experts working in MGGS, speaking of the planned staging of the attack on the convoy, give the following arguments: in some cases, the photo shows unaffected and slightly damaged UN truck cabs with a fully burned-out cargo in the body (van). This, according to the expert group, suggests that the cargo was deliberately destroyed in order to divert attention from the fact that the terrorists took advantage of the movement of the column towards Aleppo for their own cover.
Why the American side does not publish videos from its drone is a separate question that would be worth asking in the UN Security Council.
Apparently, after the publication of the findings by MGPS experts, the West will accuse them of being all "Kremlin agents" ...