Rapidly impoverished America. Feed the pregnant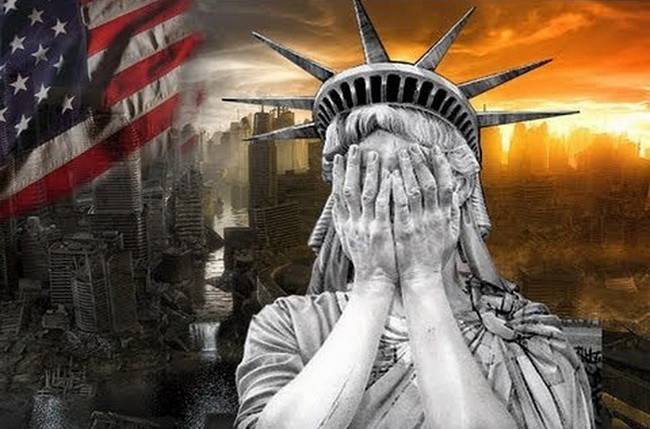 Recently, I have more and more come across publications in the American media about the death of America's middle class and the end of the "American dream".
According to the independent American portal
End of american dream
One of the main reasons for this is the higher wage growth rate of the cost of living in the United States. In particular, for food, rent, medical insurance, in connection with which the number of "working poor" in the country increases every year at an explosive pace, and the "middle class", the backbone of American society, is drastically decreasing. You can have a different attitude to this trend. This can be attributed to the panic expectations of society, as a reaction to the hysteria in the same media. This can be attributed to propaganda, even Russian propaganda. Different media do not always reflect real events and priorities in society.
However, recently, at one of the American forums, I came across a message from an ordinary American, a typical representative of the middle class, which shocked not only the American himself, but also me. This message was called
Starving Pregnant Women in America
??? . I can not resist, so that in free translation I can not bring it entirely.
"I think this is a rant. I don't usually say that.

I just took a taxi to the local Corner Store (the nearest store on the corner), as my legs got soaked to my knees. Taxi fare is about 6.80 $ rt anyway.

I got out of the taxi and saw a decent tiny, overly skinny woman, about 35 years old, who was standing near the store. Her appearance was Middle Eastern, or perhaps even South European, Italian. I don't distinguish that very well. She said: "Excuse me, but I'm hungry, do you have any little thing?" This was not the first time when I was asked for help. Now I live in a rich village, but I used to live in big cities. I gave her all that was at the bottom of my wallet, near 3 $, and thought. I told her: "I have to, then I could give you more." After that, I said, "Come with me to the store and get you some food."

If she were a drug addict, she probably would not agree. But she said, "Yes, please, I'm pregnant." I purchased the necessary products for myself, and then told her what she would like to receive (from ready-to-eat products in the mini-market). She asked for ham sub ham, chicken wrap and milk wrap. She tried to prevent me from adding other products, but I took more soup, bananas, milk and a few other products for her. She said she wanted to replace the milk with whole 1%. Her jacket flew open, and I saw a small bulging belly.

She had a cold, empty cup of coffee / soda in her hands. The cashier was probably offering her free tea. I have been visiting this store since 2002.
I'm sorry I didn't take her number. I told her that near the village there are 7 churches, where there are food pantries, and she should go there. She said that it is necessary. Hopefully, she will do it, because the food pantry will help her with social security.

I just don't understand how this can happen now. "
In numerous comments to this message, people praise the author for showing compassion, discuss the problems of this woman, talk about such poverty in other parts of the United States, but, most importantly, no one is surprised. A Russian man, among other things, would be surprised that the "average American" living in a rich suburban area has only 10 dollars in cash in his wallet, 6 with a little of which he gave for a taxi, and more 3-starving pregnant women .
I remind you that this is not written in the media, but in a simple American forum by ordinary Americans. In this light, numerous social studies of various American organizations, both nongovernmental and state, are quite different.
These organizations, in particular End Of American Dream,
assure
that health insurance premiums in the US are increasing 3 times faster than federal officials say. In the country as a whole, 2016 is expected to increase these payments by 20,3%, which affects millions of families. Since July, the 2012 g. Food price index has grown from 73 to 162 types of products. Today, 47 million Americans live in poverty, food stamps are issued for every fifth child in America, 1,5 million American families live on less than 2 dollars a day, 46 million Americans annually use the services of food banks.
As a result, a large number of Americans, previously belonging to the middle class, are losing their jobs at home. Homelessness and impoverishment become a real prospect in the life of the middle class, with the disappearance of which the "American dream" dies.
According to The Social Security Administration
, half of Americans earn less than the subsistence minimum (16,87 dollars per hour), i.e. less than 30 thousand dollars a year. For many, this amount will seem more than worthy. However, this level of income, according to estimates
Alliance for a Just Society
, is not enough to achieve a more or less adequate, but modest standard of living, even with two employees in a family of four. Now in the US, 7 applicants claim each job created, so 15 dollars per hour of payment is enough for only one person to barely make ends meet.
Research
Go Banking Rates
found that almost half of Americans have no savings, and more than 70% have savings of less than 1000 dollars. These figures are also confirmed by statistics.
The pew research center
according to which almost half of American families spend more than they earn.
The Wall Street Journal
directly indicates that 62% of Americans do not even have 500 dollars for an emergency repair of the machine, and the survey
U.S. Fed
found that almost half of the respondents were unable to cover extraordinary expenses in the amount of 400 dollars.
Between 2007 and 2013 the average welfare of US citizens fell by 40%, leaving the poorest half of Americans with a negative level of personal condition, subject to a deep debt burden. Thus, America's once-strong middle class has dropped to below the average level and continues to fall, and half of America lives alongside the line where poverty begins.
Newspaper
Financial Times speaks directly
about the collapse of the middle class in the US, since it only recently accounted for 62% of the population, and now only 43%. And this figure is rapidly decreasing.
I want to illustrate to you the real social situation in the USA.
The US Department of Agriculture estimates that the number of American households participating in the Food Stamp Program (SNAP) beat another
historical
the maximum, exceeding the mark of 23,2 million. Whereas the average size of the "ration", taking into account inflation, fell to its minimum value ($ 274,5)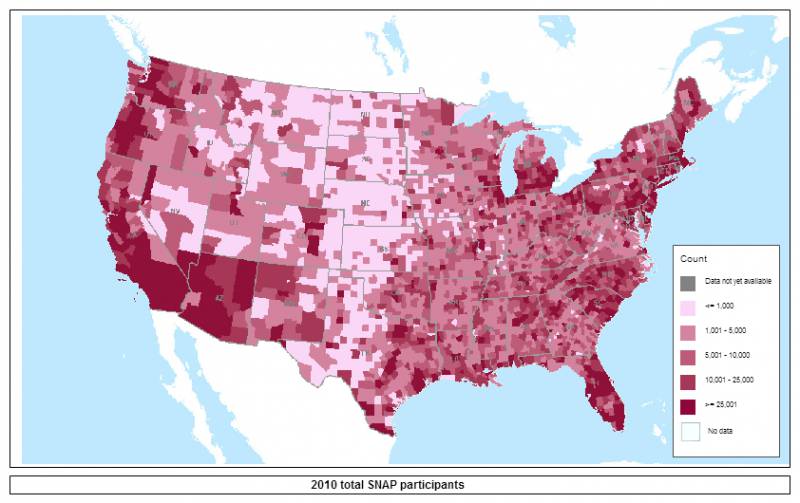 SNAP participants (food aid program)
In America, there is an unprecedented leap in poverty - in terms of poverty, the United States reached the 1960-s. - more than 50 million people and 20% of all children in the country are below the poverty line.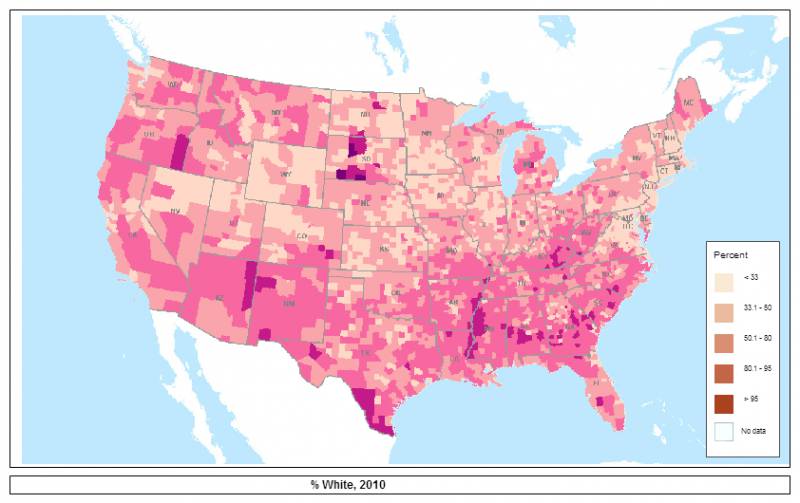 County Poverty Rating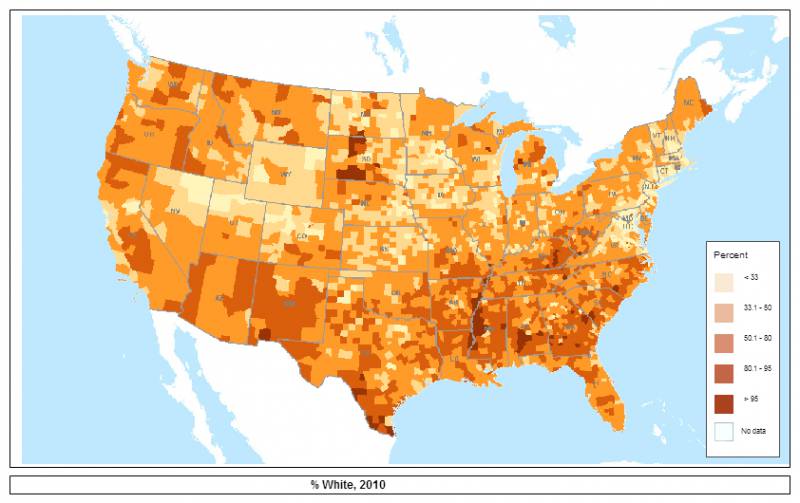 United States - Child Poverty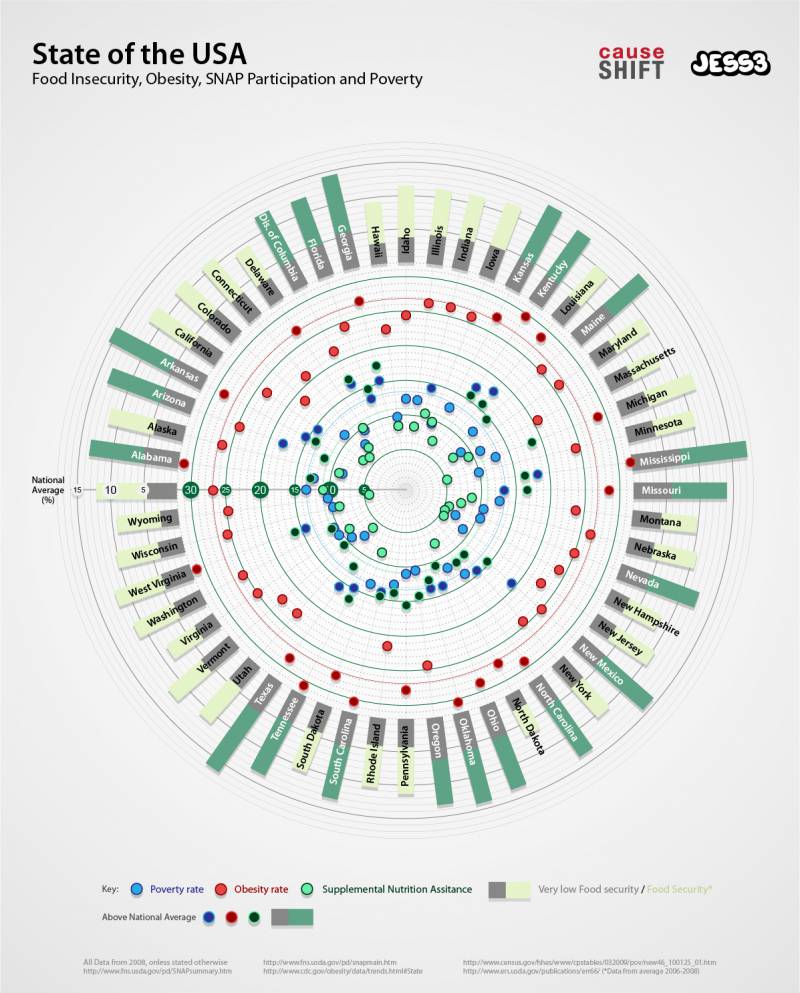 USA, food insecurity, obesity, free food and poverty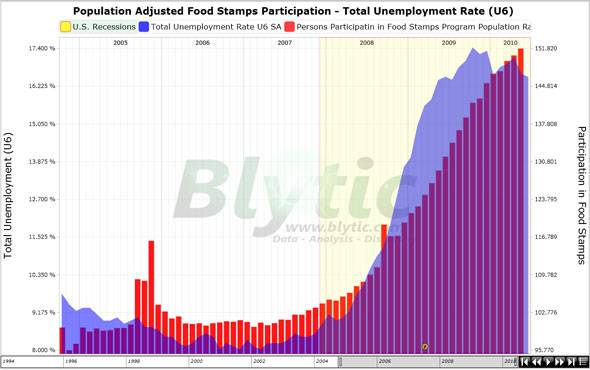 Growth in number of food aid recipients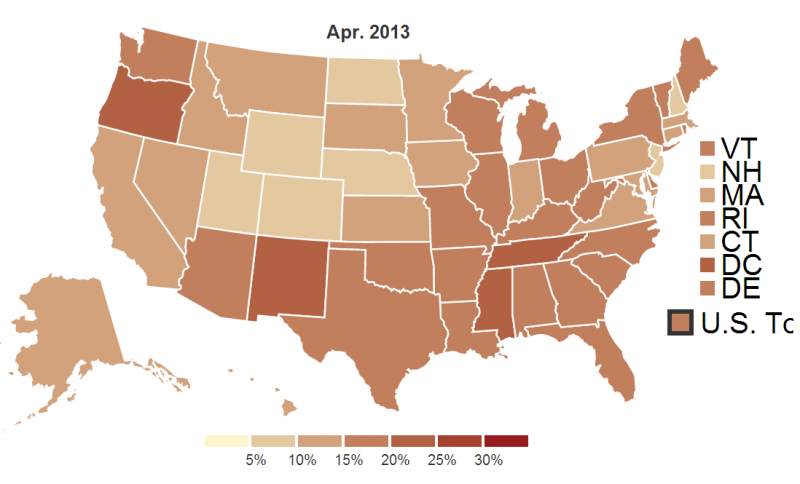 Percentage of state aid recipients

Looking at this visual embodiment of the impoverishment of ordinary Americans, the above message on the forum does not seem so unreal and shocking. This case could not just be, but rather, the ubiquitous everyday reality. And when numerous all-propers in our media and social networks assure us how well people live in the West and how badly in Russia, I would introduce them to this simple American, a typical representative of the middle class. While a typical representative, as very soon, quite unexpectedly for him, he can change a good house in a rich country village to a cardboard box under the bridge, and healthy natural food to a rotten hamburger from a garbage dump. Unless, of course, the United States once again destroys some resource-rich state, bringing democracy to it by aircraft carriers and cruise missiles.