"Ukroboronprom" presented a complex of direction finding "Shadow"
"Ukroboronprom" is not tired of presenting new items that pop up like a horn of plenty. The uniqueness of these new developments in the field of defense is that either they are produced in a single copy for a particular exhibition, or (if in several copies) they are quickly sold abroad instead of being supplied to the Armed Forces of Ukraine and the National Guard. How things will be with the next novelty - will show in the near future.
And we are talking about the complex of intelligence and direction finding "Shadow". According to the press service
"Ukroboronprom"
, "Shadow" has the widest possible range of both analog and digital radio stations in the 30-3000 MHz range of bearing distance 25-35 km.
From the report:
The equipment of the complex allows detecting, intercepting and recording radio broadcasts of the enemy, while the software and equipment reveal encrypted transmissions. The main advantages of the Shadow complex are a wide range, a modern element base, a high degree of automation at a relatively low cost, as well as mobility, which allows direct support of troops.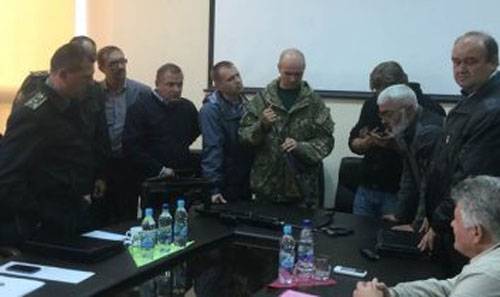 Against the background of reports on new developments in the military sphere, the Ukrainian media publish information about the volume of the military budget of Ukraine for the 2017 year.
UNN
reports that the Cabinet of Ministers of Ukraine approved military spending in the amount of 2,5% of GDP (about 64 billion UAH). This is about 12 billion UAH more than the expenses of the Ministry of Defense of Ukraine in the current year. After this, the question arises: does anyone else believe that Kiev will stop in its aggression against Donbass?
http://ukroboronprom.com.ua