Robot complex "Nerekhta" in the event of successful passage of the tests will go into service with Russian intelligence officers and special forces, according to
News
.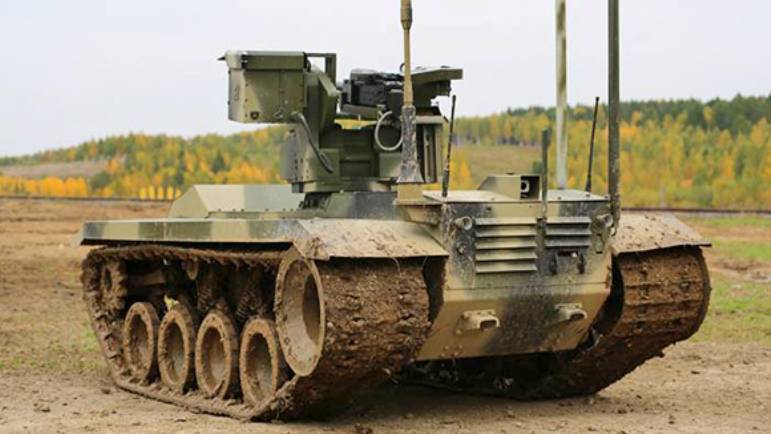 Designed and produced by the Vasily Degtyarev Kovrovsky Plant (ZiD), it is distinguished by high maneuverability and low visibility.
"At present, the Nerekhta complex is included in the list of promising robotics complexes considered for adoption by the Armed Forces of Russia. If the platform adequately demonstrates itself during the tests, then intelligence and special forces units will be put into service, "a source in the Ministry of Defense told the newspaper.
"Initially, this light tracked platform was used as a mobile target, but at the initiative of the military, we adapted it to deliver radio-controlled charges. At present, the machine is undergoing internal tests, and we continue to improve it, "said Deputy Chief Designer of ZiD, Dmitry Fufayev.
According to the newspaper, the principle of operation of the kamikaze robot guidance system is as follows: "Before the battle, in memory of Nerekhta, a map of the battlefield and coordinates of enemy targets that need to be destroyed are laid. During the operation, reconnaissance special forces simply need to press a button on the control panel, selecting the number of the previously laid down target. "Nerekhta", having received a radio command, will independently make its way to a given point and liquidate an enemy object. "
A similar scenario was demonstrated at a closed screening at the Army-2016 forum.
"In the course of a complex episode, reconnaissance on quad bikes performed the task of detecting a conditional enemy. To cover the reconnaissance group, Nerekhta robotic complexes were used. During the show, each of the platforms eliminated one of the "enemy" armored vehicles by self-exploding. In the future we are going to install a manipulator on the platform, with which the machine will become reusable. She will drop the charge and return to base. To this end, we also plan to increase the speed of the robot, "said Fufayev.