Japanese Prime Minister Shinzo Abe has once again decided to raise the theme of the Kuril Islands. TASS news agency reports that Abe has denied recent reports in the Japanese press that he is ready to sign a peace treaty with Russia if Tokyo transfers two of the four islands of the South Kuril Islands (in the Japanese version, the "northern territories"). According to Abe, a peace treaty with Russia will be signed only if "membership is determined for all (4) islands." These are Kunashir, Shikotan, Iturup and Habomai.
Japanese Prime:
We strictly adhere to a single position in the negotiation process with Russia, and there has been no change in it.
At the same time, Mr. Abe had to answer the question of whether Japan would have to recognize the Crimea as Russian in negotiations with Russia. At this, the Japanese prime minister replied that he did not see any connection between the Crimea and the Kuriles. According to Abe, Japan has already declared its position on the Crimean issue.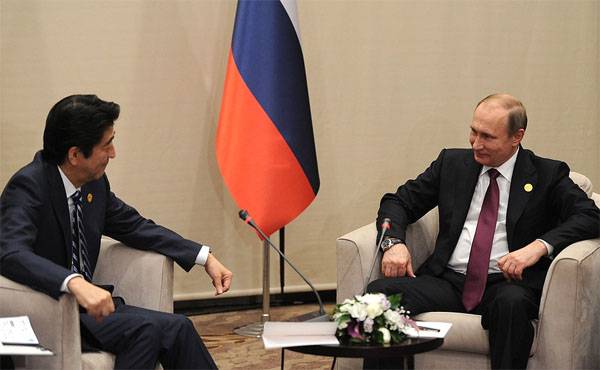 Words Abe leads
TASS
:
In connection with the annexation of Crimea to Russia, we stated that we did not recognize changes in the situation in the world based on military force. We have a common position on this issue with other countries of the Big Seven and imposed sanctions on Russia, the problem is even wider - it is also relevant to the situation in the east of Ukraine. We have repeatedly advocated the strict implementation of the Minsk agreements, Japan calls for this not only Russia, but also Ukraine. However, I do not understand how this relates to the negotiations on the territories and the conclusion of a peace treaty.