Five and a half years after the outbreak of the civil war and a year after the entry into hostilities of the Russian
aviation
The Syrian Arab Army (SAA - the official name of the Syrian Armed Forces) is a very diverse force.
The ground forces consist of three army corps, three separate divisions, the Republican Guard and the SSO.
1-th AK includes 5-th Mechanized (in its composition 15, 112, 132-mechanized, 12-Armored Brigade, 175-th Artillery Regiment), 7-th Mechanized (68, 88, 121-mechanized, 78 Armored Brigade, Artillery Regiment) and 9 Armored (33, 34, 43 Armored, 52 Mechanized Brigade, Artillery Regiment) Divisions, 61 and 90 Infantry Brigade.
2 st AK - 1-I armored (76, 91, 153 armored forces, 58-I mechanized brigades, artillery regiment-need) and 10-I mechanized (18, 62, 85-I mechanized, 56-a-way I-a-mechanized (XNUMX, XNUMX, XNUMX-I mechanized, XNUMX-a-way), I-X.
The 3 th AK includes the 3 (47, 65, 81-I armored, 21-I mechanized brigades) and 11-I (60, 67-I armored brigades), armored divisions.
Separate divisions - 4-I armored (40, 41, 42-I armored, 138-I mechanized brigades, 154-th artillery, 555-I armored (18, 131 armor), 134-I armored (167, 120 armor, I, I, I, I, I, I, I, o th mechanized brigade, 64 th artillery regiment), 17 th reserve mechanized (137 th mechanized, 93 th armored brigade, artillery regiment).
The Republican Guard includes 105, 106 th mechanized, 103 th commandos, 124 th special brigade, 101, 102 th infantry, 104 th airborne, 100 th artillery, marines regiment.
MTR –14-I (36, 554, 556-I regiment MTR) and 15-I (35, 127-MTR, 404-i armored regiment) division, division "Tigers" (brigade "Cheetahs" and "Panthers") , Desert Falcons Brigade, 41, 45, 46, 47, 53, 54 of the MTR shelf.
The Republican Guard, the SSO and the 4-I armored division are the most combat-ready and loyal to the compounds, it is they who bear the brunt of the civil war. Much of the remaining compounds defeated during the fighting and exists only on paper. All three army corps, or rather, what was left of them, are involved in the protection of the rear areas, which in the conditions of the Syrian "patchwork quilt" is not much simpler than conducting combat operations on numerous fronts.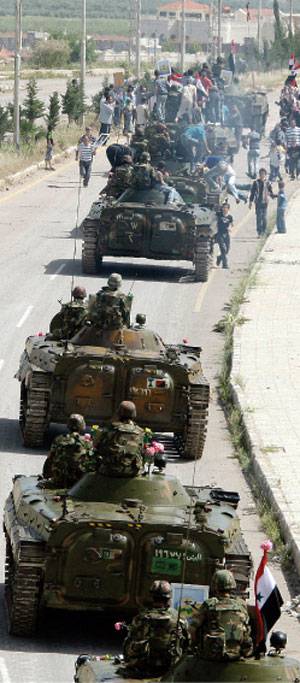 The 12 PU is in service with respect to modern TR "Tochka", from 18 to 30 PU of old TR "Luna", from 24 to 48 PU OTR P-17 and their North Korean counterparts "Hvason".
Tank
the fleet numbers up to 635 T-54/55 and up to 496 T-62, up to 1145 relatively new T-72s, up to 15 newest T-90s and, possibly, up to 80 old light PT-76s.
There is up to 700 BRDM-2, more than 1700 BMP (up to 1546 BMP-1, up to 98 BMP-2), up to 1400 BTRT (up to 300 BTR-152, up to 500 BTR-50, up to 600 BTPR-XTMP, up to 60 BTR-10, up to 80 BTR-82, up to XNUMX BTPR-XTMP, up to XNUMX BTR-XNUMX, up to XNUMX BTR-XNUMX, up to XNUMX BTR-XTMP, up to XNUMX BTR-XNUMX, up to XNUMX BTR-XNUMX, up to XNUMX BTR-XNUMX, up to XNUMX BTR-XNUMX, up to XNUMX BTR-XNUMX, up to XNUMX BTR-XNUMX, up to XNUMX BTR-XNUMX. -XNUMX and BTR-XNUMXА).
Artillery comprises about 300 ACS (up 280 2S1, 36 howitzers D-30 chassis T-34 / 85, at least 3 guns M-46 on trucks to 53 2S3) to 1200 towed implements (up 150 M-30 to 100 A-19, up to 230 D-30, up to 600 M-46, around 20 D-20, 50 ML-20 and 20 D-1, 10 C-23), approximately 1100 mortars (up to XNXXXXXXXXXXXXXXXXXXXXXXXXXXXXXXXXXXXXXXXXXXXXXXXXXXXXXXX) 200 37B210, up to 2 PM-11, 700 M-43, 25 M-160), more than 8 MRLS (up to 240 Chinese towed Tour 400, to 110 Soviet BM-63, 300 martial TOC-21А).
There are a significant number of ATGMs (up to 200 French Milan and 410 Soviet Malyutka (including up to 199 self-propelled on BRDM-2), 150 Fagot, 40 Konkurs, to 1000 modern Russian Kornet) and 300 POT BS-3.
Most of the air defense weapons transferred to the air defense forces. On the armament of the landowners remains up to 5000 MANPADS (up to 4000 "Strela-2", 100 "Strela-3", up to 500 "Igla", 200 "Igla-S"), over 300 ZSU (to 344 "Shilka", up to 25 ZSU -57-2), approximately 1400 anti-aircraft guns (up to 500 ZU-23-2, up to 300 61-K and Chinese Tour 65, up to 600 C-60, up to 25 КС-19).
It must be emphasized that all the figures given are the maximum possible values ​​for each type of equipment, the actual number of combat-ready samples in the arsenal of the CAA may be much (tens or even hundreds of units) less. In addition to the huge losses in the course of hostilities, there is a strong physical deterioration, since a significant part of weapons and military equipment was produced in 70 or even in 60. BTRs are almost never used in combat, they are replaced by "carriages", that is, commercial vehicles (trucks and jeeps) with weapons installed on them (ATGM, PU NURS, ZU, recoilless guns, machine guns, etc.). In fact, tanks, infantry fighting vehicles and carts are fighting, and this applies both to the CAA itself and to its many opponents.
The Air Force also suffered significant losses, the remaining equipment was heavily worn out, so its actual amount may be significantly less than the specified below.
Attack aviation includes about 50 bombers (up to 16 Su-24M, up to 32 MiG-23BN) and up to 72 attack aircraft (up to 42 Su-22, up to 30 light Czechoslovak L-39Z).
Fighter aircraft from 35 to 46 MIG-29 (including up 6 MIG-29UB) to 82 MIG-23 (to 77 MS / MF / MLD before 5 PA) to 96 MIG-21 (to 87 MF and bis, up to 10, UM and US), up to 40 interceptors MiG-25 (including up to 8 reconnaissance MiG-25РБ, 2 combat-training MiG-25UB).
Transport planes - 3 IL-76, 1 An-24, 5 An-26, 4-6 Yak-40, 4 Tu-134, 2 American RA-31, 2 «Falcon-20», 1 «Falcon-900». Training - 6 Pakistani Mushak, up to 32 Italian MB-223.
It has up to 90 combat helicopters (up to 44 Soviet Mi-24 and Mi-25, up to 46 French SA342L), up to 73 multipurpose and transport (34 – 53 Mi-8 and Mi-17, to 20 Mi-2).
Of the entire aviation technology, only the MiG-29 and with a very big stretch of Su-24M can be considered relatively new. Despite the depreciation of the air fleet and heavy losses, it was the Air Force that helped the CAA hold out for more than four years and wait for Russian aid, first, providing support to ground forces, and second, supplying numerous isolated besieged garrisons.
Air defense troops in Syria, as was the case in the USSR, are a separate type of aircraft. They include 10 divisions (33 – 36 brigades). It is armed with up to 53 C-75 ADMS divisions (up to 318 PU), up to 40 C-125 battalions (up to 160 PU), 8 C-200 battalions (48 PU), up to 5 "Square" regiments (up to 25 batteries, "Square", up to 100 battery "Squares" 3 PU), 6 – 1 of the Buk-М2 and Beech-М18 divisions (36 – 9 PU, 18 – 61 ROM), 100 ЗРК "Оса", up to 1 ЗРК "Strela-60-10", "Osa", to 36, "Strela-1-2" ZRK "Osa", to 1, "Strela-XNUMX-XNUMX" ZRK "Osa", up to XNUMX; Strela-XNUMX ", XNUMX ЗРПК" Pantsir-СXNUMX ". From all this technology modern are the Buk air defense missile system (especially the Buk-МXNUMX) and the Pantsir-СXNUMX air-defense missile system.
The Navy did not suffer losses during the civil war, but the equipment was very outdated, completely worn out, its combat capability was questionable.
There are 2 very old Soviet patrol ships of the 159 project and up to 13 the same age missile boats of the 205 project (including up to 5 of the 205 project, before 5 of the 205EP project). Relatively modern are the Iranian light missile boats "Tir-2" (with the Nur missile, an analogue of the Chinese C-802), from 6 to 10 units.
The Navy also includes 14 patrol boats (8 Soviet 1400M project, Iranian 6 type MIG-S-1800), 5 Soviet minesweepers (1 1265 project, 4 1258 project) and 3 SDK 770 project (Polish built)
Naval aviation includes old Soviet helicopters - 10 Mi-14PL, 2 – 4 Ka-28 and, possibly, up to 5 Ka-25.
Syrian coastal defense has significant potential. It includes the latest Russian 2 division SCRC "Bastion», 6 Soviet divisions SCRC P-5, 6 divisions SCRC P-15, 1 Division Iranian SCRC «Nur», 36 Soviet coastal guns CM-4-1.
In addition to the CAA itself, there are factions fighting on the side of the Syrian government, whose position is conditioned by confessional and political circumstances. Syrian President Bashar Assad and most of the leaders of Syria belong to the Alawite religious movement, to which up to 15 percent of the country's population belong. Therefore, on the side of the government forces, the militia of the Alawite, as well as other ethnic and confessional minorities - Christians and Druze, are fighting. They are united in the National Defense Forces. In addition, some left-wing (Marxist) groups united in the Syrian resistance, as well as some pan-Arab secular groups united in the Arab National Guard (not to be confused with the Republican Guard - the elite parts of the armed forces of the country) are fighting on the government's side. All these forces (except for the Alawites themselves) support Assad not so much because of his love for him, but because of the absolute unacceptability of all his opponents.
The main external ally of Damascus from the very beginning of the civil war is Tehran. On the side of the Syrian Armed Forces, the units of the Corps of the Guardians of the Islamic Revolution, the Special Forces of the IRGC Codes and the Basij militia (also part of the IRGC) are participating in the war. Thanks to the efforts of Iran, Shiite volunteers from Lebanon (Hezbollah group), Iraq, Pakistan, Afghanistan are fighting on the side of Damascus. In addition, several Palestinian factions act as military allies of government forces. Indirect, but very significant for Damascus supporters have become Yemeni rebels, the Housits ​​(local Shiites). The war against them, launched by the Arabian monarchies in March 2015, turned out to be extremely unsuccessful for Riyadh and its allies and diverted very significant resources that could, without the war in Yemen, go to the support of the Syrian opposition.
Since September, 2015, the most important military ally of the CAA are the Armed Forces of the Russian Federation. In addition to the actual participation in hostilities we are talking about supplies
weapons
and ammunition. However, heavy equipment is still transmitted in small quantities, small arms and ammunition prevail.
In general, without the internal and external allies, the CAA would have lost the war a long time ago; nevertheless, by Middle Eastern standards, its combat capability is very high, and the front-line experience is simply unique.
All opponents of the CAA are fighting against her mainly with her former weapon. Accordingly, the very significant losses of these opponents (the Islamists and the so-called moderate opposition, mainly also consisting of Islamists) in technology essentially at the same time become the final losses of the Syrian army. Such is the sad logic of the civil war.