Washington again accuses Damascus of "using chemical weapons"
White House spokesman Josh Ernest made another statement about the fact that "the Assad regime commits crimes against the people of Syria." According to Ernest, the United States has "information that the Syrian army is using chemical
weapon
". Statements about the use of chemical weapons by anyone, even if the accused Washington doesn't have these weapons, already resemble the mantra that precedes the next American provocation.
Based on statements by Washington that the SAR army allegedly uses chemical weapons, the United States set out to push through the UN Security Council a resolution that refers to "the Bashar Assad regime has committed crimes against humanity." In addition, the United States announced that they were going to transfer "the facts of the use of chemical weapons by the Syrian army" to the International Criminal Court. Where are these facts? - The big question to which Washington habitually does not answer.
The Russian side has blocked the resolution proposed by Washington on Syria. The Russian delegation demanded from the United States not mere allegations, but real evidence that the SAR army used chemical weapons.
At this in Washington stated literally the following:
We are deeply disappointed with the decision of Russia to block the resolution on Syria.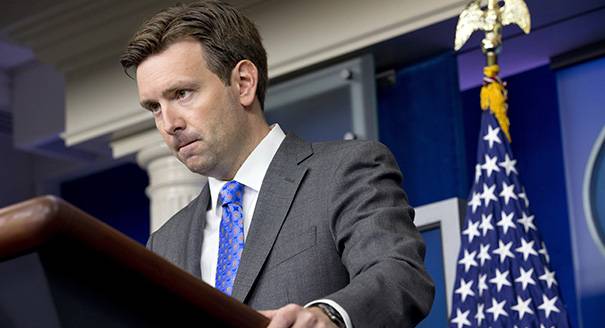 At the same time, once again, without proof, it was added that "Assad commits crimes against his people."
Josh Ernest quotes
TASS
:
It is even difficult to read (in the media) about these tragedies. And the president (USA) is deeply concerned about this.
When will the US President be concerned about the tragedies that the US invasions led to the most diverse countries of the world: from Yugoslavia to Libya and Iraq? And when will the US President announce that the States will stop sponsoring international terrorism, which has taken root in Syria too?