IL-76MD-XNUMHA received new radio-electronic systems
The Il-76MD-90A military transport aircraft received on-board electronic equipment that makes it possible to covertly deliver paratroopers to the rear of the enemy, remaining invisible to the enemy, report
News
with reference to the representative of the Ministry of Defense.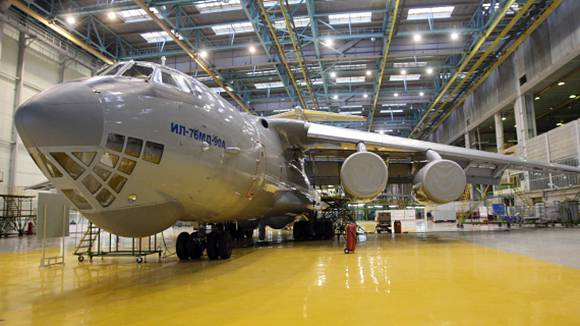 "At present, the appearance of the Il-76MD-90A with new equipment has already been approved by a special commission that worked at the Ulyanovsk Aviastar (the plant where the Il-76MD-90A is produced). All onboard systems have already been installed on the experimental Il-76MD-90A, which will soon be transferred to flight tests. After completion of the work, this on-board equipment will be installed on all the Il-76MD-90A under construction and already built of the Russian Aerospace Forces.
- said a source familiar with the progress of work.
According to him, the transport workers, "equipped with optical-electronic stations, collision warning systems and airborne self-defense systems, are intended primarily for throwing special forces behind enemy lines, landing airborne troops and dropping cargo." Also, thanks to the new equipment, aircraft will be able to land on unprepared runways with headlights and navigation lights turned off.
"The task of the upcoming tests is not only to check and correct separately the operation of the optical-electronic station, the collision warning system and the onboard self-defense complex, but also to bring them into a single complex that will allow the crew to perform their tasks," said a source in the Russian Aerospace Forces.
The Il-76MD-90A, which is about to be tested, is the first flight model of the latest transport aircraft that took off in September 2012. After 2 years, the aircraft returned to Aviastar, where new equipment was installed on it.
"Outwardly, this board can be distinguished from other Il-76MD-90A by the optical-electronic station (in the slang of the pilots "Sharik"), installed on the nose of the aircraft not far from the navigator's cockpit. Also, not far from the cockpit, in the tail and on the wings of the car, sensors of the "President" system appeared, detecting the radiation of enemy radars. And in the fairings, where the landing gear of the aircraft is removed in flight, the developers hid additional power units that generate electricity for on-board equipment, "
- stated in the material.
RIA Novosti/Sergey Subbotin