The Ministry of Defense of the Russian Federation is responding to the United States on the "bag for corpses":
В
ministry of defense
Russia was commented on the statement of the State Department spokesman Kirby that if the Russian Federation continues its actions in Syria, the Russian soldiers "will come home in bags for corpses" and that "the attacks will come to the cities of the Russian Federation". Speaking at a special briefing, Major General Igor Konashenkov responded to Kirby's tirade as follows:
His words - the most outspoken admission of the American side that the entire alleged "civil war" in Syria "opposition" - is controlled by the United States international terrorist "international". Masks removed, gentlemen? Our military is well aware of the number of so-called military specialists in Syria who plan and direct militant operations. We also know where these "specialists" are located. And if someone tries to implement threats against Russia, the militants are unlikely to find bags and time to take their feet.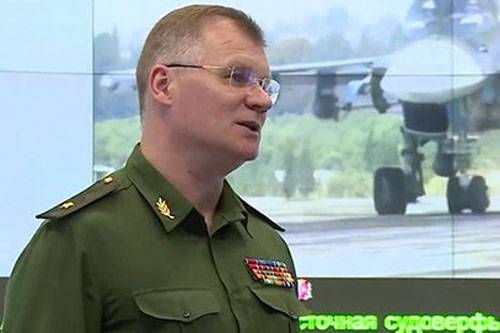 Major General Igor Konashenkov noted that, despite such non-diplomatic rhetoric of the United States, Russia is ready for dialogue with the Americans. At the same time, according to the official representative of the Ministry of Defense of the Russian Federation, in such a dialogue there should not be even a hint of threats to our servicemen and other citizens of Russia.
Igor Konashenkov:
In matters of ensuring the safety of Russian citizens, wherever they are, there will be no bargaining.
At the end of the speech, Major General Igor Konashenkov urged Kirby not to forget about the honor of the officer. Although under current conditions the concepts of "American officer" and "honor" may turn out to be incompatible, as Mr. Kirby has already proved.
Ministry of Defense of the Russian Federation