The Syrian army is developing an offensive on different parts of the front
From Syria, reports have come that the SAR government troops are continuing successful military operations against terrorist groups and other armed radicals who have not accepted the ceasefire. After success in the Al-Farafira quarter in the old part of Aleppo, the Syrian army developed an attack on the positions of militants. In addition, the Syrian
aviation
inflicted a series of attacks on the positions of "Jebhat al-Nusra" (banned in the Russian Federation) in the area of ​​the settlement of Khan-Tuman (Aleppo province). These airstrikes allowed the destruction of several units of armored vehicles and SUVs equipped with anti-aircraft installations.
Fighting against terrorist groups are conducted in the province of Damascus. There according to
AMN
, the units of the 105 Brigade of the SAR Armed Forces, with the support of the Syrian National Defense Forces, are attacking militant positions in the area of ​​the cities of Al-Reyhan and Tal-Kurdi. The offensive, with the support of artillery, yielded significant results: the Syrian army took control of large agricultural areas, dropping the militants several kilometers beyond Tal-Kurdi. In the city itself was discovered a large warehouse with
weapons
militants group "Jaish al-Islam."
Further advancement to Al-Reyhan allows you to cut the grouping of militants into two parts, one of which is in the ring. The plans of the Syrian army are the complete destruction of the Jaish-al-Fatah groupings that have been hosting near Damascus for the last 3 years.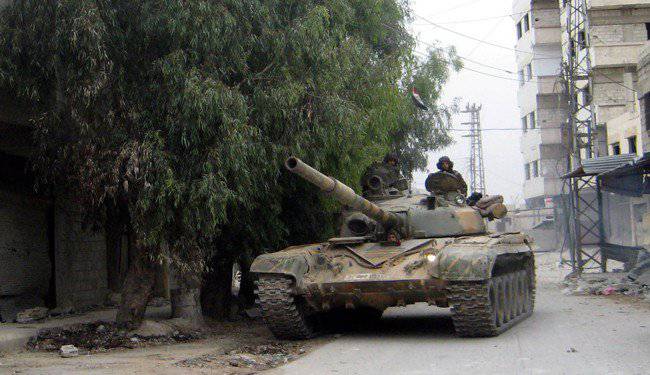 According to Syrian sources, there is currently a clash in the suburbs of Damascus Qudsija. There, the militants of the renamed "al-Nusra" together with the so-called "Syrian free army" attacked the positions of the SAR forces. During a surprise attack, 6 Syrian soldiers were killed. To prevent terrorists from gaining a foothold, units of the Republican Guard were sent to the area, which blocked a group of militants in a small area in one of the neighborhoods. After the militia entourage, they were called upon to lay down their arms, but they did not heed the appeals. After unsuccessful negotiations, the Republican Guard launched an assault on the area where the terrorists were actually locked up. As a result of the first wave of the offensive, about 20 militants were destroyed. The resistance of terrorists weakens.
Regarding the resumption of antiterrorist actions by the Syrian troops, the Foreign Ministry of the Russian Federation circulates a statement in full support of the actions of the SAR army
We emphasize our firm commitment to continue to assist the Syrian government in its efforts to combat terrorism and to promote an early political settlement of the Syrian crisis in accordance with the United Nations Security Council resolution 2254.
https://www.almasdarnews.com