Developers of the latest Russian
tank
T-14 Armata announces equipping the combat vehicle with a complex of operational capture and target detection with its subsequent video tracking. Information that the system of work with the target on the T-14 will largely resemble a computer game is confirmed by Igor Ryabov, director of the Design Bureau of the Gorky Communication Equipment Plant named after A.S. Popov.
Information Agency
TASS
cites the words of Igor Ryabov, the team of which the company heads and is engaged in the creation of the aforementioned target acquisition and detection complex:
"Armata" will be the first Russian armored vehicles, which will be installed complex operational capture and target detection with video mode based on optical fiber, which allows the commander to quickly transmit the gunner is not just the coordinates of the target, but also her video. Formally, the control of the battle turns into a computer toy.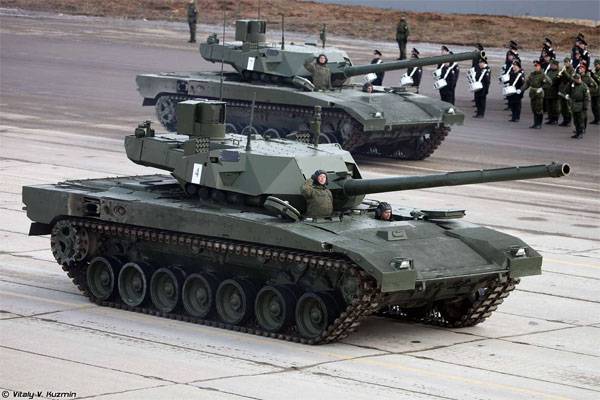 Igor Ryabov says that the new complex, which will be equipped with "Armata", will minimize the range of actions for the purpose of the commander and gunner of the tank.
From the statement:
The commander simply moves the cursor to the target, and presses the button to capture it. Then he sends the exact coordinates of the target and a picture from the battlefield to the gunner, he can even indicate, for example, that this tank is hit by the first, the BMP by the second, etc., and the gunner can only press a button.
According to Ryabov, the newest complex allows for tracking and tracking the target, as well as promptly transmitting information about it in any weather and landscape conditions in which the armored vehicle itself can operate.