The court in St. Petersburg rejected the claim for the dismantling of the board Mannerheim
The Smolninsky Court of St. Petersburg rejected the claim of Pavel Kuznetsov, a resident of the northern capital, against the city government. Pavel Kuznetsov asked the court to declare illegal the opening of a memorial plate in honor of Gustav Mannerheim. Recall that the discovery of this tablet caused a wide public response in Russia. The majority of citizens (data of sociological polls) were in favor of dismantling the tablet, since Mannerheim during the Second World War was engaged in aiding the Nazis and took an active part in the blockade of Leningrad.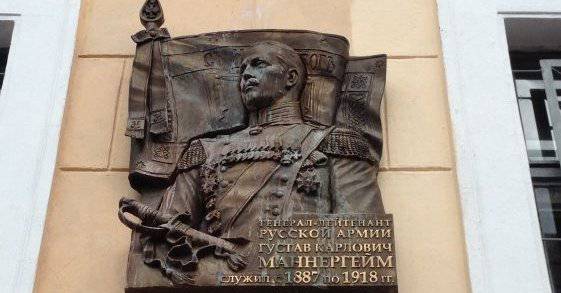 The Smolninsky Court stated that the lawsuit was rejected due to the alleged inability to establish the involvement of the St. Petersburg authorities in the discovery of the scandalous tablet.
Interfax
leads the verdict of the judge Tatiana Matusiak:
The court ruled: to satisfy the claim on the recognition of the illegal decision to install the board and its subsequent dismantling refuse. It is not possible to recognize that the government (SPb) has committed the installation of the board. This is not established by actual circumstances.
It also became known that the Smolninsky court refused to call such people as Minister of Culture Vladimir Medinsky and deputy governor of St. Petersburg Alexander Govorunov as witnesses. Both of these officials attended the opening of the Mannerheim board in the northern capital.
It should be recalled that a few days after the opening of the tablet, the administration of the Central District of St. Petersburg sent a paper to the Committee on Culture stating that the event was illegal. However, despite this, the board of Mannerheim continues to be "defended" as a kind of "value" for the whole of Russia. The court decision is proof of that.