145 young trees were planted in the Mytishchi district in memory of the heroes of the Great Patriotic War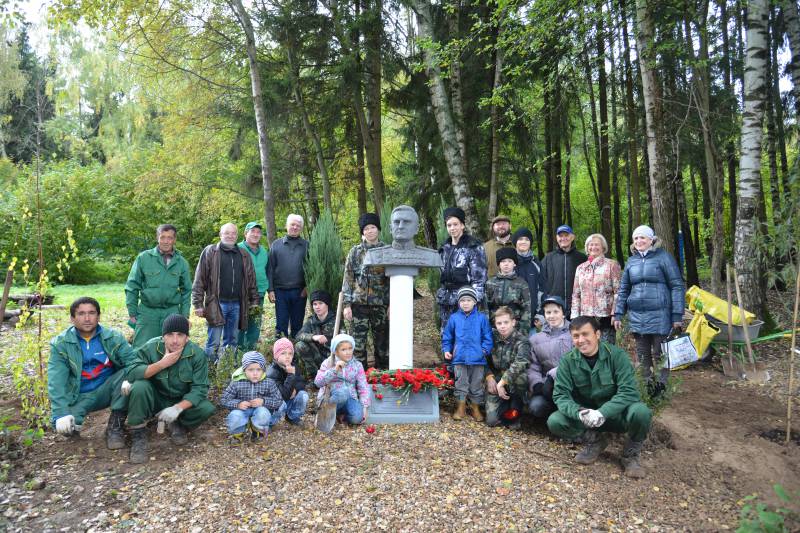 On September 24 145 young trees were planted in memory of the heroes of the Great Patriotic War in the course of an environmental campaign organized by the Dmitrovsky branch of the municipal institution "Mosoblles", MKU "Lesparkhoz" and local residents in the Heroes Park . The event was attended by more than 100 people.
In the village of Trudovaya-Severnaya, cottages were given twice Heroes of the Soviet Union Vasily Chuykov and Mikhail Katukov, Hero of the Soviet Union Vasily Sokolovsky, marshals Pavel Rotmistrov and Alexey Proshlyakov. 11 Heroes of the Soviet Union, five marshals and 120 generals lived in the village. And today, from 500, 150 villagers are direct descendants of heroic warlords.
Memorial Park Heroes, dedicated to the memory of the heroes of the victors in World War II, is located on the territory of the village of Trudovaya-Severnaya. Park Heroes was created in 2015 year on the initiative of the residents of the village Trudovaya-Severnaya, formed in the Moscow region on the instructions of I.V. Stalin in 1946 year to improve the living conditions of military leaders and officers of the Red Army.
Thus, in the Park of Heroes, forces "Mosoblles" planted 70 seedlings of pine and birch. 75 saplings of weeping birch, split alder, linden and juniper rocky became a contribution from Lesparkhoz.
As Tatiana Maleshina, General Director of the Lesparkkhoz MKU, told us, we embarked on the beautification of the Heroes Park with great joy, because here is a special aura, a special atmosphere. "We work in coordination with Dmitrovsky forestry. It is nice to see among our assistants descendants of great marshals, children from patriotic clubs, residents of the area. They work together with us - actively, with a twinkle! Together we can do a lot. The Park of Heroes will be a favorite place for recreation for the residents of the Moscow region and at the same time it will remain a traditional venue for patriotic events. It -
story
our homeland! ", - emphasized Tatiana Maleshina.
In turn, Nikolai Chuikov, the chairman of the board of the organization "Labor-Severnaya", added that, in addition to the beautiful trees, our municipal and regional partners organized the planting of a cotone kiln 150 bushes. "The landings are located around the busts of the five great marshals, as if guarding them and emphasizing that these are the very heroes that the people praise and who owns the Park of Heroes," he concluded.
The state organizations took care not only of that the Heroes Park receive tree saplings, but also provided for their part additional land for planting, as well as labor. Everyone helped with the landings: the residents of the Trudovaya-Severnaya settlement - the descendants of great heroes, the guys from the patriotic clubs of Moscow and the Moscow Region, the city enthusiasts and even the residents of the neighboring village of Nekrasovsky of the Dmitrovsky District.