Petro Poroshenko said in an interview with CNN that Russia sees its task as destabilization and destruction of a united Europe, reports
RIA News
.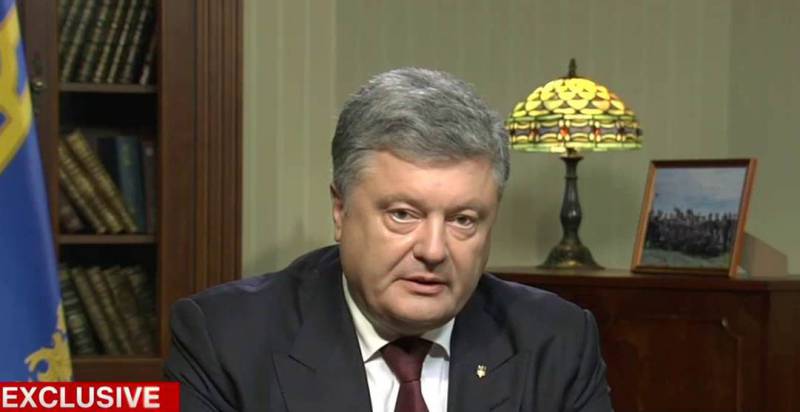 "If you know, the number of people who listen and watch the state-sponsored Russia Today TV channel in the United States is quite a large number of people. And it is in the package of each cable network. It is not so dangerous for the United States, which has a policy of opposition (to these views). But in Europe or Ukraine, Russian mass media sponsored by Russia, social networks, political parties see destabilization and destruction of Europe as their task. They want to bring the situation back to bilateral relations with NATO, "
- said Poroshenko.
"The main enemy of Russia is united Europe. All parties that stand out from the point of view of Euroscepticism receive funding from Moscow, "he added.
The Ukrainian president also commented on the words of the candidate for the post of US President Donald Trump, who promised to think (if elected) about recognizing Crimea as part of the Russian state.
"If you allow me to say so, then you (the Americans) elect the president of the country who will become the global leader. And this leader is vital not only for the United States, but also for the preservation of freedom, democracy and values ​​in an extremely difficult situation in the world. Let me say that this (the words about Crimea) is an integral part of election rhetoric, "Poroshenko said, expressing the hope that, if elected, Trump would change his position.
"I think that after the elections in the United States, whoever won them will be the responsible leader of the great American people,"
- he said.
Recall that in late July, Trump said that the Crimeans made a conscious choice in favor of Russia, and America should reckon with this.
"I will consider this opportunity. The people of Crimea, as I heard, would prefer to be with Russia, rather than where it was before. And this should be borne in mind, "he said, responding to a question about readiness to recognize the Crimea as part of the territory of the Russian Federation.