"Admiral Kuznetsov" will go to the Mediterranean Sea with a standard air wing
Airborne cruiser "Admiral Kuznetsov" will go to the march to the shores of Syria with a full wing, reports
RIA News
message to the chief of the maritime
aviation
Major General Igor Kozhin.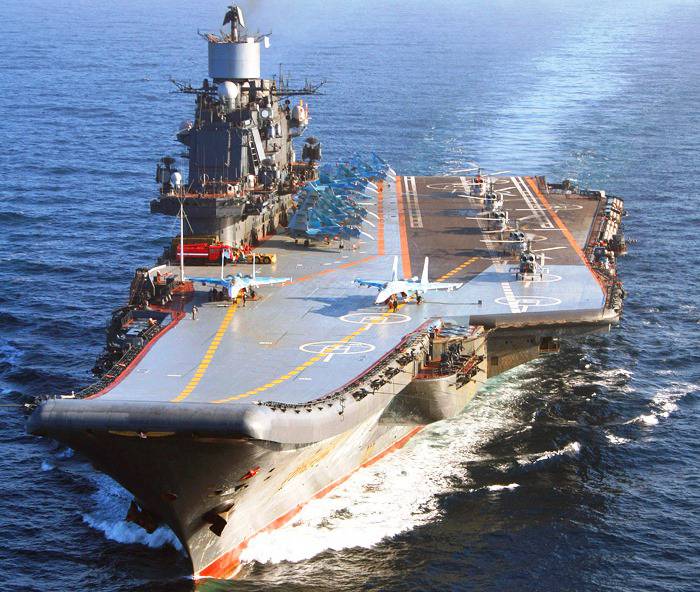 "The whole range of airplanes and helicopters, which is envisaged by the decision of the Minister of Defense, will be on it. Therefore, what is defined will be based on it ",
the general said, answering the question "whether the newest MiG-29K and Ka-52K helicopters will be deployed on the Admiral Kuznetsov aircraft carrier".
According to him, "all planned activities on the cruiser are fulfilled," and "everything will be released for service".
Earlier, Defense Minister Sergei Shoigu said that this fall, "Admiral Kuznetsov" will be part of the operational grouping of ships in the Mediterranean Sea.
Help Agency:
"The deck length of the Admiral Kuznetsov TAKR is 306 m, the width is 75 m, the displacement of the ship is 60 thousand tons. Navigation range at a speed of 29 nodes is 3 thousand 850 miles, and at a speed of 14 nodes 8 thousand 417 miles (more than 15 thousand km). The crew - 1 960 people, including 518 officers and 210 midshipmen.