The Turkish administration announced the conditions on which the Turkish army would launch an operation against ISIS (banned in the Russian Federation) in the Syrian province of Rakka. The head of the press service of Erdogan, Ibrahim Kalyn, made a statement in which he said that the Turkish army even now would have launched an anti-Igilov operation in Rakka, if Kurdish armed forces had not acted against the igilovites there.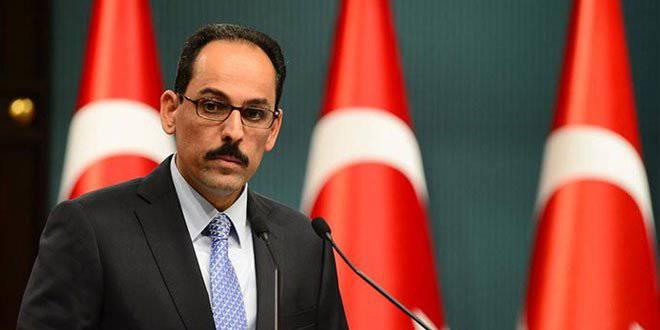 Interfax
quotes the statement Kalyn:
Negotiations are still ongoing, there is still no certainty. Our principled position remains the same as it was during the operations in Jerablus and Manbij. If the PYD ("Democratic Union" party) or the YPG (Kurdish National Self-Defense Forces of Syria) participate, then there can be no question of our participation.
At the same time, Kalyn said that Turkey supports the liberation of Raqqa from the militants of the so-called Islamic State.
After the statement of Kalyn and the very strange military operation of Turkey in Manbij and Jerablus, when thousands of igilovtsevs refused to accept the battle and quietly left the occupied territories, the thought arises that Ankara is afraid of witnesses of how Turks will negotiate with igilovtsami in Rakka. After all, the Kurds are set to fight in the LIH with
weapons
In the hands of, and Ankara, it seems, has its levers, which LIH well managed ...