Buckler: Medieval fist shield
Buckler, also known as the "fist shield", is one of the most popular attributes of European fencers of the Middle Ages. Despite its size, this shield turned out to be extremely useful during duels and was actively used as a means of defense and even attack. Today we will tell you his
history
and explain why the buckler gained such popularity.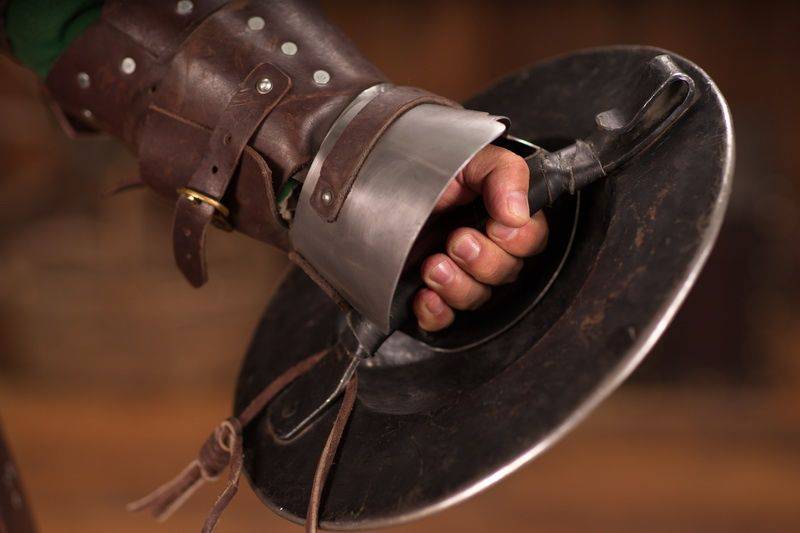 Classic European Buckler
Indian buckler
Buckler (him. Faustschild, fr. Boce, bocete, rondelle de poing, um. Brochiero) - small, 20 − 40 cm in diameter (8 − 16 inches), most often a metal round shield with a rounded protrusion (umbo) in the center. Mainly it was auxiliary
weapon
worn with a sword or sword. The main difference of the buckler is that if a regular shield was attached to the forearm with belt loops, the buckler was held by a special handle with a fist grip, which is why he received the nickname "fist shield". In combat, it was used both for defense and for striking.
The history of the buckler is not so easy to trace: small shields were spread almost everywhere, since this design provides the warrior with quite good protection and mobility, vital in the heat of battle. Although the mention of the fist shields are found in the Celts and the Franks, it is considered that bucklers appeared in Byzantium and in the Middle East as an independent type of shield. Assyrians, practicing mostly offensive tactics, used the buckler as an auxiliary weapon, for which they supplied him with blades and steel spikes. Most likely, it was from the Byzantines that they came to Europe, where they became widespread.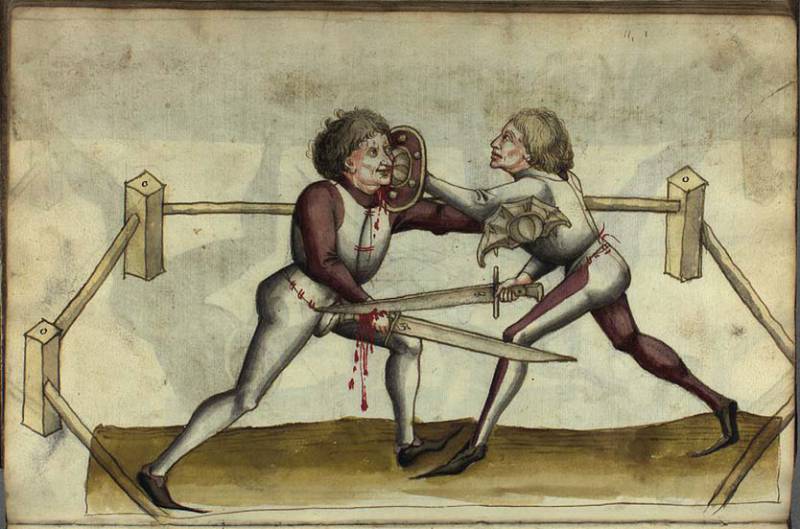 A quick shield parry made the opponent open up.
The earliest extant sources describing the sword and buckler combat technique are currently the fencing textbook of Royal Armories Ms. I.33, dating from the XIII-XIV centuries. This technique was very popular in Spain. In Germany and England, the buckler was used exclusively for martial arts. In the 16th century, the Italian school of fencing, also using the buckler combat technique, acquired a powerful influence in the nobility. Buckler came into vogue. Young people of that time carried him everywhere with them, hanging them up to a sagging belt. The shield was worn on a belt or hook at the waist, sometimes on the hilt of a sword, in which case it was hung with a handle on the handle. By the end of the 16th century, the Venetian fencing school abandoned the fist shield, since its left arm was armed with dagoy. This event marked the decline of the sword and buckler vehicles.
When peaks, halberds and crossbows appeared in service, the infantry had to practically abandon the use of bucklers - they could not provide effective protection against such an arsenal. Catching the arrow with the buckler was incredibly difficult, and it was no good for repelling heavy weapons, since it was too easy. Conversely, wearing even a small shield made it difficult for the pikeman to do his job. However, in the "individual" infantry battle, paired with a cord, such a shield was still very useful.