As "igilovtsy" captured in Syria, "freelance captain of the FSB from Tsaritsyn"
Information resource
Amaq
, which is controlled by the terrorist group ISIS (banned in the Russian Federation), writes that the igilovtsy managed to shoot down an aircraft of the SAR Air Force near the Syrian capital. The material said that the plane was fired from an anti-aircraft gun and fell a few kilometers from Damascus. The same source claims that the Syrian military pilot was killed.
Information Agency
Rider
publishes a statement by representatives of the all-knowing "Syrian Observatory for Human Rights", located in London. "Observatory" confirms information about the loss of the Syrian Air Force aircraft in the Damascus area, but does not give comments on what particular group of aircraft shot down. The material of Reuters states that technical malfunction is not excluded, which resulted in the loss of the aircraft by the Syrian Air Force.
And on the eve of the network appeared frames in which people who call themselves igilovtsami represent a man dressed in a black robe with an inscription in Russian "Kafir" (the Islamic concept of "wrong"). The man stated that he is "the captain of the FSB,
freelance
2 officer of the operational department of the FSB of Russia in Moscow. "He gave his name to Yevgeny Petrenko. According to the man represented in the footage, he was captured by ISIS, while allegedly performing tasks of the Russian special services in the territories controlled by this grouping in Syria.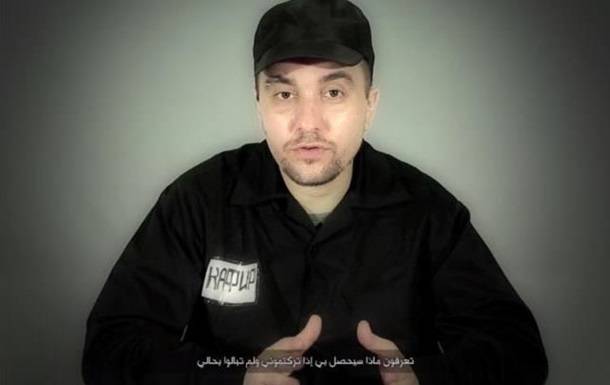 There are many reasons for doubts in this case: starting with the fact that the igilovtsy of all their captives never donned their own color - black, but put orange robes on them, before the "freelance FSB captain" stated that he was registered in the city Tsaritsyn, Moscow Region ...
Is it possible that the "captain" is registered in the palace and park ensemble? .. Or maybe he is from the city of Kitezh.
Apparently, the propagandists who shot the video "drew" this text to this false captain, obviously experiencing problems with geography and not only with it ...
RIA News
about this leads the comment of the veteran of the group "Alpha":
This generally can not be. The freelance agent of special services cannot be her personnel officer. In addition, it can not be sent to hot spots. This misinformation cannot be assessed at all, either from a legal point of view or from a common sense point of view.