Notes of the Colorado cockroach. It is said: quarantine! African swine fever
Greetings to you, dear supporters and opponents of the cockroach approach to the world and events in this world taking place. Friends, consider that your criticism has affected me. True, with the help of some of the editors.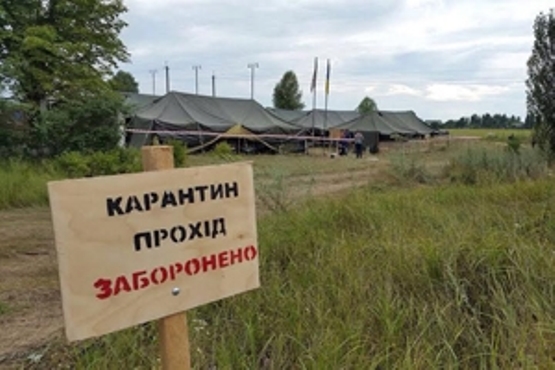 I wanted to write a serious opus on the state of our economy, politics and everything else. Sat yesterday midnight. I was looking for intelligent thoughts in my head. And immediately, if something similar to the smart found, recorded. It turned out just that, for which I constantly "get on the head" from loyal readers. Skis Tarakan. Readers are right. "Killed" previous notes.
If we take seriously what our politicians and officials write and say, there will be no fun. Do you remember when people start laughing? We approached the "ridiculous period" of the state of the country.
All week we celebrated receiving a tranche to pay off the previous tranche from the IMF. How many embroidered clothes were torn off, while the dance hall was dispersing the dust from the dance hall ... How many television "talking heads", starting with the guarantor, we were told about the great influence of the tranche on the minds of foreign investors. Now these same investors are already exactly lining up. Will be pushed! To invest money in our growing like bamboo economy.
A little later, I will talk about the "great influence" and "growing perspective." And now about the serious. About your questions and suggestions. You need to put all the dots above the "i".
I am advised to run to Russia in almost every block of comments. "Suitcase. Station. Russia". Nothing like? And you ask Republicans from LDNR. They hear it all the time too. Just do not wait! Though we are not in "armor", like some, but our chitin is not made of plasticine either. We live longer on this earth than "svidomye." And this is our land. Was, is and will be.
I understand the readers. You remember the fate of Elderberry and many others. This is in Russian. Thank you for that. We also do not forget. And therefore we are here. Let the killers of Ukraine know that there is a Tarakan. He is near. He is right beside. He sees everything and guesses everything. And our brain does not work as ukroSMI says, but normally. And there are many such cockroaches.
Destroy us hard. And we will destroy you for sure. Even if the SBU, and I know how these guys tear their own trousers from zeal, find one Cockroach, a second, third, and hundredth one will appear. Because the issue of escape is removed, as not worthy of discussion.
Another serious question that is often found in your comments: how could the gang wash the brain so quickly to the Ukrainians? And some put the question even tougher: why are there so many "traitors" in Ukraine?
I can talk long and tediously about information technology. But why do you need it? You yourself enlighten me on this issue, if necessary. It's easier to understand what Ukrainians are stuffing and why they themselves understand ... Most recently, an investigation film was shown in Odessa on Duma TV.
"2 May. Moscow trace." I think if you look carefully, then everything will become clear. The work is of course rough. Designed for ukromozg. Pay special attention to the evidence. How are recorded and how telephone calls are made. Even the participants in these conversations will learn a lot about themselves.
Well, the third question. On the release of "Notes ..." in the form of a book. Alas, but due to certain circumstances I have no archive. "Notes ..." are stored in the archives of the editor and editorial "VO". And to release such a book in Ukraine is unreal. Therefore, the question is not to me, but to the editorial board. How to decide, so be it.
Fu Everything. Now in the thick of our events. There, where as in a city dump, there is everything. But in such a state that it would be better not.
I'd like to make you happy. Everybody. To the mood was appropriate.
Dear readers, I congratulate you on the onset of your youth! And do not run to the mirror. Nothing with your faces and stomachs has changed. But you really look younger. And on a global scale! If you have not turned 44 today, congratulations! You are a young man! If you already have 44, but you have not reached 60, you are a middle-aged reader! But if there is already more 60, but no 75, then excuse me, you are elderly. And when at the next anniversary suddenly it turns out that you already have 75 ... Well, and further, to 90. All old age finally caught up with you. Special congratulations to those who are 90 and more. You are long-lived!
I started today with a very positive
news
about the trench. So I will continue. Remember the old truth: how many wolves do not feed, the elephant still has more organ? The same thing with us. Tranche gave us, but I want more. The main guarantor is also thirsty. Only now he understands that they will not. And because Poroshenko gave a new idea for the EU and the United States.
"Ukraine from Europe does not need money and
weapon
and solidarity. "
This was stated by the President of Ukraine Petro Poroshenko, speaking at the 13-th annual meeting of YES in Kiev on Friday, 16 September.
"Answering the question, what do we need, I can say: it is not money, weapons or advisers. We need your unity and solidarity with Ukraine," he said.
Poroshenko also called on European leaders to stand firmly in defense of European interests.
"It's impossible to be the president of a country that is in a state of war without being optimistic. You cannot win the battle, you cannot lead the people. I would like all European leaders to remain optimistic and continue to play their part in defending Europe," stressed the head of state. "
That's it. We didn't care about your everything. More precisely, you still will not give. Therefore, Ukrainians need only solidarity! And do not laugh. We understand what you see. Most Ukrainians do today have obvious mental disorders. But guys, this is upset for you. but for us little joy.
I knew one hedgehog. He, too, constantly shouted: "I am strong!" I am very strong. I'm just the strongest. But easy. So are we. Strong but light. All could themselves, if the "heavier" were.
And further. If someone did not know, the IMF gives money in credit. We did not know. Thought like with Russia. They took and ... forgot. We will pay. What you learn now is not the information of cockroaches. This is the official website of the IMF. About how much we will have to pay for today's holiday.
2016 - 212 million. $.
2017 - 1087 million. $.
2018 - 2242 million. $.
2019 - 1714 million. $.
2020 - 1163 million. $.
2021 - 1147 million. $.
2022 - 1136 million. $.
2023 - 1124 million. $.
2024 - 1113 million. $.
2025 - 690 million. $.
No one remembers this. Do you know why? Yes, simply because the mood immediately deteriorate. Where is the firewood from? Take? Out of the woods? We do not have "firewood" and is not expected. And you have to pay. So what? We will again occupy. And give. But how much is not clear. Interestingly, great-grandchildren will pay or not?
But we have Klimkin! Great and terrible foreign minister. One that will help solve the issue with money. Why? This is Ukraine. Here everyone and everything can. In words.
"The first big lawsuit against Russia will be filed this week. It concerns the convention on the law of the sea. It is actually a comprehensive one, as it contains such fundamental issues as the use of maritime space, environmental safety violations and cultural heritage sites."
Here it is, "treasure". Russia and your money. We will sue in full. By the way, according to the same Klimkin, this is the first lawsuit. Those that are littered with the courts of European countries, just toys. And this is the first! He will solve all our financial problems!
One familiar cockroach from Naftogaz told how your Gazprom is suing. Not fair to tell you. We bring politically correct patriots, and Russians - lawyers from different countries. Not even Russian. And in the minds of these "nose-face" instead of the brain, the multi-volumes of European laws are laid. So how to sue? But Klimkin said. And we "believe" him ...
In general, I do not understand something. Is this a hybrid war today? Well, when the fact of aggression must be proved in court? Here is something I do not remember in
stories
such Enlighten, Stalin sued Hitler for aggression to be recognized?
I love our "restraints". Remember, above, I wrote about solidarity? So, while writing, time passed. Half a day. So the policy has changed.
"The second in order (after the extension and strengthening of sanctions against the Russian Federation is Tarakan), but no less important in terms of importance is the transfer of lethal weapons and other military technologies to the Ukrainian Armed Forces." "We have demonstrated that Ukraine has never waged and will not wage wars of conquest, there has never been a threat from the Ukrainian side and it is absolutely safe to transfer lethal weapons to us. We will fight for our land to the last drop of blood."
This Poroshenko at a meeting with the Ukrainian diaspora in the US today. Solidarity, solidarity, and give presents. Love comes and goes, and the pawnshop, in the form of African countries, always works. Yes, and its own industry does not pull weapons. Even the Soviet weapons copy really does not work. It explodes and shoots like a machine gun from Papandopulo.
As our wise grandfather said - "Yes, give him a grenade to him already! Anyway, monkeys ...". But for some reason my optimism was not increased by this. It is clear that the probability of 99% that this monkey will blow up a grenade in his house. And the notorious 1%? And me, in the end?
I write, but in my head for some reason poetry. "Only a weak echo in silence. And a veil of transparent notes. You will be reminded of me. When the last hour strikes." What is it for? Maybe news from British scientists? They established there through lengthy experiments that every third member of the government or deputy of the Verkhovna Rada of Ukraine is as stupid as the two previous ones.
Naturally, I can not bypass the elections in Ukraine. No, I'm not talking about elections to the parliament or else where. Elections of Russian citizens in the Russian Duma. We are civilized. Europeans. We are for democracy and freedom. Therefore, they did everything to make the whole world doubt this.
You, dear readers, have already looked at the plots about the elections in the Ukrainian territory. But the conclusions made on 100% are wrong. The Russians think that our "Freedom" and "pravoseki" prevented your citizens from voting. Yes, they did not interfere! They campaigned for United Russia as the party of Putin.
It's no secret that there are a lot of Russian citizens in Ukraine. Since the time when we were good neighbors. Love, you know. She does not ask for citizenship. So the Russians of both sexes came to live with us. And they have exactly the same heads. And the propaganda is exactly the same. But Russian citizenship remained.
Some of our enemies are almost the same as the enemies of Russia. More precisely, not Russia, but Putin. And they wanted to vote accordingly. Though for the hell of a bald one, only not for Putin. And then "pro-Putin pravoseki". Yes, in the face. Yes, with the connivance of the police. And what happens at this moment with "Svidomo head"? Right. There are thoughts. Pro-Russian. And the Ukrainian Russians understand that Putin is right when he "twists" our heads. He is right when he puts in place a presumptuous Ukrainian diplomat in Beshkek.
Every cricket know your hearth. This is me about how the ambassador sent your president. And do not remind me that we left the CIS in April 2014. So what? This is our kind of humor. We joke. And what can not be said in a humorous conversation ... We are now in this position ... Satirical-hysterical.
Two or three years ago we sat down on two chairs at once. And the CU and the EU. Europe promised and traded with the customs union. The beauty is simple. Yes, and a pipe. And now, after three years, the chairs were taken from us. And both at once. And the posture remained. Well, you have submitted already. Whether asking for something, or earning. So we stand in a bent state.
Oh, again something a little "peremog." But there is one! We here started a survey among the population to conduct. Which of the Ukrainians is the greatest Ukrainian. For all the many thousand-year history of Ukraine.
"According to the data, more than 30% give their preference to Prince Vladimir, Ukrainian News reports. He is followed by the hetman of the Zaporizhzhya Bogdan Khmelnytsky (about 23% of votes), whose efforts unite Ukraine with Russia, and the Kiev Prince Yaroslav the Wise (about 16%) One of the main ideologists of Ukrainian nationalism, Stepan Bandera, is on the 4 place on the list (about 9%). "
Do not be surprised, dear Russian readers. Someday I will write you a short course on Ukrainian history at the beginning of the 21 century. Therefore, Prince Vladimir is the main Ukrainian. True, I think that if he had found out about this, he would have been very surprised. I understand that somehow the very pro-Russian Ukrainians have turned out. In the first place Novgorod prince. On the second pro-Russian separatist. On the third, again Novgorod prince. But on the fourth one ... Or is he a German henchman?
Do you know why these results from Vladimir? Do not believe it, but Putin is to blame! Not the one who lived during the time of Prince Vladimir, but Vladimir Putin, the president of Russia. Although the fact of ancient Putin in the history of information is not preserved.
So, many Ukrainians simply did not understand what Vladimir was talking about. They thought about Vladimir contemporary, and not about that ancient prince. That's why they voted so. Separatists from illiteracy!
But our ministry of truth has already been warned! Prepared a response to the separatist vote. We know that among the Russian princes were solid invaders. Invaders. Varyagi Oops, ate? And so do we.
Just want to call a psychiatric ambulance. "Guys, urgently come to the street Simon Petliura 15, 6 floor!" There the minister started off ... Like a train, only much more dangerous for the Ukrainian people. By the way, again Vyshivanok "reasonably" responded to the vote. "If he is so great, then why is his portrait on a single hryvnia banknote? But, for example, Yaroslav the Wise on the 2's hryvnia. And Lesya Ukrainka in general on the 200's. Iron logic.
It is urgent to finish the note. And then the oil goes up again. So Vyshivanok will soon appear with cries about the world wide and betrayal of Ukraine by all. Listening to it is getting harder and harder. But you must. What a no, but a cockroach. Ukropsky, but the cockroach.
You also have happiness in the house. Greater harvest in the country. Warmth for body and soul from loved ones. We will live, as one of the movie stars of Soviet cinema said. We will. And we will live well. As long as there is such faith, there is hope. And that's it for today. Sleep, sleep, sleep.