Russian President Vladimir Putin commented on the preliminary results of the elections, which suggest that representatives of United Russia will occupy three-quarters of the seats in the State Duma. According to Vladimir Putin, this will of the Russian citizens was one of the answers to external attempts to destabilize the situation in the Russian Federation.
President quotes the news agency
Interfax
:
The voting results are also the reaction of our citizens to attempts at external pressure on Russia, to threats, sanctions, to attempts to sway the situation in our country from within. Citizens have chosen stability.
At the same time, Vladimir Putin, addressing members of the government, himself expressed a certain surprise with the result of United Russia. According to him, "the question arises how this (the result of the" ER ") was achieved against the background of rather large difficulties in the economy and the social sphere, against the background of a well-known decline in real incomes of citizens."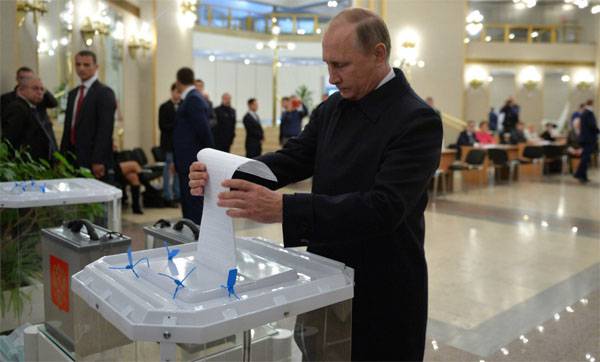 The President of Russia called on the ministers of the Russian government to listen to the ideas of not only the parliamentary majority party, but also representatives of other political forces that passed to the State Duma following a popular vote. According to him, this is the only way to take into account the interests of citizens and continue the course towards the development of the country.