New missiles and gun complex for a multi-purpose fighter T-50
Boris Obnosov, CEO of Tactical Missile Weapons Corporation, told the media that the corporation is working on the creation of fundamentally new missiles for the newest Russian multi-role fighter (5-generation aircraft) T-50. According to Boris Obnosov, by the 2017, the T-50 aircraft will receive six new missiles, and by the 2020, six more.
Such a statement was made by the Director General of Tactical Missiles Corporation for the magazine of the United Aircraft Building Corporation. "
"Horizons"
.
Boris Obnosov:
The T-50 will receive six radically new missiles by the year 2017, and six more by the 2020 year. Four samples of missiles located inside the fuselage have already been created and are being tested.
This is very encouraging.
news
especially considering the fact that already in October of this year, the T-50 aircraft will receive the newest engine of the so-called "second stage". This was previously reported
Interfax
, referring to the Deputy Director General of "Rostec" Vladimir Artyakov. At the moment, pilot operations at the T-50 are held on the engines of the "first stage".
The UAC press service informs about the tests of the NNPU-50 gun mount for the T-50 fighter. Tests are carried out at the proving ground
aviation
systems price Faustovo | The installation includes one of the lightest guns in its class - 9-A1-4071K.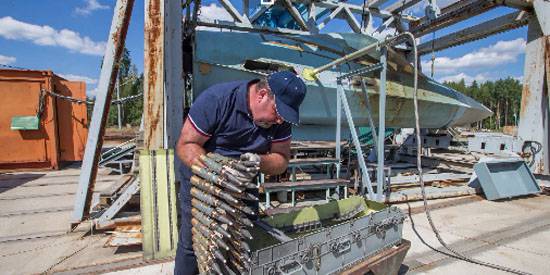 Of
messages
corporations:
The 9-А1-4071К gun is capable of striking almost all modern armored targets. In the course of one departure, when using the full ammunition, 150 shells of 30 caliber of millimeters - high-explosive / incendiary (OFZ) and armor-piercing-incendiary (BZ) can be used.

Gun 9-A1-4071K was the further development of 30-millimeter single-barrel aircraft cannon GSH-301, which were equipped with Russian MiG-29, 27-Su, Su-30, 33-Su and Su 35, as well as front-line bombers and planes vertical takeoff and landing of the Yak-38.
Video test guns for T-50 presented on
REFERENCE
.