Russian paratroopers will receive a robotic truck with artificial intelligence capable of delivering ammunition to the battlefield under enemy fire, according to
News
With reference to Vitaly Savelyev, Commercial Director of the Avrora Bank.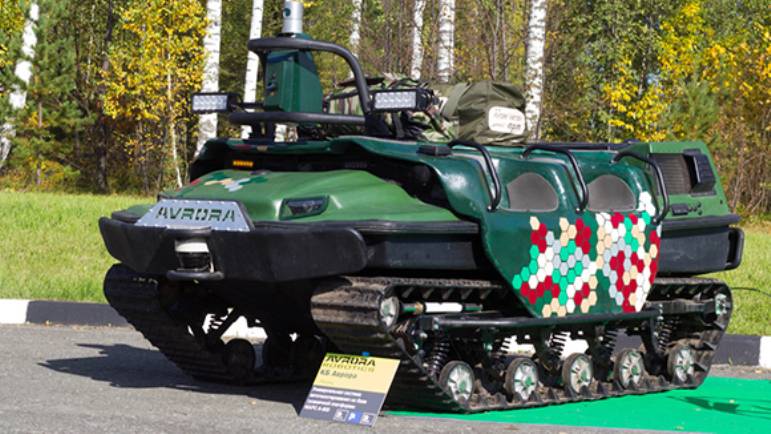 According to him, "the newest MARS platform (mobile automated robotic system) is equipped with a special computing complex, radar and video camera." Analyzing the sensor data and the task, MARS independently chooses the optimal path under fire.
"We conducted a series of tests of our complex together with the Ryazan Airborne School, the paratroopers were satisfied. The next test is scheduled for October. In particular, the military liked the fact that MARS can be used to transport passengers by simply installing a special platform with seats on it ",
told Savelyev.
The height of the machine 1,2 m, length - 3 m, weight - 950 kg, payload - more than 500 kg. Thanks to rubber tracks, the MARS can move in deep snow, sand and marshland.
As the developers noted, MARS "is able to change its behavior depending on the running scenario of work". For example, "in the" follow me "mode, the platform drives a person on whose gear a special tag is attached, and the car independently sets the most optimal route, avoiding impassable obstacles."
For delivery of cargo or evacuation of the wounded, the machine operates in the "track" mode, moving between points given by the operators.
The platform can also patrol the terrain (cyclic check-in mode), while noting targets detected by video cameras.
If necessary, the machine can be controlled in remote mode directly from the remote. This option is provided to overcome the most difficult obstacles.