The Russian company Gazprom reports that Turkey has given permission to build the Turkish Stream gas pipeline in the territorial waters of this state. This is the first building permit after the actual restoration of relations, interrupted last fall in connection with the attack by Turkish fighters of the Russian Su-24M, which carried out an anti-terrorist mission in Syria.
Press office
Gazprom cites a statement by Alexey Miller about the permission provided by the Turkish side:
I would like to note the efficiency and coherence of work with Turkish partners in the first stage of the implementation of the Turkish Stream project.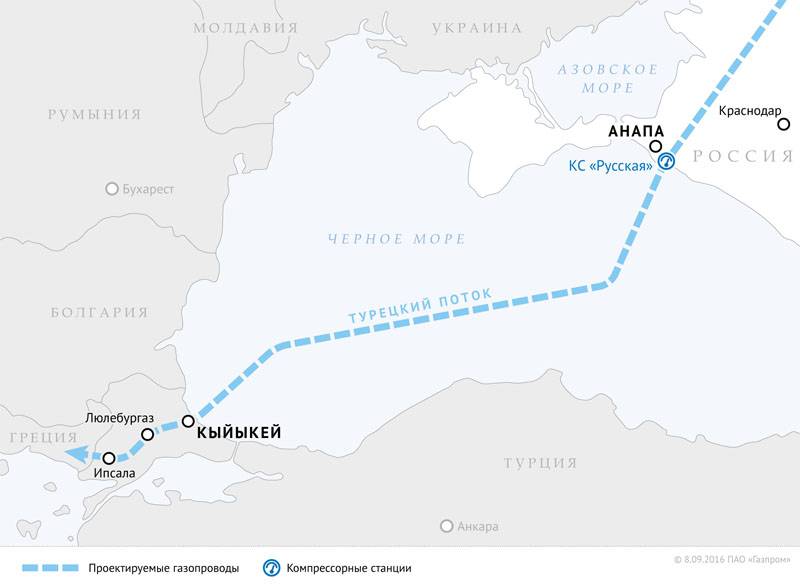 Recall that in December 2014, PJSC Gazprom and Botas signed a memorandum of understanding for the construction of a gas pipeline. The Turkish Stream will link the Black Sea Coast of the Russian Federation Caucasus from the Russkaya compressor station in the Anapa region to the Turkish Kyykoy in the province of Kirklareli along the bottom of the Black Sea. Deliveries on the first line of the pipeline, according to the plan, will be intended for intra-Turkish consumption of "blue fuel" from Russia. Other threads can provide gas transit through Turkey to Greece and other European countries if they themselves want it. A few days ago, the Greek authorities declared that they are interested in participating in the gas supply project from the Russian Federation and are critical of Brussels's statements regarding "energy sanctions" against Russia, on the basis of which Brussels is actually trying to leave southern Europe without direct supplies of Russian energy .