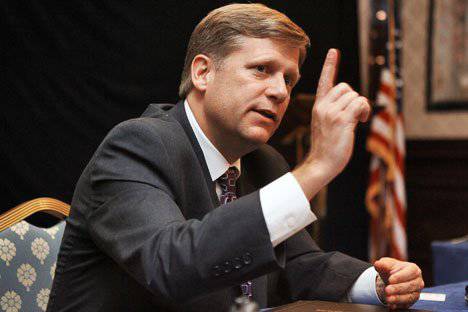 According to ITAR-TASS, the United States administration is set to develop and maintain mutually beneficial cooperation with the Russian Federation. It was on Tuesday that Hillary Clinton (Secretary of State) confirmed at the swearing-in ceremony of the newly elected US Ambassador to Russia - Michael McFaul.
H. Clinton is confident that the new ambassador personifies and sticks to the course of deeper cooperation and interaction, which Barack Obama has adhered to from the very beginning.
Michael McFaul, who until recently was the chief adviser to the American president for the Russian Federation in the office of the White House, is widely known as an expert in the promotion of classical American democracy outside the United States. And therefore, Clinton is absolutely convinced that all this makes his appointment very timely, because the coming months will be of key importance for Russian democracy.
The Ambassador himself spoke in practically the same tone. He expressed extreme determination to give all his strength and knowledge to strengthen cooperation and interaction with a prosperous and strong country - Russia, which is on the threshold of another stage of political change.
It is worth noting that in the ceremonial hall of the State Department, in which the ceremony was held, there were a lot of people. Colleagues from the White House, the Pentagon, the foreign ministry, as well as the US Congress have arrived to congratulate Michael McFaul on his new appointment. In addition, many foreign diplomats were present, including from the Russian Federation and other post-Soviet countries. Sergei Kislyak (head of the Russian diplomatic mission in Washington) stressed that the appointment of M. McFaul in Moscow was, above all, pinned hopes on continuity and, of course, on further development in different directions of bilateral cooperation.
As American diplomats assure, the departure to Moscow of Michael McFaul is planned in the very next few days. By the way, John Beyrle, his predecessor, has already managed to return back to Washington.