New Slaves of America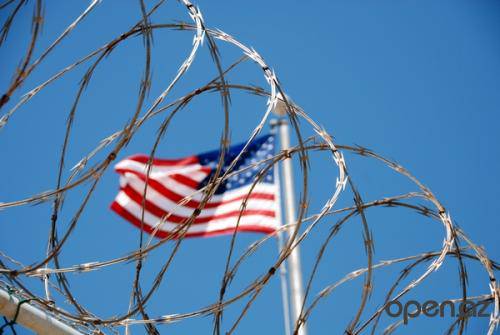 A nationwide strike against forced free labor in US prisons took place in 25 states
TCI, even by the standards of an economically successful state, feels more than confident in the market. The volume of goods and services sold - 89 million dollars for reporting 2014 of the year. More 10 000 cattle heads. About hundreds of thousands of pigs, several poultry farms. Own, branded meat processing is exclusively manual labor, without excessive mechanization or industrial agrochemistry. Very popular "green" technology. And crop production - more than 25 types of crops.
And this is only in the agribusiness.
And there is still a separate service direction, connected exclusively with manual, not mechanized labor - so valuable in today's America: electricians, cooks, janitors and even dog handlers.
In short, wherever you need skilled human hands that you can't replace with a faceless machine, there you will meet a TCI corporation. Even hired painters. TCI has no competitors on the market for such services. Because she uses slave labor.
Forced to work (most often twelve hours a day), without a single payment cent, without rights and social guarantees, with punishment by a punishment cell for low production rates.
These slaves are America's current prison inmates, and the corporation is called "Texas Correction Industries" - TCI.
This week, the theme of slave labor of prisoners traditionally falls into the top ten national television news - this is the second week of September, the week of the National Strike against slave labor in prisons. However, this year, perhaps, slaves behind bars will be talking for a day or two longer - yet 45, the jubilee action.
Half a century almost. Just as long as hypocritical sentences of one hundred years or more are accepted in the American justice system.
Formally, prison labor at Texas Correction Industries is voluntary. But then why are volunteers forty-five years fighting against this "right"?
Thousands of documented episodes, ever the prison administration under the threat of toughening of the regime forces prisoners to work literally on the plantations, or delegates this task to prison "owners" of criminal authorities in exchange for concessions and even early release, never result in criminal prosecution of slave owners.
It all comes down to the morality of American society, which is confident that prisoners "should be so" - and the penitentiary system in its public PR activities has long relied not on correcting those who stumbled, but on the fact that its function is to separate society from "hopelessly incorrigible" preferably forever.
As a result, America today is the world leader in another indicator - the number of prisoners in prison. They are more than 2 200 000 people: every fourth prisoner of the entire planet is an American. This is four times more than in the one and a half billion China. This is more than in all the largest European countries 35 taken together.
Texas has the largest prison population in the United States and the largest number of prisons among all states: 143 000 prisoners in 124 prison blocks.
Truly the golden fund of Texas Correction Industries. Who in the market has such an invaluable (in the sense of almost worthless) resource? Fifty-three years in the slave trade — TCI, founded in 1963, makes its management experience unique.
Of course, Texas Correction Industries first of all thinks about the welfare of the prisoners, sending them to the plantations, to the barns and pigsties. About this corporation does not get tired of reminding society.
TCI's public texts are full of phrases about a free gift to prisoners of "skills in demand for work" and "help [in] reducing relapses" and other purposes. "While prisoners do not receive payment [for their heavy manual labor in the field or on the farm for twelve hours a day] ... they can acquire market skills that would enable them to get ... work after release ..." - this phrase from documents of the PR department of Texas Correction Industries, I suggest that readers comment on their own.
And here is another quote: "Whenever TCI gets public attention, they note that prisoners receive" other rewards "for their work, such as loans nominated for days or weeks of detention, called" Good time " or "Working time" ... On paper, these loans should reduce the prisoner's punishment and enable him to be released from compulsory supervision - earlier than if these loans had not been accumulated ... But in reality there is no legal mechanism by which these Dita went to in the standings, even if the Commission suddenly parole want to take them into account ... It simply can not, the current law does not allow it. " This is a quote from a letter from prisoners in one of the Texas prisons, published this week in local publications.
Exactly 45 years ago, a slave uprising took place in the Attic state prison of New York. The uprising, like all slave uprisings, was bloody and eventually brutally suppressed - 43 people died, including 34 prisoners and 9 overseers. This event was the starting point of the annual strike against slave labor in the prisons of American states. This year prisons from the 25 states joined the strike. This is not the only day of protest in the year - traditionally prison slaves strike on the "May Day". This year, for example, in several prisons in the state of Alabama, they held an 10-day strike on International Workers 'Day against unpaid work.
However, the American society is satisfied with the service that the penitentiary system provides to it - to hide as many such "unpleasant" prisoners as possible as far as possible and for longer. And if experts from Texas Correction Industries, using their slave labor, will help you to make money on it, there's nothing to think about.
No man - no problem. Only profit. Perfect tool.