RђS "RoRЅS <P" SЂRμS † RoSЏ RїRѕRґRґRμSЂR¶RoS, RїSЂRѕRμRєS, RіR ° F · ° RѕRїSЂRѕRІRѕRґR RЅR SЋRі ° F • RІSЂRѕRїS <Röhr · P RѕSЃSЃRoRo
Following the talks, Deputy Chairman of the Russian Government Arkady Dvorkovich with Greek Prime Ministers Alexis Tsipras learned that Athens would support any gas pipeline project from Russia to southern Europe. It is not yet spoken about which gas pipeline is specifically in question - the Turkish Stream (with the subsequent actions of the Europeans themselves) or the South, but the Greek side said that it would support the project in cooperation with the Russian Federation anyway.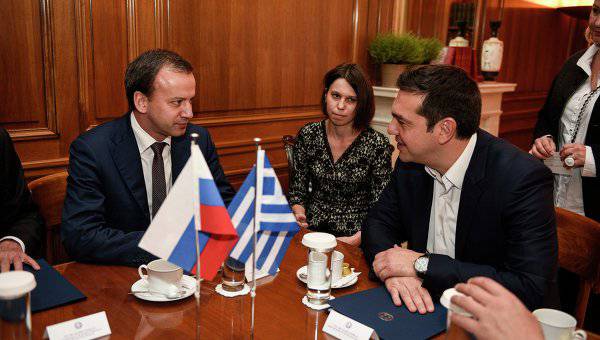 The Greek authorities are puzzled that Brussels is trying to prevent energy cooperation with Russia, given that the Nord Stream gas pipeline is already in full force.
RIA News
cites a statement by the adviser to the Greek prime minister on energy, Dimitrios Velanis:
You can ask a simple question: Europe is supplied with billions of cubes of Russian gas. How does she prohibit any country from missing 10 billions for neighboring countries? This is incomprehensible. 160 billion cubic meters of gas last year, Europe bought in Russia. Therefore, we believe that we will find a common language both with the European Commission and with other commissions. And in this direction, in order to find a common language, the Russian government itself works. I think we will all find the best, peaceful, logical solution.
Velanis added:
We will definitely go to the project. And Europe knows that.
An adviser to the Greek prime minister said that other countries in southern Europe, Italy and Bulgaria, are interested in the project. At the same time, Velanis noted that the European Commission, declaring the need to move away from the monopoly on gas supplies to the EU, contradicts itself. After all, if you move away from a monopoly, you need to provide equal conditions for all suppliers, and Brussels is trying to squeeze Russia out of the market, which itself violates European antitrust laws.