Kuma. Part of 3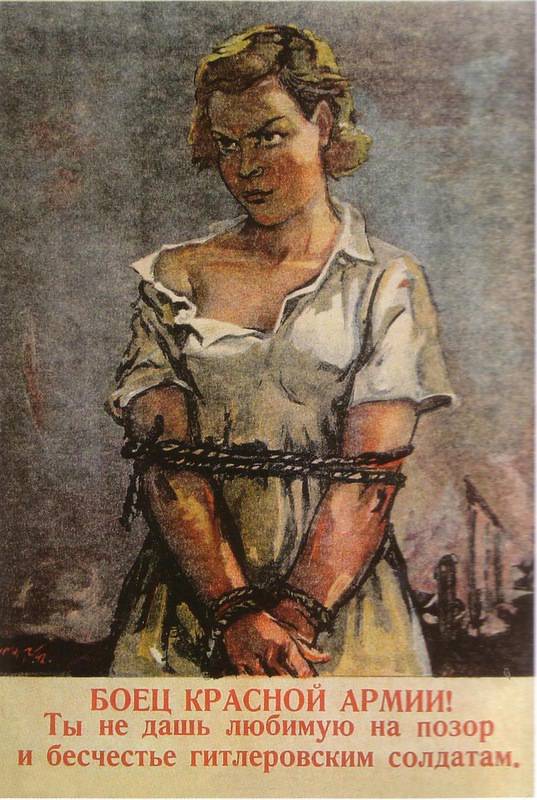 It was in Ukraine, near Lutsk. On a gray March morning in the forty-fourth year, we went to the rear units of the 13 Army. It was chilly. Sleet fell. It seemed that winter would not end.
Swaying easily in the backseat, lieutenant colonel Pavel Karpovich Kozik read poems:
"We went into battle in a storm and in a blizzard,
Fell and rise again.
On my shot overcoat
The blood was covered and drained. "
Then he whistled for some minutes some simple motive. And suddenly, quietly and sadly, Mussorgsky sang the old romance "The leaves were roaring dullly." He sang emotionally, and his singing somehow warmed the soul.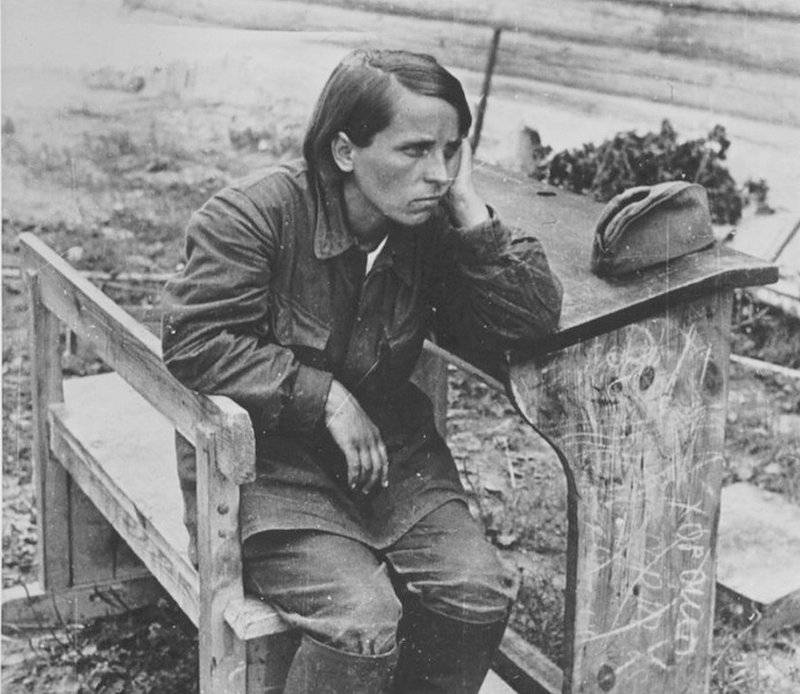 Suddenly a cold gusty wind brought from somewhere a heavy dark cloud. Such a squall of snow fell upon us, that the light of white faded. In order not to go astray, we had to linger in the first village that came across.
Putting the car to the fence, we entered the hut. We were met by a slender girl with large brown eyes under a wide spread of dark eyebrows. She was dressed in a chintz dress, tightly fitting her young elastic body. She was about twenty, no more.
- Will you wait out the snowfall? - Kozik entered the conversation.
- You are welcome! - the girl responded affably, having looked us over.
"Is there anyone older in your house?" - Pavel Karpovich smiled, not looking away from the young interesting hostess.
- And there are only two of us: mother and me. Mom went to the farm to visit her sister, "the girl eagerly explained.
- Well well. Well, let's get acquainted. My name is Pavel Karpovich. And you?
- Oksana. Maybe you are hungry? - the girl remembered. - I'll cook you an egg now. - And she immediately began to chew at the stove.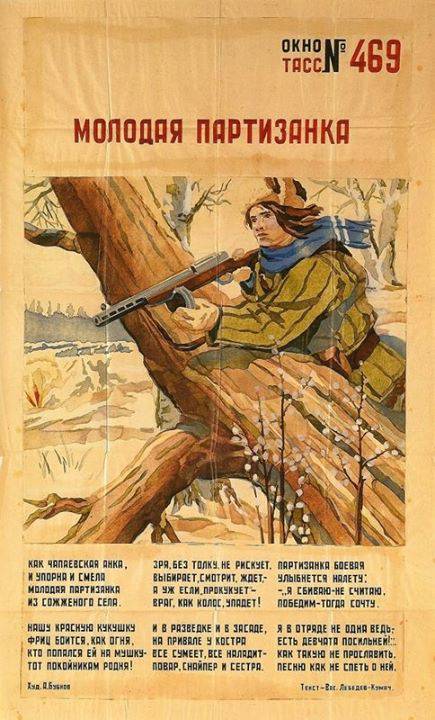 Pavel Karpovich in all cases did not like to remain idle. He grabbed an ax from under the bench and began pinching a resinous log. Oksana spread the fire on the cover, set the frying pan to warm. I cut the fat into neat slices and put it on a hot frying pan. Salo immediately hissed. The girl cleverly broke an egg for an egg with a knife and golden yolks fell out of the shell.
Having finished beating eggs, Oksana diligently and quickly adjusted the chips burning on the lid. At the same time she occasionally glanced out the window. Or suddenly faded away, as if listening to something.
Mother is waiting, I thought. And he asked her:
- How did you live under the Nazis?
Oksana cautiously looked at me and suddenly became gloomy, began to respond with general phrases, as if reluctantly: what kind of life is there with the fascists, it's better not to remember.
Meanwhile, the eggs were ready, and Oksana, putting a wooden stand on the table, put a frying pan on it. Bubbles burst on the fried eggs. The aroma spread over the room, which sucked in the stomach. Oksana sliced ​​bread, brought pickled cucumbers in a clay bowl. Pavel Karpovich was, as they say, at the top of bliss.
Inviting us to the table, Oksana sat next. Suddenly, the door opened and a tall guy entered the hut with a machine gun behind his back, in a hat with a red ribbon.
"That's what she was waiting for," flashed through my mind.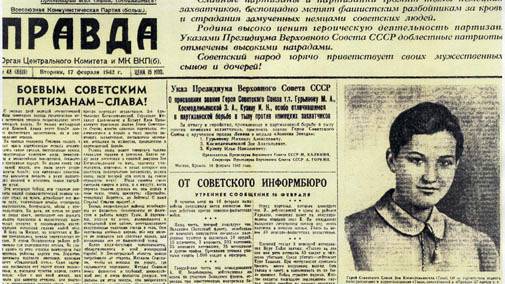 Oksana's eyes widened, eyebrows crawled up.
- Vasyl! - She exclaimed joyfully and ran out from behind the table to throw the guy on the neck. But the partisans, continuing to remain at the door, met her with a sharp cry:
- Do not come!
There was confusion. Stunned, Oksana lowered her hands with an expression of extreme amazement.
- What's wrong with you, Vasyl? - she said confusedly.
Partizan was silent. Gritting his teeth hard, he looked at Oksana with a hostile look. On his face reflected some kind of internal struggle. "Who is he to her: the bridegroom, the husband, the brother, or just a close person?" Kozik and I thought.
"Well, as you know," said Oksana, offended, meanwhile, and returned to the table. "You eat, do not pay attention to him," she said, already quite mastering herself.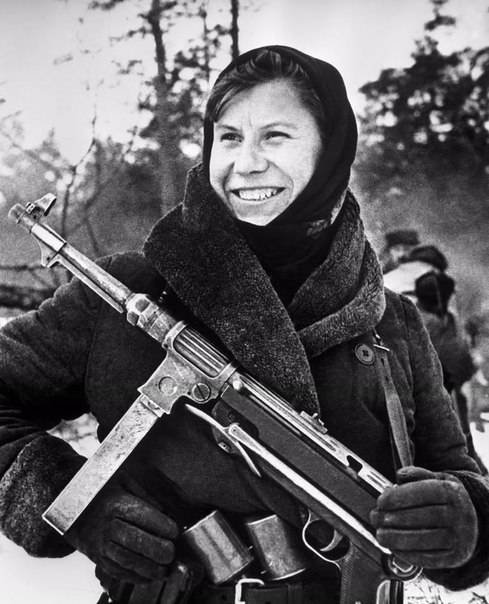 Vasyl, it seemed, just now noticed us.
"It seems I didn't go in time," he said.
Our presence clearly constrained the partisan. Wanting to cheer him up, I said:
- You do not take us into account, we are passing through.
Partizan went ahead and, removing the machine, sat on the bench. Throwing a glance at the table, smiled sarcastically:
- Comrade commanders guest? You try in vain. This does not pay off.
- Stop it, Vasyl, shame on you! - Oksana scolded him, - I suppose you're hungry, Sit at the table, eat.
"I do not eat leftovers from the Nazis," slashed the partisans.
Kozik and I exchanged glances. "Here you are! He couldn't live like that for blasting off that. "
Oksana blushed.
- Vasyl! How did you turn your tongue to say such a thing! - She said angrily.
"I have a reason for this," he said in response.
- stupid you! - mockingly said Oksana. - You do not know anything and can not know.
- I would have known, did not say.
She, apparently, did not consider it necessary for outsiders to explain to him and stopped.
- Well, bit her tongue? Say it! - blurted Vasyl.
Oksana continued to be silent. There was an awkward silence.
- Tell me what you blame her? - I decided to ask the partisan.
- Selling became. There would be!
- Vasyl! - strictly cried Oksana, not allowing him to finish. Her whole appearance seemed to shout: "After all, this is not true! Not true!"
- Are you sure about this? What is your evidence? - asked Kozik.
"She worked for the fascists as a translator at the commandant's office." And who went to their service, if not obvious traitors to the Motherland? The partisans responded with excitement and anger.
Oksana's lips quivered. The wrinkle lies between the steeply curved black eyebrows.
- He is right, the fascists were served only by notorious villains and scoundrels. Could you really fall so low? - I turned to Oksana.
She was already outwardly calm and mechanically twisting a corner of the tablecloth, glancing out the window. It seemed that the partisan prosecution did not hurt her at all. So a woman could behave with great restraint and skill, or in no way guilty.
- Oksana, why are you silent? - Kozik asked her, not taking his eyes off her.
"Everything Vasily said is not true," she replied, and again looked out the window.
- Not true? Kazan orphan decided to pretend! - Vasyl boiled, digging in his pockets. - And what's that? - In his hands he held some photograph. He went to Oksana and showed her. The girl's face went red.
I asked for a photo. In the circle of the Nazis was Oksana, merry, smiling. The words of the partisan could be treated differently, but, as they say, the facts are stubborn things. But. However, the card itself does not prove anything.
- What is this picture? - I asked Oksana.
- Ordinary photo. Somehow they surrounded me on the street: "Freulein, Freulein, let's take a photo for memory." Well, and clicked the device.
"And it could be," Kozik and I thought.
- In memory, you say? The partisans exclaimed with caustic irony. - And this is also a memory? - He handed her a document in expanded form.
Oksana, sharply throwing up her head, kept her eyes on him, but said nothing, only sighed with her whole chest.
It was a duplicate of the permit to the commandant's office in the name of Oksana Pelenko with her photo. Kozik and I stared at the girl, waiting for what she would say now in her own defense — it seemed that all the bridges had been burned and she had nowhere to retreat. And we were sure that now, after the exposure, having understood the full extent of her guilt, she will begin to repent and ask for forgiveness. But we were wrong. She showed no signs of remorse. Looking out the window, she sighed heavily and said:
- Eh, Vasyl, Vasyl! How could you think so about me! Not one year, you know me. Together they grew up, studied at the same desk.
She did not have time to agree, for she saw through the window that someone had arrived at the gate on an all-terrain vehicle. Oksana and startled.
Two people got out of the car: a tall man in a hooded sweatshirt, in a sheepskin short fur coat, the other a short man in a leather jacket. Both at
weapons
. They quickly entered the hut. Vasyl stared, confused and perplexed, at the entrants.
"Vasyl Buran is always in time," grinned a man in a coat, with a Cossack mustache. His eyes were cheerful, mocking. - In AWOL, mean? - He said with reproach.
"I, comrade commander, on business," Buran hesitated.
"We know your affairs are hearty," the commander of the partisan detachment shook a finger and walked over to the table, greeting us.
The man in the leather jacket only nodded to us and, walking up to Oksana, extended his hand to her.
- Well, hello, "Kuma". Alive, healthy? - He looked Oksana from head to toe and in his eyes flashed merry sparkles. - So here you are! And I represented you completely different, - he said with a warm note in his voice.
I looked at Vasyl. He stood as if he had been crushed, and only blinked his eyes, trying to understand what all this meant? Oksana, peering at the man in the leather jacket, also apparently tried to remember where she met him.
- Oh, who will you be? I guess, but I'm afraid to make a mistake, "she cried at last.
And the latter, once again giving her a warm look, smiling, said:
"But I'm sticking you to the underground name" Kuma ". And now I look at you and it becomes very funny. Painfully young you for kumy.
- So you are the secretary of the underground district party committee, Comrade Melnik? - Oksana was delighted.
- He is. So it is time for us to personally see each other.
Vasily Buran, stunned by everything that happened, stood in the middle of the hut, glancing now at Oksana and now at the secretary of the district committee. It is only now that he has reached the meaning of what has hitherto been hidden.
A sigh of relief escaped from Oksana's chest. She could not restrain herself and burst into tears.
- Well, why tears! Don't, Oksana, - her secretary consoled. - I know that we have placed a heavy burden on your shoulders, that it is not easy to be an underground worker, but now all the fears and worries are over. Now we just have to rejoice at our success.
- Oh, that I really softened, - she smiled through tears. - And I've been waiting for you since yesterday. I was told that you will call.
- I was going, but I could not. Tell me, Oksana, was it scary?
She shook her head, sighed.
- To live under the constant fear that you are about to be caught, will be revealed, it is like walking on thin ice-first ice. But it was painfully different. This is when their own people look at you with exasperation, throw all kinds of obscenity after the obscenity, but I could neither open up nor explain to them. And this is worse than any torture! I waited every day: either the Nazis would reveal me and hang, or they would destroy their own. Her voice dropped to a whisper, her lips quivered. "Even here he is, Vasyl," she nodded in the direction of the guy, "she considered me a traitor."
Burning from embarrassment, wanting to justify himself, Buran mumbled indistinctly:
- Oksana, I did not know anything. Why did you not tell me at once that you were.
- Could not, Vasyl. She had no right, she answered, beaming.
The commander of the partisan detachment looked at Buran with a smile, feeling his mustache, and then said:
- Conspiracy, my friend, it must be understood! Everyone is supposed to know only what is permitted to him, and nothing more.
Feeling guilty, Buran, was silent. Then, looking into the girl's eyes, hoarsely said:
- Forgive me, Oksana, if you can, please.
Oksana looked at him with happy eyes, as if saying: "I forgive, because you are not to blame."
I thought about the response of the commander of the partisan detachment to the Buran. "Conspiracy ..." Yes, she demanded from Oksana huge nervous tension, will, inner concentration and strength. The slightest negligence, any wrong move - and death. It was necessary to reincarnate, play like an actress. And if the failure? Will there be enough strength to endure all the torments, prefer death to betrayal?
With undisguised delight, I looked at Oksana, and her every movement, voice, and manner of holding said to me: "It would be enough!"
Soon we said goodbye to everyone and left the hut. The snowfall is long over. The sky cleared, the sun appeared, and the snow became so sparkling that it was painful to look at it.
Many years have passed since then. But before my eyes and now stands the beautiful Oxanino face. I always remember a girl with some kind of warmth and excitement.
The ending should ...