Memories of Lieutenant Colonel Kozik. Part of 1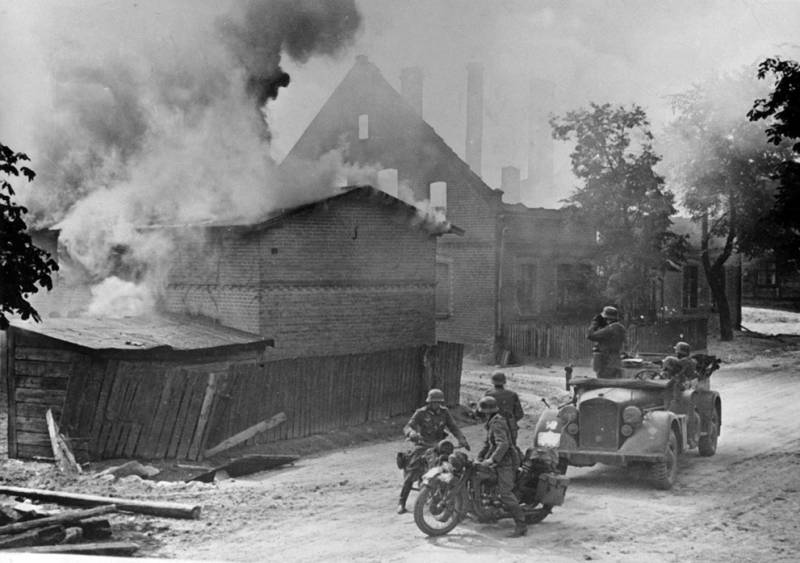 These four publications are devoted to the memories of front-line journalist Pavel Andreev.
- I was driving to a new duty station. Already at night the train stopped at a small station. That was my destination. I got out of the car. It was about ten kilometers to Krasilovka village, where the political department of the 1 of the Ukrainian Front was located, and the rest of the night had to be spent at the station.
Waiting for the dawn, I headed to Krasilovka. The head of the political department, Major-General Sergey Savelyevich Shatilov, after a brief conversation, sent me to the organizational department of Lieutenant Colonel Surikov.
Colonel I caught one. It was immediately clear that he was not a political officer. His talk, manners confirmed it. Indeed, as I learned later, before the war, Surikov headed a research institute.
- I already called Sergei Savelevich and asked to take care of housing for you. And with our housing archithodno. So I don't know where to place you, "Surikov said anxiously, lisping and in the Volga style, anxiously, as soon as we greeted them.
He was about to call, it was somewhere to call, but then the door opened and a lieutenant colonel entered his overcoat, with straps crossed from his chest from a belt and a leather bag.
- Oh, Pavel Karpovich! That's the way! - Surikov was delighted and hung up. "A new inspector has arrived," he nodded in my direction. - So please love and favor.
- Replenishment? It's good! - Pavel Karpovich said with a smile and, extending his hand, he introduced himself: - Lieutenant Colonel Kozik.
- And here I am puzzled where would we accommodate the colonel. Do you have a place there? - smoothing a hedgehog, asked Surikov.
- In addition to the shop, and there will be no place to put it, - Kozik smiled slyly.
"Well, don't scare the colonel," Surikov was embarrassed by these words.
- Nothing, let the colonel get used to the front-line life of inspectors. We have no hotels. Where night fell, there and spend the night, - And, turning to me, with the same familiarity (however, it didn't work for him at all), said: - Well, well, Colonel, send.
- Well, fine. So, the problem with housing is solved, - Surikov said with satisfaction.
With his cheerful disposition and attractive smile, Lieutenant-Colonel Kozik at once somehow attracted himself, evoking a feeling of sympathy. He looked like he was about thirty years old. Eyes, then calm, and then suddenly naughty, they concealed a laugh.
- Probably, they reluctantly left Moscow? He asked as soon as we found ourselves on the street.
I did not have time to answer, for the lieutenant colonel in glasses was hurrying towards us. Throwing Koziku, which leaves for the tank crews, he hurried to the truck waiting for him on the road.
"Inspector Ilinsky," introduced Lieutenant Colonel Kozik in absentia. - It is good that he is leaving for a business trip. Consequently, the bed was made free for you. - sighed. - This is our service. Do not have time to come from one trip, as you immediately throw up another.
The only street in the village of Krasilovka was a complete mess of mud. Therefore, Pavel Karpovich led me to the apartment gardens. We made our way through felled wattle. And yet the passage of the street was not avoided. Raising the floor of his overcoat, literally forced it.
- Well, mud, so it was empty! - I could not resist.
"Yes, this is not the asphalt of Moscow streets," Kozik again pricked me with the capital.
We entered the hut. A one-eyed old man with a red beard and a gloomy face was sitting at the table. A gray-haired old woman thundered by the stove.
- Hosts, I lead the colonel for housing, - announced Kozik from the threshold.
The old woman glanced at me, not expressing either enthusiasm or protest. The old man, plucking his curled beard with his fingers, kindly spoke:
- Please. Once required, can there be objections?
"This is our hotel, Comrade Colonel." Take off your clothes and make yourself at home.
The "hotel" was actually a small room with one window. Apparently, before she served as a pantry for household items. Now it was a small table, bed and cot, the owner of which, as it turned out, was Kozik.
- We are a little here. We are in more parts, - Pavel Karpovich explained. - In a word, there is where to spend the night, and all right.
Pavel Karpovich took off his overcoat. Two orders and three medals flashed on his chest.
"The awards show that you have been at the front for a long time," I said.
- From the first day of the war. So I do not know her from stories. Everything had to: retreat and advance. - I asked in turn: - Have you been in the army for a long time?
I talked about myself.
- It is good that you managed to graduate from the military-political academy. But now the war prevented me from studying. - He shook his head. - Nothing, we will break the Nazis, and everything will be fine! And it's never too late to learn.
For dinner, we did not go to the dining room. I had some Moscow products and we were limited to them.
After a long conversation on various topics, during which we both switched to "you," we began to prepare for bed. Pavel Karpovich fell asleep right away, and for a long time I recalled my departure from Moscow, the road that I traveled here. But imperceptibly, the dream bound me too.
Soon we were already on a business trip, in a district town in the Zhytomyr region, which our troops liberated only a week ago. The enemy command, in accordance with its operational plans, set out to take the city back. Pulling up fresh forces, the Nazis launched an offensive. Ten minutes lasted their artillery raid. And then they went on the attack
Tanks
and infantry.
The rifle division with the reinforcement units attached to it initially successfully successfully contained all enemy attacks on the town. But then the Nazis managed to break into the battle formations of one of the regiments. There was a dangerous situation. The enemy could develop its success. It was necessary to urgently evacuate the wounded. Kozik and I voluntarily assumed this task.
Together with the medical staff, we loaded the wounded into vehicles and sent them to Stepanovka, where the field mobile hospital was located. Part of the inhabitants, without risking being under the heel of the Nazis again, also left the city.
Perhaps the fascists would have succeeded in capturing this district center again, but the corps commander was able to assist the division in time, and the enemy was beaten off with great losses for him.
When the situation stabilized, Kozik and I headed towards the new location of the front's political department. Towards us returned to the city residents.
Suddenly, a fascist fighter twisted out from under the clouds and struck along the road with machine guns. The women, clinging to the breasts of children, shouted and screamed with shouting, seeking salvation. But the frenzied fascist continued to mercilessly shoot them. And only having finished his evil deed, the Messer soared soaring upwards and again went into the clouds.
When the plane disappeared, we saw a woman lying nearby, over whom a boy of about five was crying bitterly and inconsolably. And at some distance, on the side of the road, with a tearing soul, wept over a three-year-old girl killed by a young mother.
We saw different things for the war. But this picture shook us deeply. Nodding Koziku to the crying little boy, I walked over to the grieving mother, put his arm around her shoulders and said:
- Go to the forest, and then suddenly they will fly.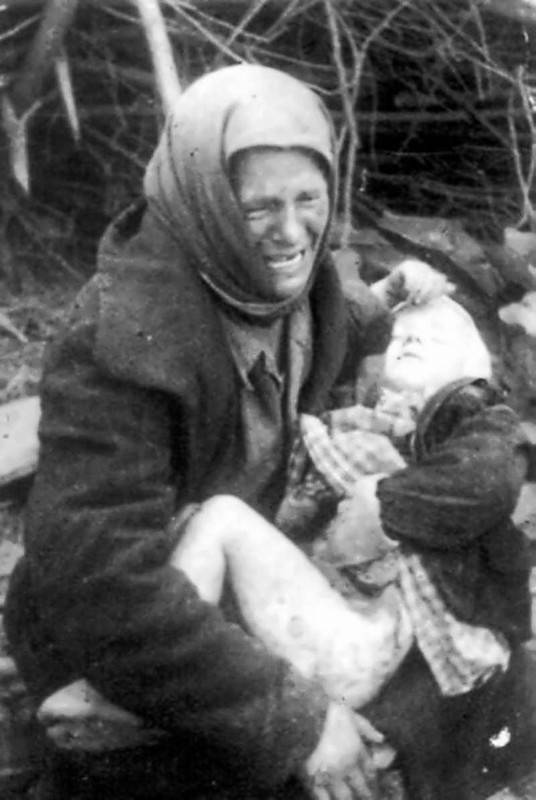 But my call, apparently, did not reach her consciousness. Shocked by the death of her daughter, the mother did not control herself. Pressing a dead child to her chest, she stood with a petrified face, as if in a tetanus, not reacting to anything. She no longer cried, but her eyes were filled with such inescapable pain that it was difficult to look at them. Seeing that the woman is not in herself, I dragged her out of the way by force.
And Kozik could not tear the boy away from his dead mother. He clung to her, sobbing bitterly. Finally, Pavel Karpovich managed to somehow convince the boy and take him with him.
Entering the forest, we stopped to decide what to do next.
- How to be with the boy? - Pavel Karpovich asked me.
And the boy was crying, repeating the same things through bitter tears:
- Mother killed. Nurse killed.
This little boy's voice finally brought the young woman out of his stupor, brought her back to reality. She approached the boy and, leaning his head against her, told us:
"Tsei is a lad from our street." His old man died in the war, and now he has become an orphan. - Stroking his head, she said touchingly to him: - Do not cry, you will live with me. Now I will be your mother. What's your name?
"Vitya," the little boy replied, wiping his dulled face with his fist, and with touching children's trustfulness pressed against the woman.
We were struck by the kindness of a woman.
- What is your name? - we asked.
- Hima Spichak.
- Low bow to you, Hima. How to measure your pain and your kindness? Grow Vitya. Sure, he will thank you for your motherly feelings.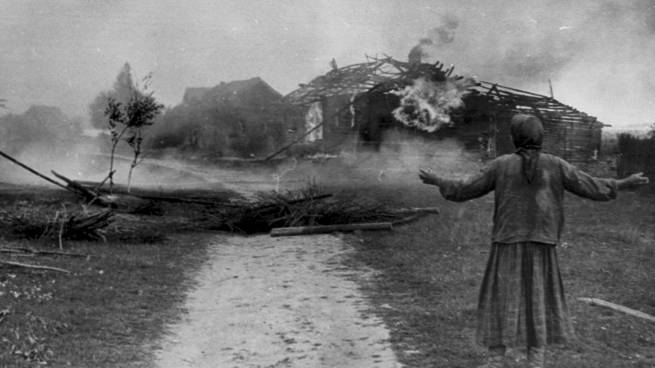 We said goodbye to Hima Spichak and walked along the forest road. Lt. Col. Kozin walked frowning, focused. He still apparently was impressed by the act of Hima Spichak.
Indeed, Pavel Karpovich soon spoke about this:
- No, whoever, no matter how convinced, but I am sure: there is no other nation like ours, Soviet, in the world! Here take the same Himu Spichak. At the very grief - even climb into the loop, but how does she understand the grief of others! You see, she crushed her, drove her somewhere deep into the soul, and took the little boy over. - paused. And he continued, chopping the air with his clenched fist: "No, the fascist miscalculated!" Is such a people like ours, win? Never!
Pavel Karpovich even cheered up, whistled some song to the beat of his steps. I also felt somehow better from his words.
Day meanwhile sloped in the evening. Above the forest hung an orange, already cooling disk of the sun. I wanted to eat. Affect walking and healing, infused air on the pines.
- Pavel Karpovich, get enze, eat, - I finally suggested.
Kozik took cigarettes out of the way and matches. Stopping, lit it. Making a couple of puffs, he said seriously:
- Are you laughing? Enze can not spend!
I have already got used to his manner of talking about the funny seriously, and about the serious - with an indispensable smile.
- There is a wish.
"We will soon arrive in the village, we will eat there," said Kozik confidently, as if in the supposed village there was his home.
- Do you count on the food item or is your mother-in-law there?
"We'll feed you on grandma's certificate," he grinned.
The expression "grandmother's certificate" was pretty running on the front. It happened that lone soldiers, who were separated, didn't have any crumbs of bread in their bags and, willy-nilly, they were forced to feed themselves at the carefree old women. It was impossible to blame them. Do not disappear the soldier with hunger. And what woman will refuse the front-line soldier in a bowl of soup or in a cup of milk with bread?
"The great thing is grandmother's certificate," Kozin continued, meanwhile. "Food items are everywhere, and grandmothers are in every village." So rely on me. Well, enze, it is given for the most extreme case.
The forest was over, and about a kilometer away we saw a village with tall poplars on the outskirts. Pavel Karpovich glanced at them and froze in place.
"Wait, wait," he exclaimed. - Yes, it's Forest Dali! - Hastily unfolded the tablet, looked at the two-page card, - yes, they. I never thought that I would have to visit them a second time. - Intercepting my puzzled look, explained: - Expensive, they cost us forty-one. Great fascists patted us here. And what beautiful people fell for these Forest Dali! By the way, I have to have good friends in the village. Khariton Motsak and Akulina. No, I'm lying, Antonina Antonovna.
We entered the village. It was not destroyed very much, and Pavel Karpovich found the Motsak hut without much difficulty. We went into it. The hostess sat at the table and sewed. Somebody's boots were hanging from a Russian stove. When we entered, the hostess stopped sewing and stared intently at us.
- Good afternoon, Antonina Antonovna! Do you recognize a friend? - cheerfully spoke Kozik.
Antonina Antonovna looked younger, was one of those women who, even over the years, do not lose their femininity. She looked at us embarrassed and something sad flashed in her face.
- I'm on you, and by God I don't know. Already weary man, - worried woman.
"Do you remember all those who visited you, and your bread and salt ate," Paul came to her aid. - I still remember how you treated us to buckwheat pancakes and dumplings with poppy seeds. It was a difficult time for us. But we did not lose hope, we believed that we would meet with us under more favorable circumstances.
The hostess's eyes sparkled. She, apparently, still remembered. Fuss.
- Sit down, be caress. We are glad to you, like your relatives, that you have returned and freed us from bondage.
- And where is your host Hariton Motsak? - Kozik asked, and the hostess was even more amazed that he remembered their names.
The legs on the stove moved, and soon the host's head appeared with a cheek tied with a towel.
- With teeth toil. Hurt - I will not save, - Motsak groaned, not daring to leave a warm place.
- Khariton, yes you would be angry with the furnace. Broke, yaki people with us. Tsezh our defenders. - The words "our advocates" were spoken by her wholeheartedly, and not from innate courtesy.
"Yes, that's it," said Motsak, and, moaning painfully, he came down from the furnace.
He was a tall man, already in years, with a thin face. Looking at Kozin, he smiled and declared in a strained voice:
- I recognized you. And I remember your words. We, they say, will return, we will not leave you in the lurch. And we got this from the damned fascists, that God forbid! Life was worse than wormwood. They robbed us, klyatyh, all cleaned up swept. Neither cows nor pigs left. That they themselves ate, and that they sent to Germany. Now we sit without bread, without potatoes.
- Yes, fuck them already sick of the fence! - with inexpressible pain inserted mistress. - We'll live up to the new harvest, the Nazis never returned.
- Now they will not return, Antonina Antonovna. Not those years, - Kozik assured.
- Yes, God forbid. Oh, and exhausted people, suffered grief from Hitler's villains. Be they thrice cursed! - with the heart concluded mistress.
Pavel Karpovich was silent for several minutes, as if he were solving a difficult question. Then he looked at me embarrassedly in the eyes, as if he apologized for the failed dinner, and said:
- And now, Mikhailov, the very extreme case has come, which the enze is given to.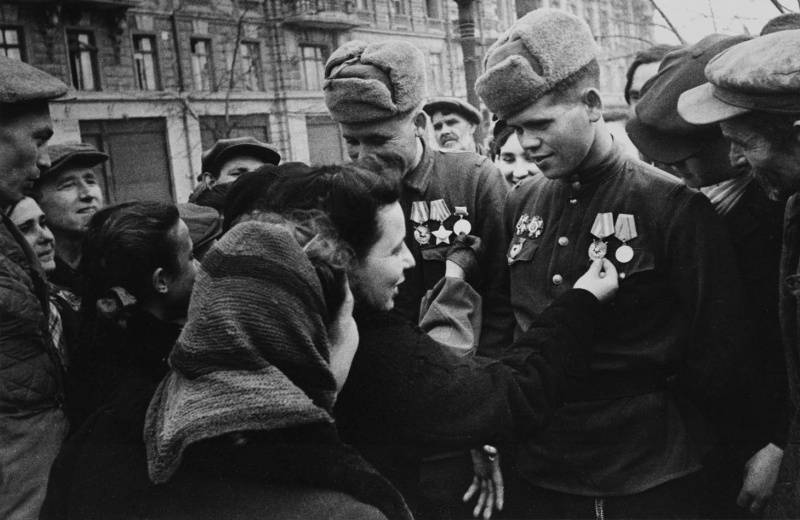 He laid a can of canned meat on the table, poured the biscuits and, addressing the hosts, said cordially:
- Sit down to the table, have a snack together. This is a frontline called emergency reserve, enze. - And grinned, trying to hide the awkwardness.
- Hey, we have to feed us. Kushayte themselves, the hostess refused.
We began to beg. Monique strung out for the sake of decency. Then, coughing into a fist, lowered:
- Yes, it is possible to try your grubs, yak scho laskivo proyte.
The three of us quickly emptied a can of canned food, ate completely and biscuits. Motsak thanked for the treat, cheered up, even his teeth stopped pestering him.
The evening was floating on the Forest Dali. In the west, on high still clouds, the last gleams of a crimson sunset faded away. Twilight was gathering, and we had no choice but to spend the night at Motsak.
To be continued ...