Another top 5 of Russian weapons from National Interest
An expert of The National Interest magazine Kyle Mizokami has compiled a rating list of military equipment that will be in service with the Armed Forces of the Russian Federation for 2030 g, reports
RIA News
.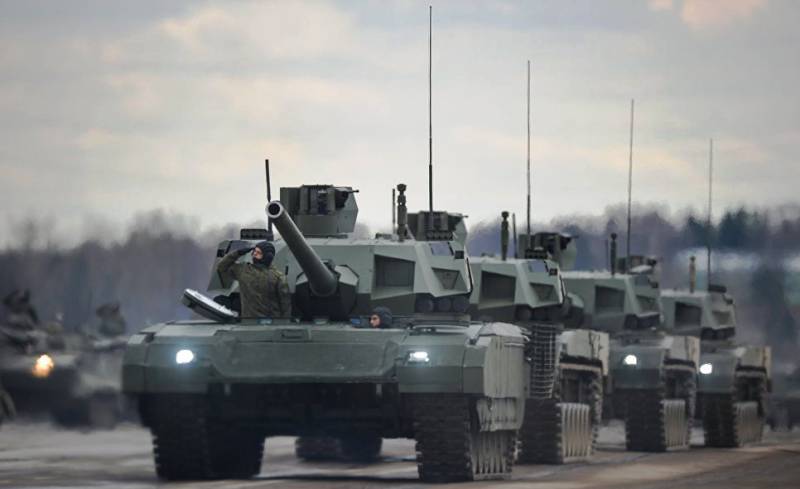 The first on the list is the T-14 main tank based on the Armata universal platform, the creation of which "became a great technological leap for the armed forces: the tank has multilayer combined armor of a modular design, uninhabited turret, active and passive defense complexes, in addition, the T- 14 is supposed to be "stealth
a tank
"with paint that makes the car invisible to radar," Mizokami writes.
According to him, the cost of one tank is about $ 3,7 million. "And Moscow has already signed a contract for the first hundred vehicles. This is enough to equip three battalions for each 31 tank or one tank regiment, "- said the expert.
In the second position, he put a promising armored vehicle T-15, created also on the basis of "Almaty".
"The 1500 engine horsepower is located in the front compartment of the car, which increases the security of the habitable part. Like the T-14, the BMP T-15 has active and passive defense complexes, the combat module of the machine uses the 30-mm automatic gun 2-42 and two dual launchers for the Kornet ATGM system, the article says.
According to the observer, "The Russian Ground Forces are far from the times when unprotected infantry played the role of cannon fodder: today, thanks to the new T-15 combat vehicle, the Russian infantry is one of the most protected units on the battlefield."
Next - attack helicopter Ka-52.
"The basic equipment of the Ka-52 is the same as on the T-15, the 30-mm 2-42 gun. Launchers are located on each side of the wing, in which can be placed six missiles of the Sturm, Ataka or Igla complexes. Two gas turbine engines VK-2500 provide the ability to fly at heights above 5km, "writes Mizokami.
In fourth place - OSTK 9K720 "Iskander-M".
The expert notes that "the new product of an extensive line of tactical missiles, the development of which began in the years of the Cold War, Iskander-M is distinguished by unprecedented accuracy, range and power."
"The range of destruction of the Iskander target is 599 kilometers, and thanks to the GLONASS and GPS systems, the missile's accuracy is between five and seven meters from the target in half of the cases. This makes the Iskander a powerful tactical
weapons
against goals of high importance, "he writes.
Closes the top-5 Kalashnikov sniper rifle (SVK).
According to Mizokami, the SVK will replace the Dragunov rifle, which is in service with 1963. piston with a short stroke ", - said in the article.
RIA News. Vladimir Astapkovich