Against the background of the most difficult social and economic situation, Ukrainian "servants of the people" continue to practice in adopting laws and launching initiatives that create only an imitation of violent activity. Thus, deputies of the Rivne Regional Council of Ukraine appealed to President Poroshenko of the country with a proposal to reappoint Stepan Bandera with the title of Hero of Ukraine. Reported by the information service
UNIAN
.
For the adoption of such an appeal to the President of Ukraine voted 53 Rovno MPs from 64. Seven deputies did not participate in the voting. Apparently, now in the regional deputy composition, an "investigation" will begin regarding who those "authorities" who did not support the Bandera initiative are.
The words of the author of the idea of ​​deputy chairman Alexei Buchinsky are cited (quote
Correspondent
):
An example of the inviolability of the spirit during the struggle for a national idea, the revealed heroism and self-sacrifice in the struggle for an independent Ukrainian state, which our guide gave us, should show us the way in the process of the formation of a nation and the creation of a state. Therefore, we must re-assign the title of Hero of Ukraine Stepan Bandera.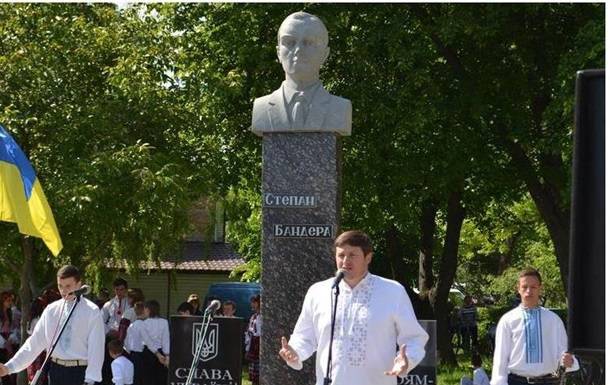 One would assume that if the initiative is implemented, Bandera will be twice the hero of Ukraine posthumously ... However, in April 2010, the Donetsk District Administrative Court overturned the January (same year) decision of then-President Viktor Yushchenko to confer on him the title of hero. The court was guided by the following argument: Bandera was not a citizen of Ukraine. In 2011, the High Court of Ukraine upheld the decision of the Donetsk Court.
In this regard, it can be stated that for every Bandera initiative, Ukraine has a Donetsk district court, given the fact that in Kiev they still consider Donetsk as a part of "Square" ...