The Russian Helicopters Association is upgrading a heavy Mi-26Т2 helicopter for the needs of the Russian Defense Ministry, reports
Rossiyskaya Gazeta
with reference to the press service of the holding.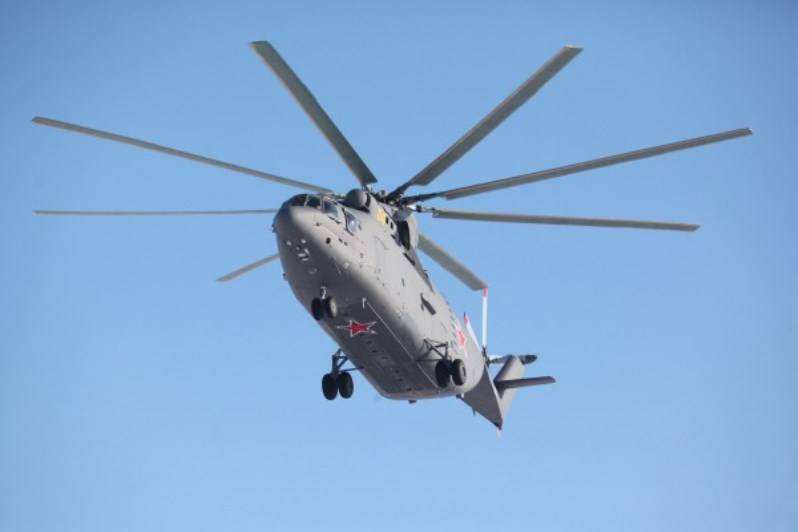 The release notes that the updated machine "will be indexed as Mi-26Т2В and will receive the ability to take off and land from unprepared sites."
Currently, experts are busy agreeing on a technical assignment for this work.
The press service clarified that "the goal of modernization is to improve the navigation and flight characteristics, accuracy of navigation and communication capabilities of the helicopter."
"Mi-26Т2В will be equipped with an autopilot, as well as avionics, allowing to fly at any time of the day, with electronic indication means and a new navigation and aerobatic complex. In addition, a modernized digital communications system and modern airborne defenses will be installed, which will increase the survivability of the combat helicopter, "the message says.
The upgraded car will feel confident in any region, incl. and where "physiographic and climatic conditions are unfavorable."
"Mi-26 helicopters are unique vehicles. No serial helicopter in the world can compare with it in terms of payload. Our planned work on the modernization of the Mi-26Т2 helicopter in the interests of the Russian Ministry of Defense will allow the military department to get a modernized heavy all-day transport and assault helicopter capable of performing combat missions in any, even the most difficult climatic and weather conditions, "
quoted by the press service of the general director of the holding Alexander Mikheev.