Serial deliveries to the military department of the latest Sarmat missiles will begin in 2018 g,
Interfax-AVN
source message in the defense industry.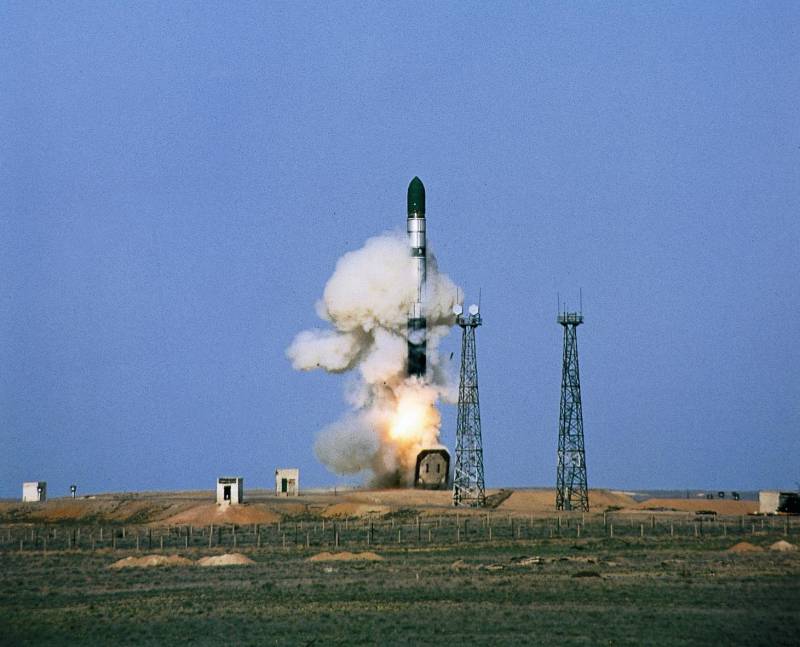 The launch of the intercontinental ballistic missile "Voevoda" P-36М2
"The first Sarmatians will come to the Strategic Missile Forces (RVSN) no later than 2019. Most likely in 2018, "said the source.
According to him, "to intensify work on the RS-28 Sarmat project, which is separately listed in the state armaments program up to 2020, allows the modernization of the Krasnoyarsk Machine-Building Plant", where these missiles are made.
"Sarmat" is a powerful stabilizing argument capable of cooling even the hottest heads before the stage of combat use. The possibilities of Sarmat are unprecedented, "the source said.
According to expert estimates, "the ICBM RS-28 will be able to deliver a divided warhead weighing up to 10 tons to anywhere in the world, both via the North Pole and the South Pole." In addition, "Sarmat" plans to use as a carrier of the developed hypersonic units, called by the press "4202 project".
"These are the very asymmetric solutions from the category of" cheap and angry ", which make it possible to deter potential aggressors without getting involved in a ruinous arms race," the source said.
It is noted that the PC-28 should replace the mine-based rocket "Voevod" (NATO classification - "Satan") in the Uzhur (Krasnoyarsk Territory) and Dombarovsk (Orenburg region) divisions of the Strategic Missile Forces.
Earlier it was reported that the throwing tests of the new rocket should begin at the end of this year.