Start SKSU "Caucasus-2016"
Management
press service
and information from the Russian Ministry of Defense informs about the launch of the Kavkaz-2016 strategic command and staff exercise. The exercises will be held not only in the landfills of the Southern Military District, but also in the waters of the Caspian and Black Seas. According to the official representative of the Ministry of Defense of the Russian Federation, about 2016 thousand servicemen will take part in the Kavkaz-12,5 SKSHU.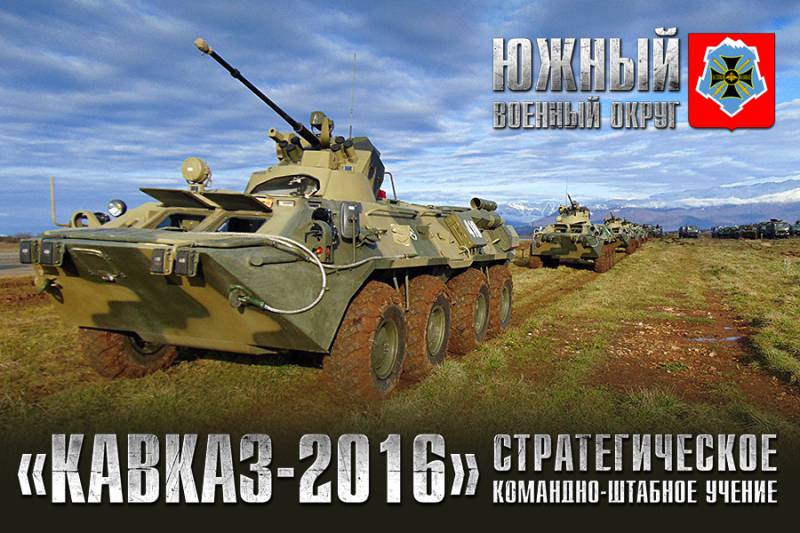 From the report:
The Kavkaz-2016 SKSHU is the final stage of a complex of command and staff, special exercises, military command and control training, surprise checks of the combat readiness of troops (forces) in 2016. In the course of the exercise, the level of preparedness of the military command and control bodies for controlling interspecific groups of troops (forces) will be checked, as well as the practice is given to commanders and staffs in planning, preparing and conducting military actions.
It is noted that within the framework of the strategic command and staff exercises, the work of control points at all levels will be organized. For this purpose it is planned to use the latest technical automation equipment. During the maneuvers will be used the latest
weapon
and military equipment along with samples that have already proven themselves in the Russian Armed Forces.
A series of events will be held mobilization readiness and territorial defense. For this purpose, civilian administrations of the regions of the exercise are also involved in the activities.
The units of the Ground Forces, VKS, Navy and Airborne Forces are involved in the exercise. Kavkaz-2016 SKSHU will end on September 10.
We are waiting for the expression of concerns ...
http://structure.mil.ru/mission/practice/all/more.htm?id=12094733@egNews