Putin-Obama. 70 minute full-time bout
According to Dmitry Peskov, the meeting between Vladimir Putin and Barack Obama lasted longer than planned - about 70 minutes. At the same time, Dmitry Peskov noted that work on the discussion of the Syrian and Ukrainian problems at the highest level will be continued.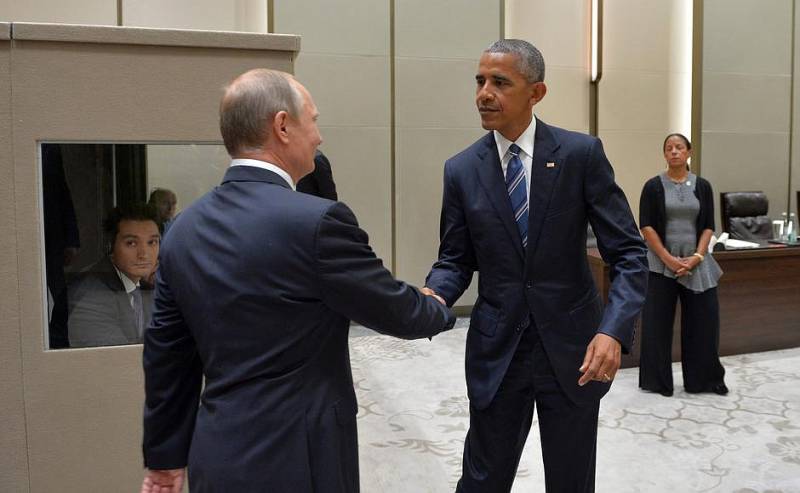 Materials appeared in the American press that once again announced "Obama's proposals on the need for concessions from Russia." Recall that, in speaking of concessions, Washington is referring to putting pressure on Bashar Assad so that the Syrian government forces would stop striking the so-called "moderate opposition", even if this "opposition" acts side by side with the militants of the group " Dzhebhat an-Nusra "(banned in the Russian Federation). In response, the United States "promises to coordinate" with the Russian Federation.
On the reaction of the President of the Russian Federation to such a "proposal" is not reported.
Meanwhile, within the framework of the second day of the G20 summit, several topics are considered at once. The first is "Global Economic and Financial Management", the second is "Sustainable international trade and investment". In addition, the issue of interconnected development up to 2030 of the year by raising the pace of industrialization and opening new jobs is being discussed.
In the context of the negative impact on the world economy of the terrorist threat, issues of countering international terrorism, including financial barriers, are discussed. Attention is drawn to the fact that the leading financial organizations of the West and the Arab world have not yet blocked the financing channels of such groups as ISIS (prohibited in the Russian Federation) and Dzhebhat al-Nusra, which raises serious questions.