The night before (Moscow time) before the official beginning of the G-20 summit in China (the Shangri hotel) the meeting of the presidents of Russia and Turkey was held. The open part of the meeting (for the press) lasted only a few minutes, while the closed part lasted about two hours. The Kremlin press service reports that during the meeting a wide range of issues were raised, the discussion of most of which was a kind of continuation of the meeting in St. Petersburg.
Vladimir Putin recalled that the Russian government decided to resume charter flights to Turkey, and also spoke about plans for broad Russian-Turkish energy cooperation.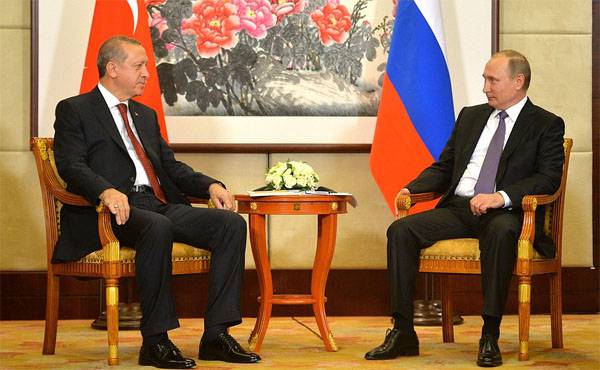 The President of the Russian Federation
:
You see what a representative delegation I brought with me. These are our ministers, heads of the largest companies responsible for energy issues: here Gazprom, Rosneft, Rosatom, here the Minister of Energy, the head of our Investment Fund, the Minister of Economy. And our foreign ministers, they, too, will compete in eloquence, and we will listen.
Erdogan said that his delegation was also extensive, and among its representatives called not only members of the economic bloc, but also the head of intelligence.
In response, Putin, with a laugh (and a clear implication on the reputation of Turkish intelligence taking into account the nearly failed coup), said:
If the head of the intelligence service is here, then we have nothing to talk about - he probably already reported everything to you.
After this, the discussion of the antiterrorist theme began, and the Russian president noted that he hoped for close cooperation in countering the terrorist threat. And about the same time, representatives of the Turkish Cabinet in Ankara said that in the fight against international terrorism they put an equal sign between the IG (banned in the Russian Federation), Kurdish armed forces and the forces of Fethullah Gulen.
Information Agency
Anadolu
reported that during the conversation between Vladimir Putin and Erdogan, the issue of resuming work on the Turkish Stream gas pipeline was raised.
Erdogan:
I am sure that the steps we have taken in this area (energy) - note "VO") will speed up the process.