Media: Russian Su-33 will receive ultra-precise aiming systems
The Russian carrier-based aircraft of the Admiral Kuznetsov aircraft-carrying cruiser, departing in the autumn to the shores of Syria, are equipped with "a specialized computing subsystem SVP-24, which allows the use of conventional unguided high-explosive blanks with precision controlled
weapons
", Reported
News
with reference to a source in the Ministry of Defense.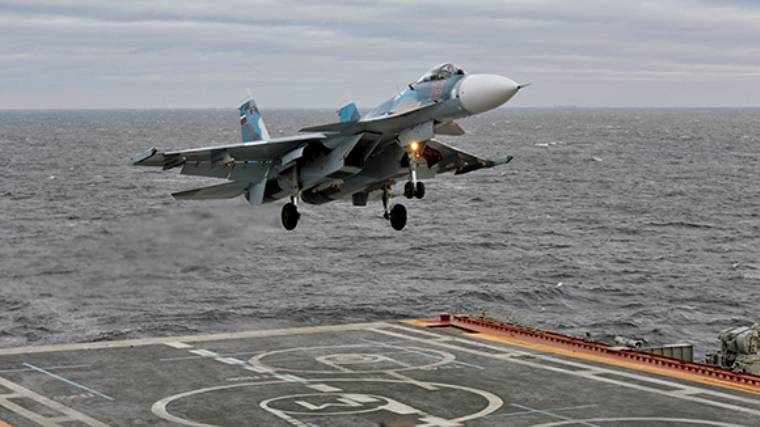 According to the military command plan, the Admiral Kuznetsov will go on a campaign to the Mediterranean in November 2016. Its air group will include about 10-ti Su-33 fighter jets and four MiG-29KRs.
"Su-33 equipped with SVP-24 will strike at the enemy using free-fall bombs. And here is the list
aviation
means of destruction (ASP), which should be used by the MiG-29, has not yet been fully determined. But it is planned that these will be corrected bombs of the KAB-500 family, including those guided by a GLONASS signal, as well as Kh-35 missiles, "
said the source of the newspaper.
According to a representative from the aircraft industry, "MiG-29KR flights from the deck of the Kuznetsov aircraft carrier have just begun, and one of the main tasks is to test the interaction of the inertial aircraft navigation system with the Ilmen aircraft inertial systems, recently installed on board the aircraft carrier cruiser" .
"The accuracy of targeting and combat use of land and sea targets depends on the correctness of the" inertial "MiG-29KR exhibition on a swinging and moving deck. Only after the completion of the work will it become completely clear which TSA the "twenty-ninths" who take off from the deck of Kuznetsov will be able to use, "he explained.
According to the newspaper, "the specialized computing subsystem SVP-24, developed by Gefest and T, is just a few blocks that are installed directly into the onboard equipment of a combat aircraft: based on the position of the aircraft in space, its coordinates and flight parameters, and About the target, the SVP calculates the optimal trajectory of the bomb dropping. The maximum deviation from the target does not exceed a few meters. "
Military expert Anton Lavrov: "
Equipped with SVP-24, Su-24М front-line bombers became the main workhorse of the Russian Aerospace Force in Syria. The machines showed high accuracy, which was noticed and appreciated by military experts from many countries. "
According to him, "this is a worthy replacement for GPS-adjusted bombs that are very popular in the air forces of the developed countries of the world," since "the Russian system with much higher accuracy due to the use of conventional high-explosive blanks is much cheaper."