A small digression. Well, now I can say that the abolition of the minuses is bearing fruit. At least, a person who has a different opinion than the majority can express it without fear of consequences. And this is a plus.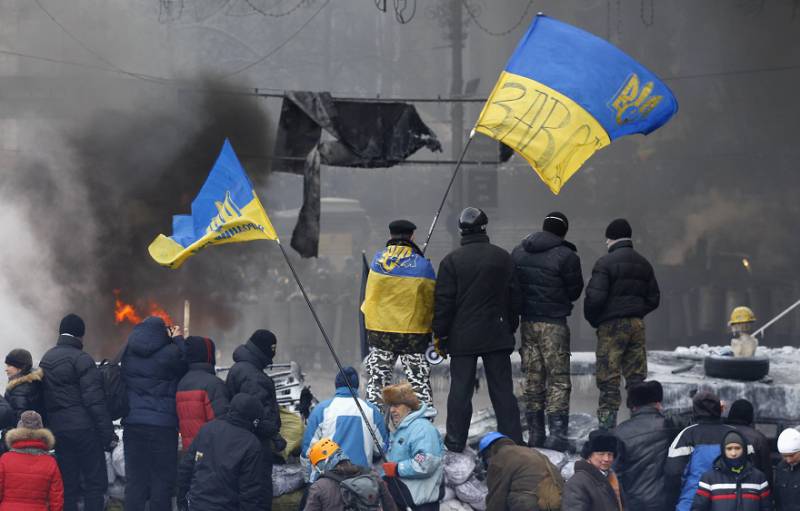 Another thing is that this opinion, even if it is reasonable and calmly expressed, requires some kind of reaction. So I decided to sort through the bones of the question that our reader Retvizan put on the table. Namely offenses inflicted by Russia Ukraine.
So let's go. I liked Retvizan's comment on our parade article. At least, it became clear from him that we were on opposite sides of the barricade. But with a smart enemy and fight nice.
"An article for us, Ukrainians. But not a single Ukrainian unsubscribed. Because there were no active" patriots "here. They would have been banned right away (they would not have survived the millions of offensive names of Ukraine and Ukrainians). They will unsubscribe. They have a general party policy of their own. Well, or Russian. "
There are plenty of "active patriots" here. But all were sawed back on the "Censor" splashing saliva and yelling there. Even, perhaps, I am a little proud that I have more than fifty such scandals on my account. Here is a Russian monastery, and there is nothing to shout at it like on the Maidan. Not to create.
Who are the "tame Ukrainians", I honestly do not understand. I guess, of course, that those who do not fall into the righteous ecstasy of the cry "Glory to Ukraine!" But, sorry, you have a lot of people out there today. "Youtube" look about Poroshenko's visit to Mariupol. I watched. Funny. Except Poroshenko, nobody shouted.
Now I communicate a lot with Ukrainians on the Internet. Mariupol, Kiev, Nikolaev, Khmelnitsky, Odessa. I play in the Ukrainian clan, sinful. It is not customary to talk about politics, but for life - just go. And in general, I understand where they look today.
Indeed, the general policy of the party has basically its own - to survive. And I do not blame any of my interlocutors. Even more than that, sincerely sympathize.
"In fact, the Russian Federation (although it's about the Russians themselves) you are not the Ukrainians. And the Russians are the most naked. Those who call themselves Ukrainians or Russian in general. And the Crimea and the Voentorg in the east.
It is with you that the Russians of Ukraine and the Ukrainians and Russians are fighting in essence. Zapadentsy not fight with you and will not. They have neither experience nor the possibility of even anger they have some kind of incomprehensible to us. We even have a reason (the territorial integrity of our country).
Therefore, we will not give up attempts to return everything. Revanchism, militarization, any actions that can help us. "
(Without editing. - Ed.).
I, with your permission, begin with the end of the quote. Here one phrase puts everything in its place. Do not leave attempts to return everything back? Funny ... and explains a lot.
When Russia did not give up attempts to return Ukraine, which was rapidly rushing towards Europe, we also took any actions that could help you. Discounts for gas, for oil. Credits. Preferential trading mode. Benefits for industrial enterprises of Ukraine in the Russian market. Frank lobbying of Ukrainian manufacturers. Examples? Yes, as many as you like.
I won't even fly far, take a recent example with An-148. Our collectors and testers at VASO were categorical in their time: the bastard would not fly. And I would not really take off, if it were not for the general who finished the glider with the hands of VASO specialists. After that, this aero monster began to resemble a plane. And do not talk about how cool the tests were in Ukraine. In Ukraine, and psevdokater "Gyurza-M" was tested. Only for some reason the sailors began to disown themselves from this coffin.
And we, by the way, disown all who originally wanted to buy it. Because the airframe sawed over turned into a figure + 17-20% of the originally declared value. It is easy to see who is operating the aircraft today. Only those who can afford it. MO, MES, FSB, special squad "Russia". That is, those who do not particularly consider money, and to whom it can be imposed. the others refused in horror.
And on VASO, by the way, it was almost a holiday when they got rid of this volatile hemorrhoids. Drank and went to rivet and cook "Elah." And there are dozens of such examples.
But back to Ukraine. I have described the Russian ways of "getting everything back". And what ways do you have, dear Retvizan? Revanchism and militarization will be left alone. I'll go over them separately. But "for the rest" right now.
We, Russia, when we wanted to return, tried to do the best, actually buy. Buy loyalty and understanding. And you?
Of course, the economic, energy and water blockade of the Crimea is the best way, of course, from your point of view. Yes, and the "train of friendship," and the attacks. Here you need to say thanks for the Crimea. Your openly misanthropic and flawed from the point of view of a normal person actions led to the fact that
Crimea will never be yours
. Are you able to understand the word "never"? If not, it's time to begin to understand.
Once again, just in case, I will repeat:
NEVER THE CRIMEA WILL BECOME YOUR
. And you have made every effort for this. Thank.
But even if suddenly something happens, and you are in luck, then in any case, all that is shining for you is another war in the image and likeness of Donbass. Only worse, because in the Crimea they already understand perfectly well that Russia is not Ukraine. And you just have to destroy there all those who disagree with this interpretation of the issue. That is, the majority. What, in fact, planned to do.
From here we smoothly go to the Donbas. What do we have there? All the same. Instead of trying to buy, if not buy, the population, so that it starts looking towards the former Motherland, what are you doing? Correctly, systematically destroy and spread rot. Shelling, blockade, fighting. Standard set. For more simply can not. For more you need to be able to think, but with this definitely strained.
So forgive me, your Donbass will never be yours again. Buy guts with giblets, if you find yourself capable of it? Well, the people there are not the first time to get barrels and ammunition for them and insist on their own. They know how to practice.
Speak, are Russian Ukrainians fighting with us? And with you, I'm sorry, who is fighting? Ukrainians of Russia or what?
"As for the parade, it was needed only for the spirit. The fact that we have equipment is outdated but reliable, we are aware. But people are fighting. Technique is just a tool."
(Without editing.)
Yes, we also know. And what your technique looks like to me, the guys from the Ghost told about the state of their Debaltsev trophies, and they can also know how to fight with you. Ilovaisk and Debaltseve all showed. Let's just not talk about ours
tank
divisions say you never found them. But no, and no conversation.
But even if hypothetically imagined that the Russian army acted under Debaltseve, then forgive me, why did you raise this question at all? With the spirit, speak and the idea of ​​fighting? Yes, cool you are fighting, nothing to say. It seems that your entire Battle Statute consists of two chapters: the destruction of the civilian population by artillery bombardment and total and fast flight.
Could be about
Aviation
say, but it's over with you. Yes, you can blame it. Threw up modern MANPADS and your lithaki flew off. But what did you want after Donetsk? They say that our generals broke pens, putting signatures on permits for the transfer of "Eagles". Watching the video how your ex-gallant aviation kills women and children.
Well, how your "tools" work, we also saw enough and had heard a lot. Shit you have tools. To become a technique. And, let's face it. God forbid or Putin, that your glorious Ukrainian Armed Forces, armed with the spirit, the idea and the "new" technology, will have to face our current army. This will be a mega challenge. Feil world scale. Well, really. On reactive dump will.
Your this militarization by the method of "trishkin caftan" is laughter. Your "cyborg" is not able to defeat the miners and drivers of garbage trucks, sat down at the levers of tanks (no joke, in the "Ghost" one former tank driver did exactly that and trained three colleagues). Your glorious surviving "Points U" against "Iskander"? T-64 vs. T-90 or T-72BM3? Grads vs. Tornado? Oh, about the aircraft just silent. We have so many new products in the air defense system, which is a pity that you do not have aviation. About EW also silent.
Alas, but all that your APU can do is cowardly firing at the peaceful neighborhoods of Donetsk and Lugansk who have not surrendered. And no spirit, no idea will help them. Yes, and the spirit, I'm sorry, you have that ... with a dear.
"The idea is fighting. But the Russian Federation took and instead of loyal Ukrainians to keep in loyalty - it took and turned into its enemies (without the propaganda of Ukraine). This is a misfortune for all (Slavs).
And now enmity. Long I do not know how to end. But 2, the largest Slavic countries of the USSR, are now enemies. And not the fault of one of Ukraine. Wines are mutual.
You touched us hard. A novel is a long time. "
(Without editing.)
You, Retvizan, apparently work somewhere in Kiev. Like this our, Okrugora Tarakan. But sometimes it is ridiculous to read, I am happy to edit his works and translate them into literary Russian. He is funny and frank in his own way. Unlike you. From you, I'm sorry, for a mile away it smells of official Kiev. I think that I'm not so far from the truth.
If I did not communicate with ordinary people in Ukraine, maybe I would have thought so. But, alas, I communicate. And they are not enemies of me. And Ukraine is not an enemy either to me or to the majority of Russians. We are smarter, we can afford the luxury of understanding current processes.
Ukraine is not our enemy. Our enemies are the internationally frankly pro-fascist clique that seized power there. Outgoing pus in our direction, because the twenty-five year old freebie at the expense of Russia is over. And in Europe did not take. Because Russia just took a bit of her (Crimea) and when the hell give back.
But sorry, let's face it. All that we needed in Crimea was our military ports and bases. Built, I note, not the Ukrainians. They built the whole of the USSR. By the way, as well as the sold "Mriya". And for our fleet the Russian authorities went to all that is possible. Energy discounts? Nate. Loans? Excuse me Orders for Ukrainian plants to the detriment of their own? Get it.
But you just got bold and went too far in your lawlessness. Here and defaults, and outright theft of the same gas from the Europeans. Even if the Crimeans had not taken the peninsula to Russia, it would probably have to be overcome by force. But, apparently, your ideas and the spirit of the Crimean people did not like it. Get it and sign it.
And then. Dear Retvizan, you speak so well of some two Slavic countries. What are you talking about? Oh, about Ukraine and Russia? Good. But let me refresh you slightly. And not in the Ukrainian textbook
stories
.
There was no Ukraine until the end of 1919. Forgot? There were originally Russian lands inhabited by the so-called Little Russians and Russians. But Ukraine was not. There were frontier Gopniki, from time to time fallen into the legs of the Russian tsars and begging for bread,
weapons
and patronage. And they got it. And Khmelnitsky from Alexei Mikhailovich received, and Zaporozhian Cossacks from Catherine the Great had.
And the lands on which gopnichalo Cossacks were either Polish or Russian. Legally. That is why the hetman Khmelnitsky not Ukraine swore, and very much even Poland. Where he entered the Seimas, and had awards from the King of Poland. And do not pinch him to the Poles one place on a personal plane, it is not known yet how everything would turn out there. But turned into an oath of Russia. Doesn't this remind you of anything? And I have historical analogies with the present day, which are completely for themselves.
Historical fact: 8 in January 1654 was collected in Pereyaslavl, where after the speech of Khmelnitsky, who indicated the need for Ukraine to choose one of the four sovereigns: the Sultan of Turkey, the Crimean Khan, the King of Poland or the Tsar of Moscow, and submit to his citizenship, people he unanimously cried out: "We will wave under the tsar of Moscow, the Orthodox."
Surrender to the Tsar of Moscow for citizenship ... We are about independent Ukraine, right?
Well, at least according to the principles of Khmelnitsky, Ukrainian rulers are trying to act today. In a sense, surrender to someone. At least someone. But nobody takes it. And of course, Russia is to blame for this. Which simply ceased to feed in the previous volumes. But excuse me, in 1991, we had a good run with the USSR in Ukraine. And, if the ability to use everything grabbed, then you would live in clover. An, did not work. Is Russia also to blame?
So let's, dear Retvizan, call things by their proper names. There is absolutely propaganda not in the business here. And the idea has nothing to do with it. And there is no war on our side. This is all kolobrodit in your heads formatted Maidan. This is for the official Kiev, we are enemies. Well, maybe for you, if you have something to do with it. Evidence, of course, no, well, okay.
And Russia is not the enemy of Ukraine. We just have our way. Without looking back now on the neighbors. That you blame us for everything. You enter any embargo. And what are we? And we are nothing. Our caravan is coming. My darling.
And, pay attention, sometimes the Internet, and find at least one politician who would say that Russia is at war with Ukraine or Ukraine is our enemy. That policy, the rank of your ministers at least. Why, there, from the president, this is erupted once a week. What about us? And everything is fine with us.
There are neighbors, sick slightly on the head. Nothing, we are Russian, patient. Let us wait, suddenly feel better.
And by the way, I do not think that this is all for a long time. A couple of years still - and Khan will be your junta. People simply "democratic peremog" will not survive.
Last thing. About the enemies for me personally. I like Ukraine as there is no enemy. To me, normal people in Ukraine are not enemies. I even have friends there. Russians, Poles, one Jew. For some reason, nobody calls himself a Ukrainian.
I am enemies of the Nazis who seized power in Kiev. By the way, for some reason, the majority of them have Ukrainian origin under a huge question. As well as citizenship. So, what kind of Ukrainians are these Valtsmans, Terchers, Firtashi and other Groismans and Avakovs with Saakashvili - this is another question of the type of minced meat.
If these are Ukrainians, then I'm definitely a Hindu.
And everyone who supports this international gathering of frankly fascist persuasion is also my enemy. Accordingly, you, dear Retvizan, as a friend, I also do not consider. But considering that you are quite reasoned and cultural, unlike many of your compatriots who have been cut out from this site, I would like to discuss with you. Even on the air, it's good that we will soon realize this opportunity on YouTube.
We have a crisis here with Turkish goods, so I will not throw a glove, but I plowed something in your direction, we will assume. Sincerely.